Next >> Viewing 1 - 20 of 597 stories
2023 Summer Meal Program Information:

Children in our community do not need to go hungry this summer. For many kids, summertime means food, friends and fun. For families who count on school breakfast and lunch, however, the summer months can be stressful and family food budgets have to be stretched even further. The US Department of Agriculture's (USDA) Summer Food Service Program helps fill the hunger gap. Free summer meals, funded by the USDA, are available to kids and teens ages 18 and younger at Roxboro Road Middle School in Syracuse, NY. This is an open site therefore free meals are available to all children ages 18 and under. This site does not require families to provide income information, registration, or other paperwork. Free Summer Meal Program Details: Meals are FREE ...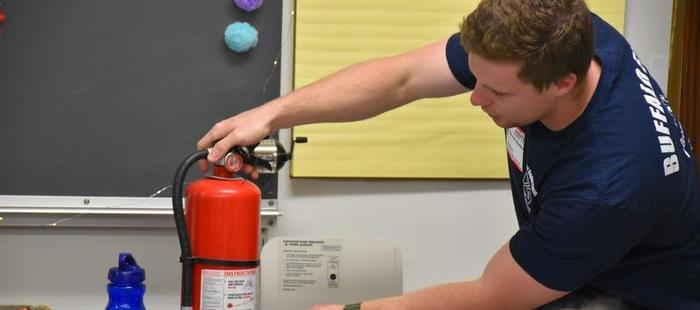 CNS students learn lifesaving skills in Adulting 101 class:

May 31, 2023: Students at CNS High School recently had an exciting and informative experience as part of their school's new Adulting 101 class. The class, specifically designed for seniors who will soon be heading off to college or starting their careers and living independently, aims to teach essential life skills through experiences. Allison Salisbury, also a health education teacher at CNS, has been working to bring her Adulting 101 students active and engaging lessons throughout the year. Last week, the students had the opportunity to interact with special visitors from NAVAC Ambulance and the Cicero Fire Department. The class was divided into two groups, with one group remaining in the classroom while the other ventured outside for hands-on training. ...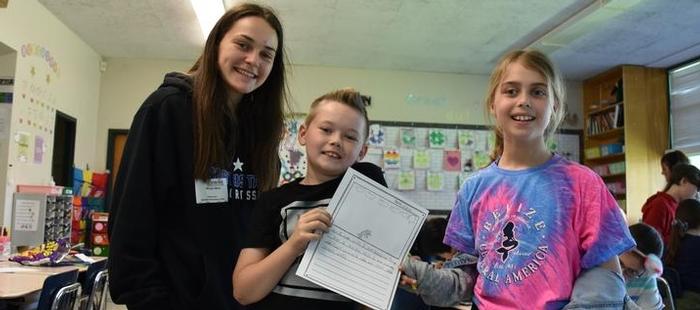 CNS Senior Collaborates with fourth graders to promote dog adoption and volunteering:

In an interactive display of community involvement and cross-generational collaboration, Nicole Mirra, a senior at Cicero-North Syracuse High School, partnered with fourth-grade students from Allen Road Elementary School to help some animals find their forever homes. Nicole Mirra is a volunteer at Helping Hounds, where she has given her time for several years, even adopting her own dog, Zoe, from the organization six years ago. Nicole was talking with one of her CNS teachers, Melissa Palmisano, about animals in need and together, the pair came up with a fun project idea. Melissa has a daughter, Addison, who is a fourth grade student at Allen Road Elementary School and she reached out to her daughter's classroom ...
Celebrating the Spirit of Inclusion: Special Olympics Returns to North Syracuse:

On Thursday, May 18, 2023, the North Syracuse Central School District had the honor of once again hosting this year's Special Olympics Track & Field Event. The event took place at the Cicero-North Syracuse (C-NS) High School Athletic Complex, bringing together hundreds of student athletes from various local school districts. It was a day filled with sunshine, excitement, camaraderie, and the celebration of the indomitable spirit of these extraordinary athletes. The atmosphere was electric as students began arriving at the school, greeted by the cheers of hundreds of waiting volunteers. This year, Northstar Network, the school's student-run broadcast group, was on hand to provide live event coverage, adding an extra level of excitement and engagement. ...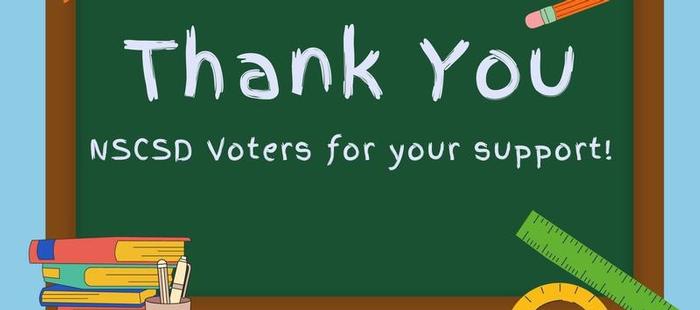 District voters approve proposed budget:

May 16, 2023 – North Syracuse Central School District voters have agreed to the District's proposed 2023-2024 school year budget with a 59 percent approval. A total of 1,835 votes were cast, with the final tally being 1,077 yes votes and 744 no votes on the $203,270,342 proposal. A bus proposition for $2,251,201 also passed with 1,185 yes votes and 633 no votes for a 65 percent approval. Additionally, the Salina Free Library proposition for $500,558 passed with 54 yes votes and 19 no votes. This year, voters also approved a change in polling locations from Cicero Elementary School to Cicero-North Syracuse High School with 1,264 yes votes and 541 no votes as well as the addition of a student member to the Board of Education with 1,312 yes votes and 503 no votes. Voters ...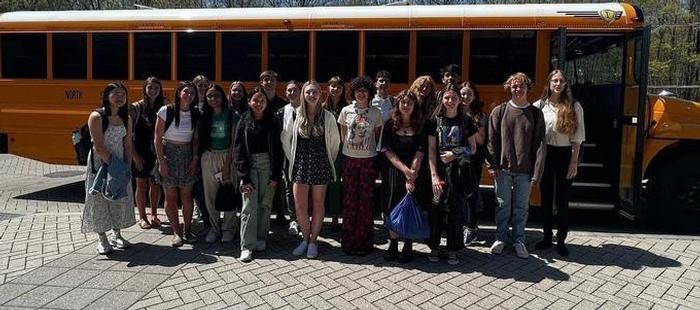 CNS students earn prestigious seal of biliteracy:

Nadine Lozanov, Haley Cummings, Mallory Brooks, Anthony Gabrielli, Grace Sugrue, Maddie Rodoski, Angelina Cifaratta, Olivia Maura and Kaley Otis 20 Cicero-North Syracuse High School students recently received notification that they had met the requirements necessary to earn a Seal of Biliteracy on their diploma. The designation recognizes students who demonstrate mastery in more than one language. Together these CNS students have mastered eight different languages. One student can demonstrate quadliteracy (mastery of four languages) and two students can demonstrate triliteracy (mastery of three languages). The seniors will be honored at the school's award ceremony on June 1 as well ...
Transportation Department Job Fair, Saturday, June 10:

On Saturday, June 10, 2023, the North Syracuse Central School District is hosting a transportation department job fair. The event will take place at the transportation department (5520 East Taft Road) in North Syracuse from 10 a.m. to 1 p.m. North Syracuse Central School District Director of Transportation Matthew Conti encourages anyone interested to attend the fair and learn about transportation careers with the district. "We are looking for dependable, safety-minded individuals to become trained for some of the most important jobs in the district. CDL driving experience is preferred by not necessary, so anyone that is looking toward this as a career option is more than welcome to attend our job fair." Interested ...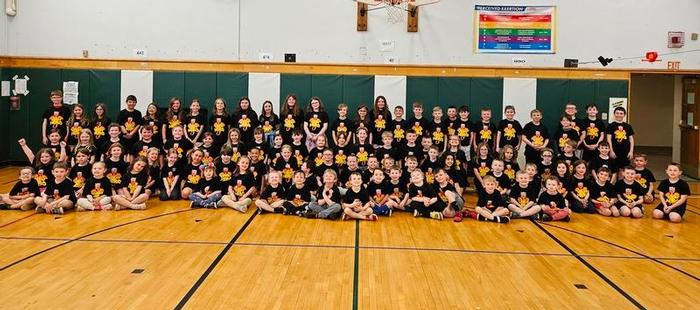 Cicero Elementary is up for the "Challenge"!:

Students and families from Cicero Elementary School are celebrating a HUGE success. More than 200 students and their families recently took part in the "Kids Heart Challenge" and raised an incredible $18,029 for the American Heart Association! Cicero Elementary School's donation to the AHA is the most ANY school has raised in Onondaga county AND the surrounding 18 counties. This also brings the school's three-year fundraising total to $55,000. Mr. Bailey and Mr. Cupoli cannot thank our students, families, school and community enough for their tremendous generosity. Once again, THANK YOU CICERO!! ...
District will host Special Olympics on Thursday, May 18:

The North Syracuse Central School District is proud to be hosting this year's Special Olympics on Thursday, May 18, 2023. The Special Olympics Track & Field Event will take place at the Cicero-North Syracuse (CNS) High School Athletic Complex. Students will begin arriving at CNS at approximately 9:30 a.m. with a Parade of Athletes taking place to kick off the day's events at approximately 10:15 a.m. The parade will be followed by athletic competitions until approximately 12:30 p.m. The rain date for the event is Thursday, May 25. More than 500 student athletes are expected from local school districts including Chittenango, Fabius Pompey, Fayetteville-Manlius, Jamesville-DeWitt, Lyncourt, Marcellus, North Syracuse, OCM BOCES, Solvay, Westhill and West Genesee. Approximately ...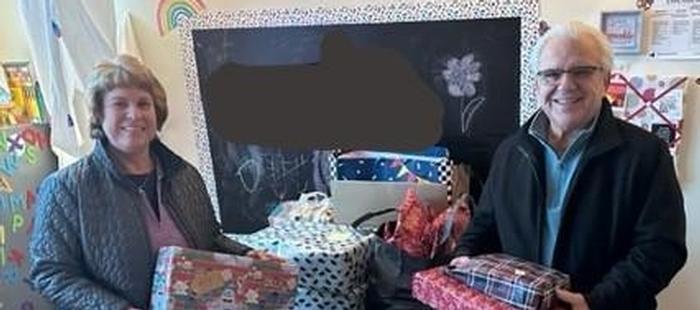 Family Engagement initiative makes a difference at Roxboro Road Elementary:

The Family Engagement initiative has been busy at Roxboro Road Elementary this Spring. Back in March, the school hosted the KIND Campaign from California and last month they helped deliver Easter basket donations. The KIND Campaign was featured during an assembly for fourth grade girls. The focus was girl-on-girl bullying. The founders spoke to students via Zoom and shared moving testimonials. The assembly also incorporated Kind Pledges, Kind Apologies, and Kind Cards. A documentary was also shown. Family Engagement Specialist Jessica Nabewaniec says it was a powerful assembly and they intend to continue the progress gained moving forward throughout the rest of the year. On Thursday, April 6 Family Engagement members partnered with St. Margaret's ...
CNS Talent Show on Friday May 19:

The Cicero-North Syracuse High School Talent Show is right around the corner! Come on out to enjoy a live 16 act show, entitled The CNS Late Show on Friday , May 19th at 7pm at the NSJHS Auditorium. Doors will open at 6:30. Tickets are on sale now at the high school and can be purchased during all lunch periods in the student center. General Admission tickets are $7 and Reserve seating is $10. Reserve seating enables patrons to pick their exact seat and skip any lines. Ticket sales will begin Wednesday, May 10. Door tickets will be available for $10. If you would like to purchase tickets from home, you can purchase them online by emailing your ticket order ...
OCM BOCES Innovation Tech students inducted to National Honor Society:

Congratulations to our OCM BOCES Innovation Tech students Chloe Campbell, Tristan Sugrue and Bee Vadala, who were inducted into the National Honor Society at a ceremony on Tuesday, May 9, 2023. That means they have demonstrated high academic achievement and the NHS attributes of knowledge, scholarship, service, leadership, and character. They are pictured with Superintendent Daniel Bowles and North Syracuse Board Member Robert Crabtree, who is also on the Board of Education for OCM BOCES.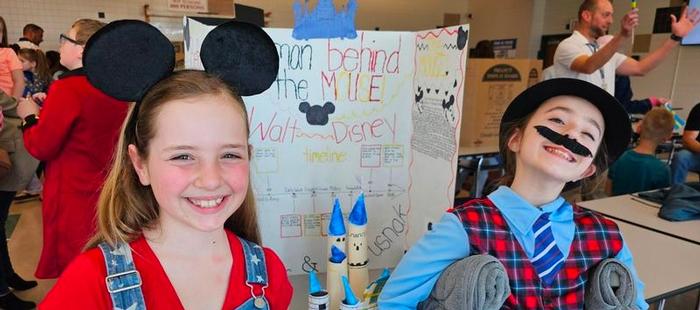 Making history at Gillette Road Middle School:

For the first time, students at Gillette Road Middle School took part in a History Fair. They were tasked with showcasing any historical event, time period, person, or place. On Thursday, April 27 more than 80 students from all three grade levels filled the cafeteria ready to show off their projects. They wore costumes, created display boards, built dioramas, and showed off interactive displays. A wide variety of topics were covered ranging from the Titanic to Women's Rights. A few students even made connections to their family history. For example, a Bosnian student researched and shared information about the Srebrenica Genocide. The fair was a success thanks to a group of social studies teachers who formed a ...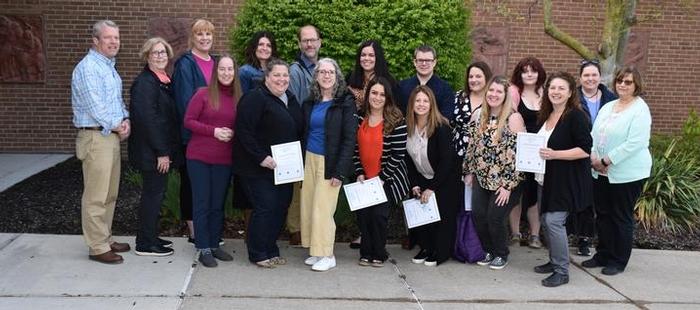 17 NSCSD educators receive grants through Education Foundation:

Back row (left to right): NSEF Treasurer Nat Ordway, NSEF Secretary Carolyn Gross, NSEF Vice President Sharon Fehrman, Danielle Barrett, Chris Manke, Danielle Preville, Ryan Condon, Mary Murdoch, NSEF volunteer Zoe Gwynn, NSEF volunteer Molly Gwynn and Mary Eidt NSEF board member. Front row (left to right): Maureen Alvaro, Kristin Dietrich, Shannon Knapp, Lindsay Marzullo, Kathy Krichbaum, Jessica Keene and Danielle Rausa 17 North Syracuse Central School District educators were recently recognized for receiving grants from the North Syracuse Education Foundation (NSEF) in their 2023 Grant Award's Program. NSEF resources support quality education through creative opportunities, and innovative/imaginative approaches. ...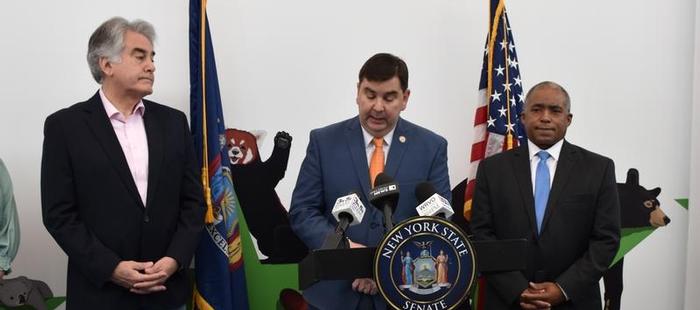 State representatives make free school meals announcement at NSCSD:

Senator John Mannion and Assemblymember Al Stirpe visited the North Syracuse Central School District on Thursday, May 4 to make an important announcement regarding the funding of school meals. They say $134 million is being set aside in the state budget to continue funding free school meals for students. "Free school meals may be the most consequential achievement in the state budget because it helps kids learn and succeed, covers the costs for school districts and local taxpayers, and it will have an immediate impact" said Senator John Mannion. The federal government funded free breakfast and lunch for all students regardless of household income since the early days of the pandemic, but it expired last June. Approximately 700,000 students in New York then ...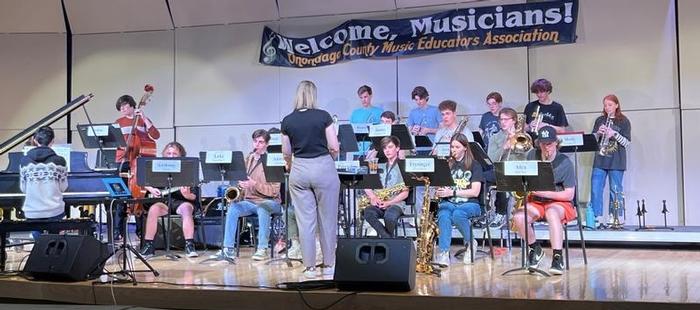 CNS musicians participate in All-County Jazz Festival:

Over the weekend of April 29 and 30, Cicero-North Syracuse High School musicians were proud to be a part of the All-County Jazz Festival. Each year, students prepare and audition to be a part of this renowned Festival. Vocal Jazz selects 24 students in the county and the Jazz Ensemble selects 19 students from the county. This year, C-NS had 7 vocalists in the All-County Vocal Jazz and 3 instrumentalists in the All-County Jazz Ensemble! That's 10 of C-NS's very talented students!!!! CONGRATULATIONS to all of our C-NS Jazzers! Ms. Danielle Rausa, the Director of the ensembles also extends and invitation to the community to come see these FABULOUS musicians on May 11th at 7:00 at CNS High School. ...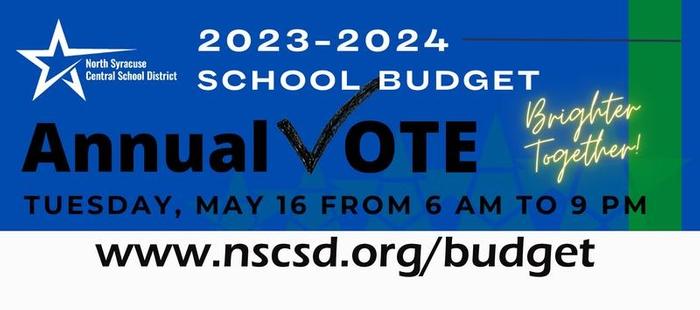 Budget Information:

On April 17, 2023, the North Syracuse Central School District Board of Education adopted a budget proposal for the 2023-2024 school year. The proposed amount of $203,270,342 will be voted on by district residents on Tuesday, May 16. The proposal preserves all programs, provides additional supports for students, and honors our strategic plan. The District has been hosting a series of public budget meetings and the budget newlsetter is available online . District officials encourage taxpayers to learn more about the budget proposal on the district's budget website.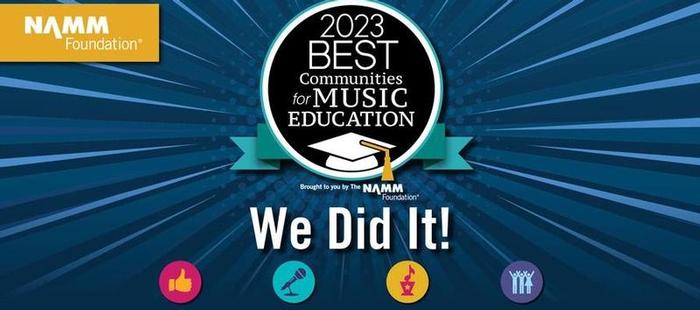 District's music education program receives national recognition:

The North Syracuse Central School District is excited to announce it was awarded a "Best Communities for Music Education" designation from The NAMM Foundation. This is the second consecutive year the district was recognized for its outstanding commitment to music education. "It's a key component of the NSCSD's robust curriculum and we are fortunate to have opportunities for students to begin learning music at a young age. It's exciting to receive this recognition especially in light of the tremendous work our staff did to keep the music program going during the pandemic. I am very proud of our dedicated and very talented teachers and students" said Daniel Bowles, NSCSD Superintendent of Schools. The designation ...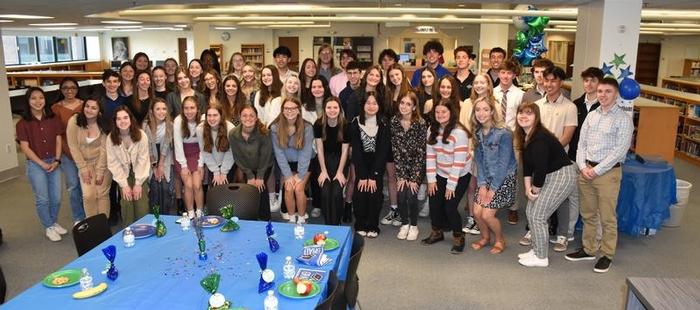 C-NS celebrates top 10% of graduating seniors:

On Tuesday, April 25, the top 10% of students in the Cicero-North Syracuse Class of 2023 were recognized during a special ceremony. The students were treated to a celebratory breakfast in the school's library and were presented with certificates by Executive Principal Jamie Sullivan. Congratulations to these outstanding scholars! Students making up the Class of 2023 Top 10% are Liam Adams, Rocco Albanese, Hannah Boyle, Emily Bradley, Kathryn Byrnes, Courtney Calkins, Kaitlyn Carroll, Gabriella Casanova, Mason Ciciarelli, Angelina Cifaratta, Carlo Clerigo, Angelina Cosentino, Erinn Cosgrove, Haley Cummings, Anabel Donovan, Wyatt Dupell, Golden Duru, Peyton Empey, Grace Engle, Jenna Fournier, Anthony Gabrielli, Madison Gessini, Peter Gill, Elaina ...
C-NS Students Receive Awards from Cicero Chamber of Commerce:

Congratulations to the 15 Cicero-North Syracuse High School students who received awards from the Plank Road Chamber of Commerce at their April 12 awards ceremony. The awards are sponsored by various Chamber members, who provide certificates and cash awards for the students. The following students were recognized by the listed sponsoring organizations: Bhavi Patel - Academic award sponsored by AmeriCU Credit Union Thomas Newton - Business Career Pathway award sponsored by Holiday Inn Eva Farone - Art award sponsored by Ardent Homes Dylan Midlar - BOCES award sponsored by ...
Next >> Viewing 1 - 20 of 597 stories