Next >> Viewing 1 - 20 of 262 stories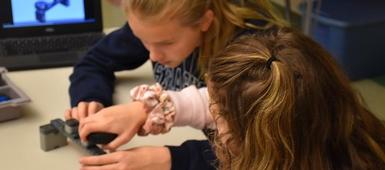 Middle School Students Taking Part in STEM Learning:

A new three-day schedule at the middle schools in North Syracuse Central School District is giving students regular opportunities to explore STEM activities in class. The district utilizes Project Lead The Way (PLTW) Launch modules in grades 5 and 6 to engage students in challenging, hands-on problem-solving activities aligned with Next Generation Science Standards and Common Core State Standards for Math and English Language Arts. Students at Gillette Road Middle School and Roxboro Road Middle School are given real-life problems that involve design and construction elements as part of an overriding solution. Course modules include aeronautics, Newton's Laws of Motion, simple machines, robotics, automation, mechanical design, computer programming and more. Students work in ...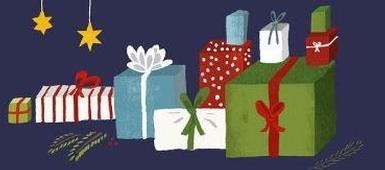 Santa Grams at Cicero-North Syracuse High School:

C-NS families, Do you want to send a Santa Gram to a special student or staff member at C-NS High School for $2? Click here to find out more and fill out an online request to have a message delivered at C-NS through the Christmas holiday.
C-NS Star Shop Holding Hat and Scarf Sale:

The Star Shop at Cicero-North Syracuse High School is holding a public sale for C-NS scarves and pom pom hats. Click here to complete an online order form. Payment options: Mail a check made payable to the C-NS Star Shop to Linda Dwyer, CNS High School, 6002 State Route 31, Cicero, NY 13039 Card payment by phone - Please call Linda Dwyer at 315 218-4150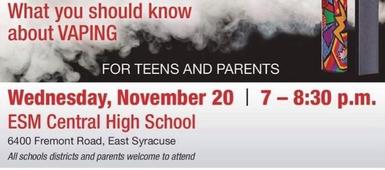 NSCSD Families Invited to Educational Presentation on Vaping:

North Syracuse Central School District families are invited to a free presentation about the dangers of vaping. The presentation will take place from 7 - 8:30 p.m. on Wednesday, Nov. 20 at ESM Central High School. Click here to view the Peachjar flyer for details.
District Now Hiring Food Service Employees:

The North Syracuse Central School District's food service department is looking to hire substitute food service helpers. Part-time positions are available with flexible hours. Hours of work typically range between 9:00 a.m. and 2:00 p.m. during the school year. Anyone interested in applying may fill out an application online clicking here, or a paper application may be picked up at the food service office, 5520A East Taft Road, N. Syracuse. Learn more about employment opportunities by clicking here .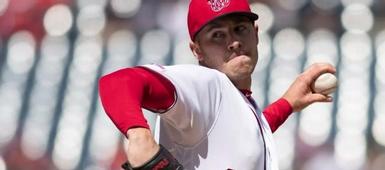 C-NS Graduate, Patrick Corbin, Inspires Current Students after World Series Win:

Patrick Corbin, a 2007 Cicero-North Syracuse High School graduate, recently achieved world-wide fame while helping the Washington Nationals win the 2019 World Series. Several local media outlets have produced stories about Corbin's journey and the impact he has had on current C-NS students. Click the links below to read more. CNYCentral - October 31, 2019: Patrick Corbin's World Series journey inspires current C-NS athletes CNYCentral - October 16, 2019: From C-NS to the World Series- Patrick Corbin leads Washington to pennant Syracuse.com - August 27, 2019: CNS grad Patrick Corbin excels on mound with Nats, wants to make mark at plate
C-NS Athletes Have Stellar Start to November!:

The first full week of November has proven to be an exceptional one for Cicero-North Syracuse High School athletes and teams. Among the many highlights: Boys' Volleyball brought home their 5th straight Division I title Football brought home their 3rd straight Section III Championship title Six athletes on the Girls' Swimming and Diving team qualified for the Section III state meet with divers Maddie Thorne and Kaitlyn Carroll placing first and second C-NS Cross Country athlete Kate Putnam was named to the Section III All-Star squad for the state meet The Lady Northstars Cross County team placed third overall in the Section III race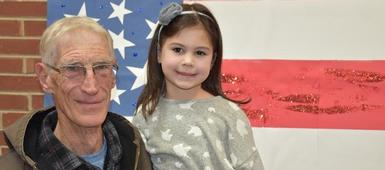 Students at KWS Bear Road Elementary School Celebrate Veteran's Day by Honoring Local Military:

Students and staff at KWS Bear Road Elementary School, in the North Syracuse Central School District, went all out to recognize some special veterans in honor of the Veteran's Day holiday. On Friday, November 8, families and local military men and women with connections to the school, were invited to attend a ceremony at the Bear Rd. Elementary. The school's gymnasium was filled to capacity with more than 120 visitors in attendance. Each of the school's five grade-levels (K-4) performed a special song for one of each of the five branches of the military. After the students' performances, Veterans were invited to the front of the gym to talk about their military service and connection to the school. The special guests included ...
Public Information Meeting on December 3 for Upcoming Capital Project Referendum:

On December 17, the North Syracuse Central School District community will have the opportunity to vote on renovations at Karl W. Saile Bear Road Elementary School (KWS BRE) and the purchase of property adjacent to Cicero-North Syracuse (C-NS) High School. A public hearing about the referendum will take place on Tuesday, December 3, 2019. The meeting will take place at 7 p.m. at the Jerome F. Melvin Administrative Office Building (5355 West Taft Rd.) in North Syracuse. Details about the referendum are available in the project newsletter and are further detailed in a presentation to the Board of Education . Voter Registration: In order to vote in the December 17 referendum, voters must pre-register by December 12, 2019 . The district is holding ...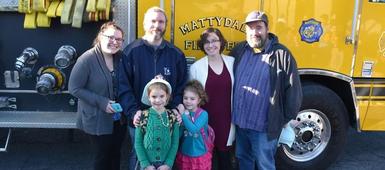 Roxboro Road Elementary School Student Arrives at School in Style:

A Roxboro Road Elementary School student, Liliana (Lily) DeSalvo, recently received a ride to school aboard a not-so-typical transport. On Friday, October 11, Lily, the third grade student in Mr. Lax's class, had the honor of being driven to school aboard Mattydale Fire Department's Engine No. 3. As the overall winner of the fire department's October Coloring Contest for Fire Safety Month, Lily was chauffeured to school on board the massive truck, along with her family members. Lily and her sister, Juliet, a first-grade student at Roxboro Road Elementary School, sat up front with Don (Doc) Bender, a 59 year veteran of the Mattydale Fire Department at the wheel. Upon arriving at school with the truck's horn blaring and lights flashing, ...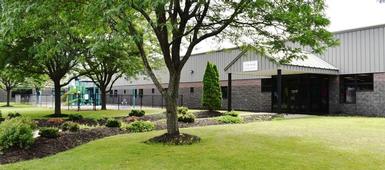 NSCSD Community Invited to Vote on OCM BOCES' Nov. 19 Referendum:

North Syracuse Central School District voters, along with others who live within the school districts of the Onondaga-Cortland-Madison BOCES, are being asked to decide if the educational agency should end its 32-year lease for a campus off Crown Road in Liverpool and purchase the facility for $12.85 million. A public vote will take place on Tuesday, November 19. The purchase would result in no additional costs for the 23 school districts that participate in shared services through OCM BOCES, said OCM BOCES Deputy Superintendent Colleen Viggiano. Based on a financial analysis of the proposal, the purchase could save districts an estimated $2.2 million over the next 20 years, she said. Other school districts in the OCM BOCES region are Baldwinsville, Cazenovia, Chittenango, Cincinnatus, ...
C-NS High School's fall play production of 'You Can't Take It With You' – Nov. 14-16:

Cicero-North Syracuse High School is pleased to announce their fall play, 'YOU CAN'T TAKE IT WITH YOU'. The shows take place on Thursday, November 14, Friday, November 15, and Saturday, November 16, at 7:00 pm in the high school auditorium. The show is sponsored by Drs. Callahan, Flanagan, Smith & Stock Orthodontics. From the 1936 original play written by Moss Hart and George S. Kaufman, 'YOU CAN'T TAKE IT WITH YOU' is best known for being a laugh riot. It won a Pulitzer Prize for drama and ran on Broadway for two years. In 1938, it became a movie, starring James Stewart, and won an Academy Award for Best Picture and Best Director (Frank Capra). 'YOU CAN'T TAKE IT WITH YOU' ...
Snow Day, Delay and Early Closing Information:

Winter weather will soon be arriving and the North Syracuse Central School District wants to remind our families and community members of some important snow day, delay and early closing information. SCHOOLMESSENGER - The district uses SchoolMessenger to notify parents, guardians and district staff of emergency school closings, delays and early dismissals. The system generates an automated phone call, email message – if an email address has been provided to the district – and a text message for parents, guardians and staff members who have opted in to the SchoolMessenger text message service. Learn more about text alerts on our website by clicking here . If parents or guardians are unsure whether the district has their correct email or phone numbers on file, they should ...
Allen Road Elementary School Community Celebrates New Playground, Community Efforts, With Ribbon-Cutting Ceremony:

On Tuesday, October 22, the Allen Road Elementary School Community celebrated many years of fundraising and hard work with a ribbon cutting for the school's new playground. A public ceremony was held at the school. The playground was purchased this past summer thanks to the ongoing fundraising efforts of Allen Road families, students, PTO, and staff and a matching donation from Cicero-North Syracuse High School. The entire school community came together this past weekend to build the playground together. PTO President Gina Baker expressed her thanks to the school community saying, "This new playground isn't just about raising money and fundraisers. It's about showing the kids the true meaning of 'bucket filling' ...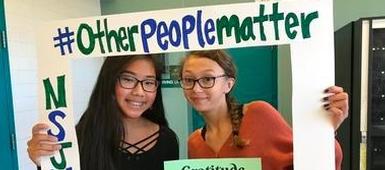 Positivity Project "Framing" Students' Mindsets at North Syracuse Junior High School:

Students and staff at North Syracuse Junior High School have kicked off their school year with a new collective and POSITIVE way of thinking! As new participants in the Positivity Project, the school's community has adopted the "other people matter" mindset. The Positivity Project is a building-wide movement focused on teaching positive psychology's 24 character strengths over the course of the school year. A variety of activities have been planned to get kids connected to school & life, build relationships, teach empathy and create a positive, growth mindset. Students are learning to be positive, frame life in a positive way and lift others up by being role models for others. The program focuses on a different ...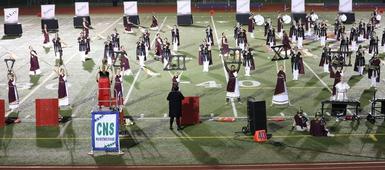 Marching Band Takes 1st Place in Weekend Competition, Prepares for October 27 Championship at Carrier Dome:

Congratulations to the Cicero-North Syracuse High School Marching Band for taking first place in the October 12 New York State Field Band Competition in Victor, NY. The band is the first to hit 90 points this season! The band is preparing for the October 27 Championship Show at the Syracuse University Carrier Dome. Click here for the October 27 schedule . Congratulations to these very hard working kids and good luck at the championship!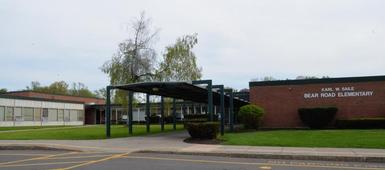 Board of Education Hears Proposal for Renovations to KWS Bear Road Elementary School and C-NS Land Purchase:

At their October 7, 2019 meeting the North Syracuse Central School District's Board of Education heard a proposal to present two propositions to district voters. The propositions for renovations at KWS Bear Road Elementary School and the purchase of land at Cicero-North Syracuse High School are detailed here . The Board of Education will be asked to approve the proposals at their October 21, 2019 meeting. If the Board approves the proposals, the North Syracuse Central School District community will be asked to vote on the propositions on December 17, 2019. The district has been working to develop a revised plan for capital project renovations at KWS Bear Road Elementary School after receiving construction bids significantly over the approved project budget in January, ...
District Offering Free Academic Support for Eligible Native American Students:

The North Syracuse Central School District, through its Native American Grant Program, is making available free academic services to Native American students attending school within the district who have filed the appropriate 506 eligibility certification forms. Based on federal grant funding, academic services may include: After-school tutoring, provided by certified teachers at district school buildings or local libraries Financial support for advanced placement courses and SAT registration fees School-based academic counseling For more information, please contact the office of Christopher R. Leahey, Ed.D., Associate Superintendent for Teaching and Learning at 315-218-2148.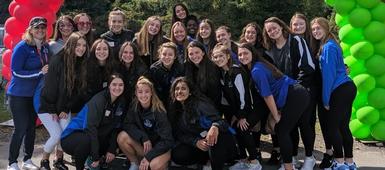 Girls' Volleyball Program Supports Buddywalk:

For the 4 th consecutive year, student athletes in the Cicero-North Syracuse High School Girls' Volleyball program have spent time volunteering for the Syracuse Buddywalk. The 2019 Buddywalk took place on Saturday, Sept. 29 at Long Branch Park in Liverpool. The annual event provides an opportunity to celebrate achievements and raise awareness about Down syndrome within the community. Melanie Stonebarger, who is the head coach of the Girls' Varsity program says she was introduced to the Buddywalk about ten years ago by Kathy Gedney, a former Volleyball coach at Liverpool. Melanie said, "Since community service is a big part of the volleyball program, when I came to C-NS I called and asked if they needed volunteers ...
Next >> Viewing 1 - 20 of 262 stories