Next >> Viewing 1 - 20 of 314 stories
Board of Education Approves 2020-2021 Academic Calendar:

The North Syracuse Central School District Board of Education has approved an academic calendar for the 2020-2021 school year. Included with the calendar are provisions for school closings due to weather-related or other emergency situations. The calendar and provisions are posted on the District's website. Calendar Provisions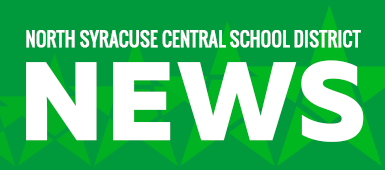 District Registering Students Electronically:

Due to the Coronavirus (COVID-19) outbreak, the North Syracuse Central School District's registration office is closed. In order to accommodate families needing to register new students, the District will continue to accept registration materials electronically or by mail only until further notice. In order to register students, parents should go to http://cns.schooltool.cnyric.org/schooltoolweb/onlinepreregistration to fill out pre-registration forms and then scan or take pictures of the required documentation and submit these by mail or email. All registration forms are available by clicking here . A free online scanner app is also available by clicking here . In addition to the registration forms, the following documents are required for registration: Parent ...
Child Care Options for NSCSD Families:

The District is committed to helping our first responders and medical professionals during this unprecedented time. If you need childcare during the closure, please see the following list of childcare providers in the Cicero and North Syracuse area: North Area YMCA-315-451-2562 Learn As You Grow Cicero-315-699-7189 Learn As You Grow North Syracuse-315-458-4233 Bright Starts of CNY Cicero 315-698-0033 The following agency can assist you with available childcare throughout Onondaga County: • Childcare Solutions of CNY - 315-446-1220 EXT 303 Please contact Christopher R. Leahey, Ed.D., Associate Superintendent for Teaching and Learning at ...
NSCSD Off-Site Educational Resources:

The North Syracuse School District has launched its Off-Site Educational Resources Website. This website is designed to support our students and parents with off-site resources during the school closure. It is organized by grade-level, with each grade broken into core subjects. Parents can use this as a learning resource on a daily basis with their child. The grade-level activities and resources on this website have been developed to extend prior learning and engage students during the period of school closure. It also features resources on Health and Wellness and Library Media as well as Special Education Related Services. To have full access, please have your child log into their school account. If you need assistance, ...
Free Grab and Go Meal Program: Monday - Thursday 8-10 AM:

The North Syracuse Central School District is providing grab and go breakfast and lunch meals at the following locations from 8:00 a.m. to 10:00 a.m. Monday through Thursday. Families can take up to two meals at a time per student. Families are asked to please bring a reusable bag if they will be taking multiple meals. School building, Bridgeport Diner and Meltzer Park addresses are provided below: North Syracuse Junior High 5353 West Taft Road North Syracuse, NY Roxboro Road Middle 300 Bernard Street Mattydale, NY 13211 Gillette Road Middle 6150 South Bay Road Cicero, NY 13039 Allen Road Elementary ...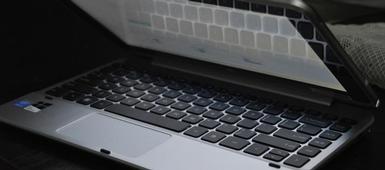 District Chromebook Lending Program:

As you know, all schools in the North Syracuse Central School District are closed through Monday, April 13. In order to allow all students the opportunity to continue learning from home, the District has made a Chromebook available to students who do not have adequate technology at home. Families that do not have internet available, Spectrum is providing free high-speed internet to households with students. Families can call (844) 488-8395 to enroll. Other wireless providers are also offering additional Wi-Fi hot spots and internet options in response to COVID-19. Click here for more information . Your Student's Google log on/email is: (graduation year)(first initial)(last name) if hyphenated it will only be the first portion. IE. John Smith-Jones is 22jsmith@g.nscsd.org ...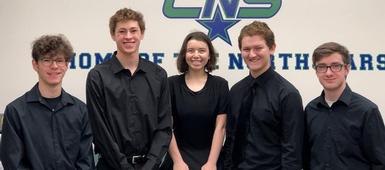 C-NS Students Selected to Perform in All-County Jazz Festival April 24-25:

CONGRATULATIONS, All-County Jazz Members! Five C-NS students were selected to perform in the All-County Jazz Festival being held at Marcellus High School on April 24-25. Students had to prepare a piece of music as well as show their improvisation skills in front of a judge to make it into these elite groups. Dante Carioti (trombone) and Seaver Schultz (Alto Saxophone) are 2 of only 19 members in the All-County Jazz Band. Brianna Ballard and Austin Raabe ranked #1 in the county for their vocal part and will be 2 of 24 students in the All-County Vocal Jazz Ensemble. Sam Ridgeway has the distinguished honor of playing bass in this year's Vocal Jazz Ensemble's rhythm section. These 5 students have made C-NS proud! CONGRATULATIONS!!!! ...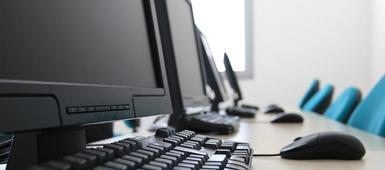 District Launches Website for Sharing Important Information Regarding COVID-19:

New York State has confirmed that the novel coronavirus 19 (COVID-19) is in the state. While the virus has not been found locally, there are concerns about what will happen if the virus is found in the District. The North Syracuse Central School District is currently working with other local school districts and the Onondaga County Health Department to obtain information and provide guidance to staff and families. In an effort to share information as quickly as possible, we have developed a website for this purpose. The District is following the cleaning and disinfection recommendations recently put out by the New York State Health Department, focusing on specific high-risk locations. Information from the Health Department ...
C-NS School Community Produces "I Stand For" Video for PS I Love You:

On February 14, students and staff at C-NS participated in a an activity capping of the week centered around PS I Love You. I love you week is about spreading mental health awareness and letting people know they are not alone in their difficulties or beliefs. C-NS created a week around the concept and designed activities of togetherness for the week. One of the quotes from the PS I Love You day website is "Tragedy should not be the force for togetherness; Togetherness should be the force that ends tragedies." Our school community is no stranger to tragedy but as the C-NS theme says, "Together We Can, Together We Will!" Together we STAND UP for our beliefs and for each other. This video was filmed on February 14 in honor of PS I Love You and the day's message ...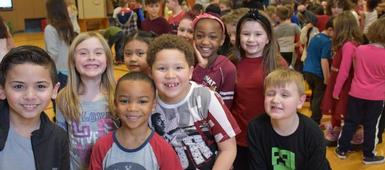 KWS Bear Road Elementary School Celebrates Successful Kids Heart Challenge:

Students and staff at KWS Bear Road Elementary (KWS BRE) recently celebrated their VERY successful Kids Heart Challenge for the American Heart Association campaign. KWS BRE is one of the many schools in the District that annually raises money for the great cause. At the beginning of the campaign, the school set a goal of raising $5,500 and this year they CRUSHED it by raising the most money they ever have with a total of $7,347! In order to celebrate the successful campaign and thank students for their hard work, and families for their generosity, the top ten fundraisers were announced at a celebration on Friday, February 28. The top fundraisers were then given the choice of which of the school's five special area teachers they wanted to slime. Three ...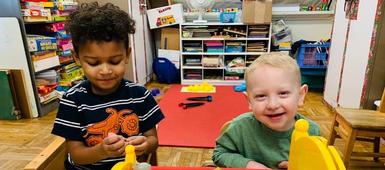 North Syracuse Early Education Program (NSEEP) Accepting Registrations:

The North Syracuse Central School District is accepting registrations for the North Syracuse Early Education Pre-K Program 2020 summer program (July 6 through August 14) and the 2020-2021 school year . North Syracuse Early Education Programs are offered for children ages 3 and 4 years old. In order to enroll your child in a FULL-day program for the 2020-2021 school year, he/she must be 3 years old by 9/1/20. In order to enroll your child in a HALF-day program for the 2020-2021 school year or in a summer session, he/she must be 3 years old by 12/1/20. The North Syracuse Central School District has designed its Early Education Program to be a fully integrated preschool opportunity for children 3 & 4 years of age. Young children who have special needs participate ...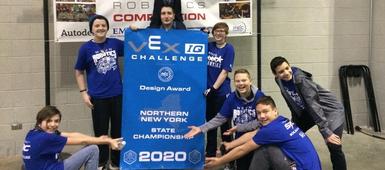 NSJH Robotics Club going to World Championships!:

Congratulations to Team C of the North Syracuse Junior High School VEX Robotics Club for taking first place for the Design award at the Northern New York State Robotics Championships. The team is the New York State Champion and will be competing in the VEX Robotics WORLD Championships in April! The competition is in Louisville, KY from April 26-28. for additiona event information, visit their website at: https://www.robotevents.com/robot-competitions/vex-iq-challenge/RE-VIQC-19-8376.html This is a tremendous honor!
See the World at C-NS During the March 5 Festival of Nations:

More than 30 countries from across the globe, including France, Italy, Laos and Ethiopia, will be represented at this year's Festival of Nations at Cicero-North Syracuse High School on March 5. The event, which is free and open to the public, will take place from 5:30 - 7:30 p.m. Guests will have the opportunity to learn about various countries and cultures through food samples, displays and music and dance performances. C-NS student James Corl has organized the event for the past four years and is excited about the festival's growth over the years. He said, "The festival has grown significantly in size since its inception. We've gone from 12 countries in year one to more than 30 this year." Click here ...
C-NS High School Proudly Presents 'Tuck Everlasting' March 12-14:

C-NS High School is pleased to announce their spring musical, 'Tuck Everlasting'. Join us as we celebrate this Broadway musical's premier performance in the CNY area! The production takes place on Thursday, March 12; Friday, March 13; and Saturday, March 14 at 7:00 pm, in the C-NS High School auditorium, and is sponsored by Drs. Callahan, Flanagan, Smith & Stock Orthodontics. When Winnie Foster discovers the magical secret of the Tuck family, she embarks on an extraordinary adventure that will change her life forever. Take a journey you'll never forget in this daring new Broadway musical about love, family, and living life to the fullest. Based on the best-selling, award-winning novel by Natalie Babbitt, ...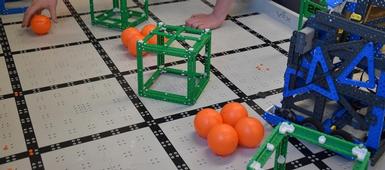 North Syracuse Central School Junior High School Hosts First-Ever Robotics Competition on Saturday, February 22:

The North Syracuse Junior High School hosted its first ever VEX IQ Challenge, robotics competition on Saturday, February 22, 2020. Alex Parsons, a technology teacher at North Syracuse Junior High, is excited about bringing the competition to his own school. He began working with his students around robotics part way before the previous school year but really began gearing up for competition this year. Thanks to a 2018 grant from the North Syracuse Education Foundation, and support from parents and the school, Parsons was able to purchase VEX IQ Super Kits allowing more students to participate. Parsons has a passion for robotics and the STEM skills his students are learning in a fun, hands-on way. Students learns to plan, design, program, ...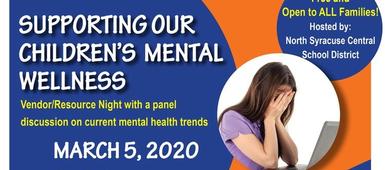 District Hosting "Supporting Our Children's Mental Wellness" Resource Night and Panel Discussion on March 5:

The North Syracuse Central School District is hosting a "Supporting Our Children's Mental Wellness" resource night and panel discussion, on Thursday, March 5 at North Syracuse Junior High School from 6 to 8 p.m. The event is free and open to North Syracuse Central School District families as well as the surrounding community. The forum is the district's second annual event designed to help families work through their concerns around students' mental wellness. The March 5 collaboration is the result of mental health professionals, school administrators, resource officers, counselors and other personnel working together to ensure that families have access to the community supports they need. North Syracuse Central School District School Social ...
Universal Pre-K Registration is May 4 - 22:

The North Syracuse Central School District will begin accepting registrations for its Universal Pre-Kindergarten program on Monday, May 4, 2020 and will continue accepting registrations through Friday, May 22. All registrations accepted during this period will be placed into a lottery for enrollment . Enrollment in the UPK program is NOT done on a first-come, first-served program . Daily registration takes place at the Jerome F. Melvin Administrative Office Building (5355 W. Taft Rd., N. Syracuse) between the hours of 8 am and 3:30 pm. In addition to normal registration hours, the District is also holding one EVENING registration session on Wednesday, May 6, 2020. The evening registration session will take place at North Syracuse Junior High School (5353 W. Taft Rd., N. Syracuse) ...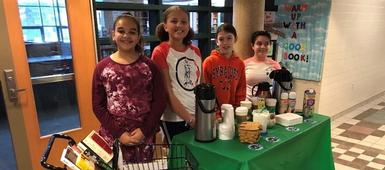 Roxboro Road Middle School Project Lit Holds Valentine's Day Cafe:

The Roxboro Road Middle School Project Lit book club hosted a café on the morning of February 14. Project Lit is a national book club that encourages students to read and discuss culturally diverse books. Students set up a table in front of the library and sold coffee to staff members. Each staff member left with a book to read over winter break and a hot cup of delicious coffee. A cup of joe and a book to go is the StarBooks café motto. Students are working with student council to raise money to buy club t-shirts. Pictured: Jazmin Bachiller, Madison Narbaez, Arainna Procopio and Sophia Bilancione
Next >> Viewing 1 - 20 of 314 stories