Next >> Viewing 1 - 20 of 535 stories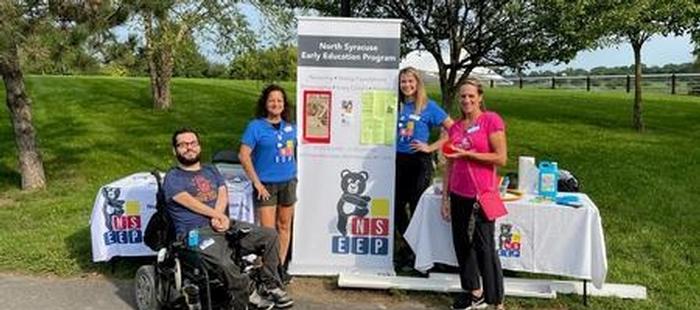 North Syracuse Early Education Program Staff Takes Part in Community Event:

On Saturday, September 17, the TRAID on the Trails event was held at the Syracuse Inner Harbor Creekwalk to promote awareness of inclusive fitness recreation opportunities in Onondaga County. The event, which is sponsored by the Golisano Center for Special Needs at Upstate Medical University, is a fun, family event allowing participants to try out various adaptive physical fitness opportunities. TRAID stands for Technology Related Assistance for Individuals with Disabilities. Several staff of the North Syracuse Early Education Program participated in the event in an effort to promote the cause. The NSEEP team was organized by a 1995 graduate of program (pictured on the left), James Peyton Sefick. Pictured as representatives NSEEP are Denise ...
Learn More About ParentSquare:

The North Syracuse Central School District has moved to a new communication platform called ParentSquare. ParentSquare is a unified app for school communication so parents and guardians can receive all announcements from the District, their children's schools and teachers in one place, with options to specify how and when parents/guardians are notified. Parents with students currently enrolled in the NSCSD should automatically receive ParentSquare messages. Email invitations have been sent to all parents in the NSCSD to activate their ParentSquare account. To learn more about the system's features, find help articles and to log in, visit the District's ParentSquare website by clicking here or going to www.nscsd.org/parentsquare.
C-NS Marching Band Earns Top Honor at Starburst Home Show:

Congratulations to the Cicero-North Syracuse High School Marching Band for earning top honors with their performance of "Zodiac" at the Sept. 17 Starburst Home Show. Band director Karen Seamans shares that the show is based on the constellations of the Zodiac with pieces the highlight Sagittarius, Gemini, Scorpio and Libra. The band is scheduled to perform "Zodiac" again this Saturday, September 24 at the Baldwinsville Home Show. The schedule of events for that show is as follows: National Anthem 4:55 p.m. Jordan-Elbridge 5:00 p.m. Greece 5:13 p.m. Auburn 5:26 p.m. Norwich 5:39 p.m. Phoenix 5:52 p.m. Intermission 6:05 p.m. East Irondequoit 6:18 p.m. Central Square 6:31 p.m. ESM 6:44 p.m. West Genesee 6:57 p.m. CNS 7:10 p.m. Liverpool ...
C-NS Students Work Together to Create Awareness for Suicide Prevention:

Students in Pam Woznica's School Age Education Experience class are helping get the word out about suicide awareness as part of their course. Mrs. Woznica says that one of the requirements for the course is for the students to work together to create meaningful, engaging bulletin boards throughout school's hallways. With the month of September being Suicide Awareness Month, the class focused their work on creating boards around that theme. For the project, each student had to first conceptualize and design a bulletin board on paper. Their designs were posted around the classroom for students to consider and vote upon. Each student was given three votes and the board with the most votes was selected to be created in the hallway. ...
Chalk the Walk and Have a Talk Returns to NSCSD: Schools in the North Syracuse Central School District will once again be participating in the annual Chalk the Walk and Have a Talk project. The project is a mental health awareness campaign to bring attention to suicide prevention through the Onondaga County Suicide Prevention Coalition. Last year the NSCSD had the highest participation out of any school district we'd love to see that happen again! If families are interested in participating in the project at home and sharing their artwork, please send your pictures to Laurie Cook at lcook@nscsd.org ...
Starburst Marching Band Competition, Saturday, September 17:

The Cicero-North Syracuse High School Marching Band home show will take place this Saturday, September 17 at Cicero-North Syracuse High School. Doors for the event open at 4:30 p.m. and the C-NS Marching Band takes to the field at 7:09 to perform their Zodiac show at the lead of Karen Seamans. For more information: https://nysfbc.org/cns-2022/ Performing Bands (listed in order of performance): SS3: Marcus Whitman SS3: Jordan-Elbridge SS3: Leroy LS3: Rome Free Academy LS3: Indian River SS2: Phoenix SS2: Westomoreland LS2: Webster INTERMISSION SS1: East Syracuse Minoa SS1: Horseheads Nat: Liverpool Nat: Cicero-North Syracuse Nat: Victor Nat: Baldwinsville Nat: West Genesee
Back to School 2022-2023 - Wednesday, Sept. 7:

The 2022-2023 school year begins on Wednesday, September 7 for all students in the North Syracuse Central School District! School calendars have been mailed to homes of all students in the District and student schedules are available on SchoolTool . Transportation letters have been mailed to families in the District. Any parent who has not received notification should contact the: Transportation Department Bus Hotline at 315-218-2035 (August 15 - September 16 only). School Hours Elementary Schools 9:15 a.m. to 3:20 p.m. Middle Schools: 8:10 a.m. to 2:45 p.m. North Syracuse Junior High School: 7:30 a.m. to 2 p.m. Cicero-North Syracuse High School: 7:35 a.m. to 2 p.m. North Syracuse Early Education Program: Full Day: 9 a.m. – 2:30 p.m.; Half Day ...
2022-2023 Meal Program Information:

School breakfast and lunch meals are offered to all students in the North Syracuse Central School District through the District's Food Service Program. The Board of Education, the legal sponsor of the program, is committed to ensuring that every child has access to healthy and nutritious meals. Meal prices are set according to by the United States Department of Agriculture program guidelines. The North Syracuse Central School District offers healthy meals at reasonable prices every school day. Breakfast $2.25 for all grade-level students Lunch $3.25 for elementary students $3.50 for middle school students $3.50 for junior/senior high students. While school meals are reasonably priced, some families may still need assistance. Families are encouraged to fill out ...
Annual Student Password Reset 2022:

August 22, 2022: Parents and students in the North Syracuse Central School District should be advised that student passwords for school/district accounts (SchoolTool, Google) will be reset to their default password on August 22. Passwords are routinely reset each year to ensure that students will be able to access their accounts at the beginning of the school year as many students forget their unused passwords over the summer. For students that may be unsure of their default password, email messages have been sent to parents with information about default settings. Parents/students will also receive a pop-up message with instructions when logging into SchoolTool prior to August 22. Students or parents that run into an issue can get tech help by completing a short online ...
Summer Wellness Resources:

The Mental Health Association in New York State, Inc. and the School Mental Health Resource Training Center have produced the "Let's Talk Summer Wellness" toolkit for families and youth. Click here to view the resource online .
District Moving to ParentSquare to Unify Communications:

September, 2022: For updated details about ParentSquare, visit the NSCSD ParentSquare Information Page by clicking here. August, 2022: The North Syracuse Central School District is moving to a new communication platform called ParentSquare. ParentSquare is a unified app for school communication so parents and guardians can receive all announcements from the District, their children's schools and teachers in one place, with options to specify how and when parents/guardians are notified. On August 4, an email invitation was sent to parents to activate their ParentSquare account. Those who do not register will still receive text, email, and phone notifications. Parents who do create an account can interact by viewing photos, downloading attachments, leaving comments, messaging ...
Summer Meal Program Information:

Children in our community do not need to go hungry this summer. For many kids, summertime means food, friends and fun. For families who count on school breakfast and lunch, however, the summer months can be stressful and family food budgets have to be stretched even further. The US Department of Agriculture's (USDA) Summer Food Service Program helps fill the hunger gap. Free summer meals, funded by the USDA, are available to kids and teens ages 18 and younger at Roxboro Road Middle School in Syracuse, NY. This is an open site therefore free meals are available to all children ages 18 and under. This site does not require families to provide income information, registration, or other paperwork. Free Summer Meal Program Details: Meals are FREE ...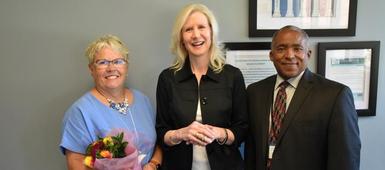 District Employee Tracks Down Rightful Owner of Long-Lost Treasured Token:

For the first time in more than three decades, Erin Horner, a 1986 graduate of Cicero High School, was able to slide her high school class ring onto her finger, thanks to the dedicated detective work of a soon-to-be NSCSD retiree. Erin, who was a part of the school's marching band and colorguard, had ordered the class ring as a memento of her beloved high school activities. At some point after school, Erin lost the ring but could never pinpoint where it could have gone. When Marilyn Nandin, the secretary to Superintendent of Schools Dan Bowles, came to work for the District Office in February of 2011, she happened to come across a class ring that had haphazardly been shoved into the back of a credenza in her office. Unsure where the ring had come from, ...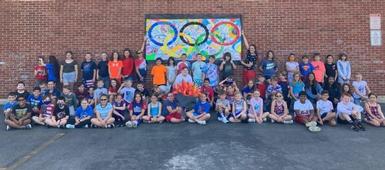 4th Grade Olympics at Allen Road Elementary School:

Allen Road Elementary School's special area 4th grade teachers (Art- MeganPaye, Music-Kristina Vernyi, Library-Nicole Benson, Physical Education-Cody Casalletta and Stephen Mirizio) came together this spring to involve students in a unique collaboration. All four teachers taught individual lessons about the Olympic games and then created and acted out their own games. In library, the students researched past Olympic athletes. In art, the students created a mural of Olympic rings with their favorite sports (every student of all 3 classes put their own drawing. In music, the students learned to sing using solfege syllables and play on the bells the Olympic song. In physical education, teachers came up with games where classes competed against each other. Art teacher ...
Congratulations C-NS Class of 2022!:

Congratulations to the Cicero-North Syracuse High School Class of 2022! On Friday, June 24, the 634 students making up the Class crossed the stage at the New York State Fairgrounds Expo Center. The ceremony video is available online by clicking here. Click here for a Google Drive folder of free, downloadable photos of the ceremony. Click here to browse a gallery of photos for purchase through G&L Media. The C-NS Class of 2022: Collin Denzil Abbott, Alexander Emily Abbott, Dean Nasri Abdel-Aziz, Joshua Thomas Adams, Youssef Mansour Ahmadi, Weheliye Daud Ahmed, Angelo Isadore Albanese, Madison Nicole Alcock, Alexandra Rose Aldrich, Hala Imad Aldwas, Justin Michael Amo, Allison Lynn Anagnostopoulos, Dominic Joseph Ancillotti, Shannon Elizabeth Anderson, ...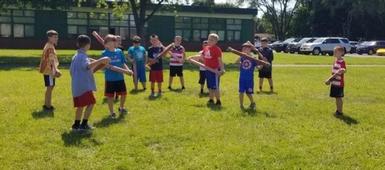 ARE Third Grade Collaboration:

Third grade students at Allen Road Elementary School recently took part in a collaborative project for their art and music classes. During their art classes, the students made usable rainsticks and during their music classes, they learned how do perform a raindance. Once the students in-class lessons were complete, the classes got together and performed in front of other grades. Music teacher Kristina Vernyi says, "We also explained what the Rainsticks and the Raindance were used for by tribes. Students also had an opportunity to create their own tribal dance in groups and display it for each other. It was a really great learning experience and a lot of fun!"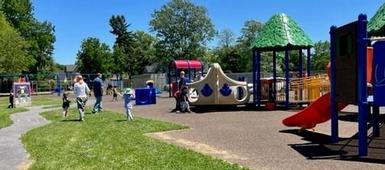 NSEEP Holds Family Fun Festival:

On Saturday, June 4, family and friends of the North Syracuse Early Education Program gathered together at the school's Family Fun Festival. The event was put on by the PTO and had something fun for everyone. PTO member Stacey Tracy shared event pictures and told that there were food and ice cream trucks, the Book Van Go was there and there were lots of water activities to keep cool on the warm day. The event had face painting and balloon characters too. North Syracuse police and fire department personnel came and the kids were able to be finger printed for their families. Stacey said, "It was a great event and was well attended by many students and families and we had many teachers volunteer!" A big "thank you" to everyone who ...
C-NS Senior Awarded Student Volunteerism Scholarship:

Congratulations to Cicero-North Syracuse High School Senior Jacob Garofalo who won a $500 North Syracuse Education Foundation (NSEF) Student Volunteerism Scholarship awarded at the NSEF June board meeting. Jacob will be attending McGill University in the Fall and studying French. Jacob has been a student rep with the NSEF for 3 years and participated in many events such as the following: Selling certificates for Paladino's pizza where he raised $270 NSEF golf tournament in sophomore year Open House at CNS in sophomore year Can and bottle drive junior year We wish Jacob the best of luck as he moves on to college - he will be missed at the NSEF NSEF Student Volunteerism Scholarship ...
Next >> Viewing 1 - 20 of 535 stories