Next >> Viewing 1 - 20 of 513 stories
C-NS Celebrates the Top 10% of the Class of 2022:

On Tuesday, May 24, the top ten percent of students in the Cicero-North Syracuse Class of 2022 was recognized at a special ceremony. The students were treated to a celebratory breakfast in the school's library and were presented with certificates by Executive Principal Jamie Sullivan in front of their peers. North Syracuse Central School District's Superintendent of Schools took time to speak to the group and praise them for their efforts over the years, especially in light of the disruptions caused by the pandemic. Congratulations to these outstanding scholars! The 60 students making up the Class of 2022 Top Ten Percent are: Alexandra Abbott, Dean Abdel-Aziz, Shannon Anderson, Jaiden Asch, Elijah Barboza, Justin Beardsley, Nathan ...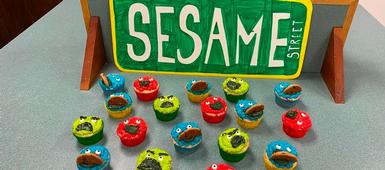 Cupcake Wars at C-NS:

Ashley D'Imperio, a Family and Consumer Sciences teacher at Cicero-North Syracuse High School, shared pictures from a recent project done by students in her Hospitality and Pastry Arts class. The students completed their own version of Cupcake Wars as part of their class. Ashley said, "We had previously discussed recipe reading, and different cake decorating methods, and we even practiced piping skills using instant mashed potatoes." For the project, students brainstormed a class theme, and voted on the theme "childhood memories". Groups then found their own recipes for cupcakes and frosting from scratch, as well as planned how to creatively decorate and present cupcakes that fit our class theme. In the end, ...
Transportation Job Fair on June 4:

On Saturday, June 4, the North Syracuse Central School District is hosting a transportation department job fair. The event will take place at the transportation department (5520 East Taft Road) in North Syracuse from 9 a.m. to 12 p.m. North Syracuse Central School District Director of Transportation Matthew Conti encourages anyone interested to attend the fair and learn about transportation careers with the district. "We are looking for dependable, safety-minded individuals to become trained for some of the most important jobs in the district. CDL driving experience is preferred by not necessary, so anyone that is looking toward this as a career option is more than welcome to attend our job fair." Interested persons can fill out an application by clicking ...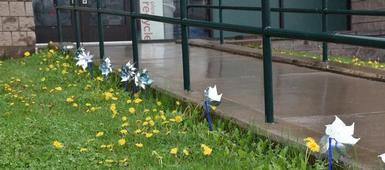 NSCSD Transportation Department Supports Child Advocacy Center:

Earlier this spring, staff of the North Syracuse Central School District's Transportation Department kicked off their 8th annual campaign of caring for children by supporting the McMahon Ryan Child Advocacy Center's "Go Blue for Kids" pinwheels project. Led by Kathryn Janusz, one of the department's school bus attendants and a long time volunteer for McMahon Ryan, the staff raised almost $500 for the campaign. Great job! Click here to learn more about McMahon Ryan Child Advocacy efforts.
C-NS Honors 4th Quarter NorthStar PRIDE Winners:

C-NS celebrated their 4 th quarter Northstar Pride awards during the week of May 16. Northstar Pride awards honor students for demonstrating the core values of the building which consist of: personal responsibility, respect, integrity, discipline and engagement. Students were honored with an assembly where they received their award, a treat, and their name will appear on the marquis as well as the morning announcements. Congratulations to all our C-NS Pride recipients. They make C-NS a great place to come and learn every day! Northstar Pride recipients included: Liam Adams for Engagement & Respect; Arantza Aguirre-Calvo for Discipline, Respect & Personal Responsibility; Bowie Aldrich for Respect, Personal Responsibility; Sydney ...
Star Shop at C-NS Selling Class of 2022 Stickers:

The Star Shop at Cicero-North Syracuse High School is selling stickers for the Class of 2022. The 4x6 stickers are available for $4 each and can be purchased by filling out the online form here .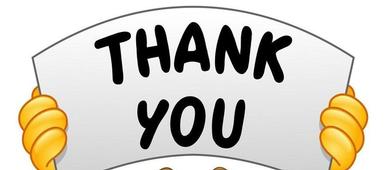 North Syracuse Central School District voters approve proposed budget:

May 17, 2022 – North Syracuse Central School District voters have agreed to the District's proposed 2022-2023 school year budget with 73.6 percent approval. Voters cast a total of 1,298 yes votes and 466 no votes on the $188,367,855 proposal. A bus proposition for $1,890,381 also passed with 1,295 yes votes and 479 no votes for 73 percent approval. Additionally, the Salina Free Library proposition for $489,304 passed with 85.5 percent approval with 59 yes votes and 10 no votes. Two special propositions on this year's ballot were also approved. Proposition #3 for a chiller replacement at North Syracuse Junior High School ($1.4 million with no local tax impact) received 1,409 yes votes and 369 no votes for 79 percent approval. Proposition #4 for an energy performance ...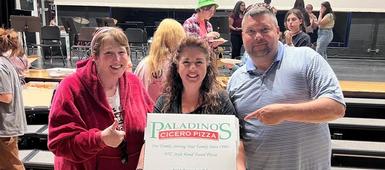 C-NS Teacher Honored by Local Radio Station:

On Wednesday, May 11, Cicero-North Syracuse High School Music Teacher Danielle Rausa was honored by 95X, a local radio station, for teaching eXcellence in the community. Rausa was nominated for recognition by more than 35 students, teachers and parents and as a result, won a pizza party for her students. Two of the stations DJs, Marty and Shannon, arrived at the school with enough pizza for 60 students, courtesy of Paladino's Cicero Pizza. The DJs did a quick Facebook Live video while at the school and in return, the students gave an improptu singing performance while eating their pizza. Congratulations to Danielle Rausa and many thanks to 95X, Paladinos Cicero Pizza and all of those that supported Mrs. Rausa! ...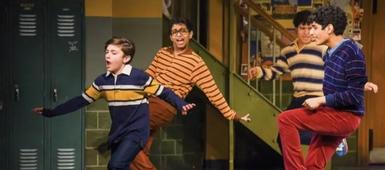 Gillette Road Middle School Student Part of Disney Plus Premiere of 'Trevor: The Musical':

Gillette Road Middle School student Brigg Liberman is once again in the news for his role in 'Trevor: The Musical.' With a debut performance off Broadway late last year, the show is now getting ready to air on Disney Plus. Starring thirteen year-old Holden William Hagelberger from Sugarland, Texas, the production's 19-member company, which includes Brigg, was selected from a national virtual casting call with over 1,300 submissions! Brigg, whose mother Tracy is a teacher at North Syracuse Junior High School, is currently a 7th grade student at Gillette Road Middle School. He began performing publicly at the age of 7 in local productions and singing the national anthem at area sporting events. He has participated in several productions with ...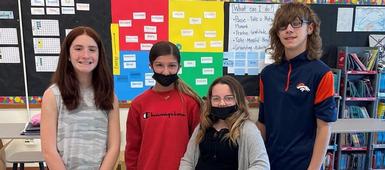 GRMS Students Apply Classroom Lessons to Real World:

Students in Monica Fitzgerald's Reading Class at Gillette Road Middle School put their skills to use this week and they applied their learning and worked together to assemble a storage cart for their classroom. Mrs. Fitzgerald shared photos of the students at work and then of the finished product. She said, "The students used their reading skills and worked together. At one point they made a mistake and had to back track. It was a great lesson on problem-solving, working together and applying their reading skills."
Junior High Talent Show Returns on May 26:

After nearly 37 months, the North Syracuse Junior High School Talent Show is back! Come on out to enjoy a live, in-person 15 act show, entitled Night at the Movies on Thursday, May 26th at 7pm at the NSJHS Auditorium. Tickets are on sale now at the junior high and can be purchased during all lunch periods outside the entrance to the lunchrooms. General Admission tickets are $7 and Reserve seating is $10. Reserve seating enables patrons to pick their exact seat and skip any lines. Door tickets will be available for $10. If you would like to purchase tickets from home, you can purchase them online by emailing your ticket order to ordering@4dproductions.org after checking the live updated seating chart ...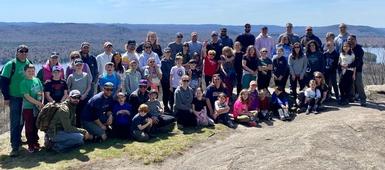 Cicero Elementary Students and Families Hike Bald Mountain:

Cicero Elementary School third grade students have participated in an annual tradition of hiking Bald Mountain each year since 1994, when Mr. Bigford and Mr. Stimson started this outdoor adventure. Since then, over 1,400 students have trekked up to the Rondaxe fire tower to enjoy nature and the beautiful views of the Adirondack park. On the last weekend in April, more than 130 3rd and 4th grade students and family members made it to the summit over the course of 2 gorgeous days. Mr. Bailey and Mr. Cupoli are looking forward to taking our next group of students in the Fall!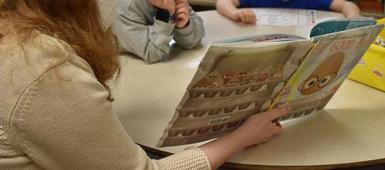 NSEF Celebrates 20 Years of Giving - Grant Focus: Books for Counseling:

As the North Syracuse Education Foundation (NSEF) celebrates 20 years of giving this year, the NSCSD is helping highlight some of the outstanding programs that have been made available because of their grants. The NSEF serves a simple, but comprehensive purpose: to ensure that North Syracuse Central School District students benefit from a quality education to maintain and enhance the level of excellence in North Syracuse schools. With the unfortunate reality of diminishing local and federal funding, the NSEF has filled the desperate need of stretching budgets by funding projects and materials to enhance students' education. In its 20 years of existence, the NSEF has funded more than $200,000 worth of programs that have ...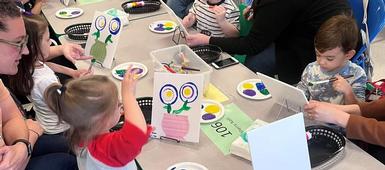 NSEEP Students and Families Enjoy Togetherness:

North Syracuse Education Program teacher Kate DeBottis was excited to share photos from her students' "Tea for Two to Celebrate You" Mother's Day event this past week. Kate sent some pictures of the event, which she turned into a painting party, and let us know that it was the first in person event for parents since prior to the COVID pandemic. To stress the importance of togetherness, Kate said, "Preschool is often a family's first experience with school but COVID unfortunately restricted many families from being able to share the school experience with their child. It gave me great joy to see my students and students in other classrooms showing off the skills that they have worked so hard to gain this past year ...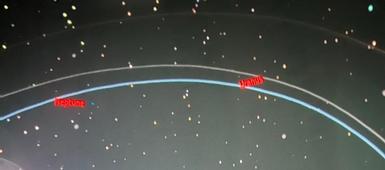 Roxboro Road Middle School Students Have "Out of World" Experience:

This past week, 5 th grade students at Roxboro Road Middle School had a unique opportunity to take part in an "out of this world" experience as part of their school day. On May 2 and 3, RRMS students spent their regular science class period in a planetarium right at school. Many thanks to the following teachers for having their students participate: Nicole Finger , Danielle DiGiavanni (McChrohan) , Trisha Nelson , and Mike Thompson . As part of OCM BOCES STEM Services, a Planetarium Program is offered to participating districts, such as the North Syracuse School District. John Rice, the NSCSD's director who oversees science curriculum in the District, worked with OCM BOCES to bring the planetarium (Starlab) to RRMS students. "The planetarium ...
Special Olympics Track and Field Event Postponed Until May 26:

This year's Special Olympics Event originally scheduled for Thursday, May 19 has been postponed until Thursday, May 26 due to forecasted rain. The Special Olympics Track & Field Event will still take place at the Cicero-North Syracuse (C-NS) High School Athletic Complex. On the 26th, students will begin arriving at C-NS at approximately 9:30 a.m. with a Parade of Athletes taking place to kick off the day's events, followed by athletic competitions until approximately 1 or 1:30 p.m. Student athletes are expected from several local school districts including Fayetteville-Manlius, Jamesville-DeWitt, Liverpool, Lyncourt, Marcellus, North Syracuse, OCM BOCES, Solvay and West Genesee. Everyone is welcome to attend this fun-filled day! Special Olympics games promote ...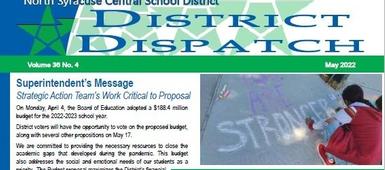 School Budget Vote and BOE Member Election May 17:

On Monday, April 4, the Board of Education adopted a $188.4 million budget for the 2022-2023 school year. District voters will have the opportunity to vote on the proposed budget, along with several other propositions on May 17. Polls are open from 6 a.m. to 9 p.m. Polling Locations Voters who live NORTH of Route 481 will vote at Cicero Elementary School (5979 Route 31) in Cicero Voters who live SOUTH of Route 481 will vote at the Jerome F. Melvin Administrative Office Building (535 W. Taft Rd.) in North Syracuse We are committed to providing the necessary resources to close the academic gaps that developed during the pandemic. This budget also addresses the social and emotional needs of our students as a May ...
Board of Education Approves Revised 2021-2022 Calendar For Last Week of School Year:

The North Syracuse Central School District Board of Education approved a revised 2021-2022 academic calendar at their May 2 meeting. Changes have been made impacting the last week of school. Those changes are as follows: June 21 - Last day of school for students in grades K-7 June 22 – Half-Day for Pre-K Students Only June 22 – No school for students in grades K-12 except for Regents June 23 – No school for students in grades Pre-K–12 except for Regents There are additional changes to the published wall calendar that were approved at prior board meetings. Those changes include the following dates in May: May 13 is a regular school day for all students May 20 is a half-day of school for students in grades Pre-K-12 May 27 is ...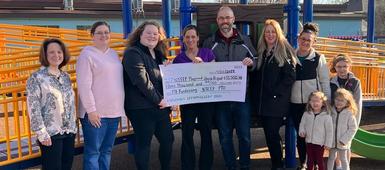 North Syracuse Early Education Program PTO Presents Generous Donation for Playground Shade Project:

Pictured (left to right) in front of the NSEEP playground: School Principal Dawn Hussein, PTO Secretary Brittany Carlson, PTO President Brittany Knight, NSEEP Staff Cheri Rotelli, PTO Treasurer Sean Goodwin, PTO Co-Vice-President Stacey Tracy and PTO Co-Vice-President Corie Portzline with her daughter Lorelei Portzline (now a student at Smith Road Elementary School) and twin daughters Lola and Lilou, who are students at the NSEEP. Last summer, the North Syracuse Early Education Program launched its re-envisioned and renovated playground serving the school's 240 students, as well as the larger community in Onondaga County. This inclusive, fully accessible playground was carefully designed around the needs of children with a myriad ...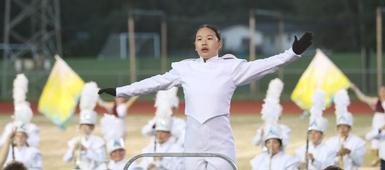 Marching Band Alumni Sought for 40th Anniversary Celebration:

Calling all former Northstars, Northmen, and Golden Eagles!!! It may still be spring, but it's time to think ahead to the fall – specifically, to Saturday, September 17! That's the date for Starburst and the 40th anniversary of the first CNS Northstars Marching Band. Let's celebrate this milestone with an alumni performance – the biggest and best yet! Information is being posted on the facebook page: NSCSD MARCHING BAND ALUMNI GROUP Norm Bagley is organizing and Craig Elwood has done an amazing medley of music. Click here to see the Song list/years Click here to hear a Recording Click here to Register We will do all we can to help provide instrument and colorguard equipment, so don't let that stop you! We want to see the ...
Next >> Viewing 1 - 20 of 513 stories