Next >> Viewing 1 - 20 of 362 stories
C-NS Chorus Supports Suicide Prevention:

On Saturday, October 10, The Cicero-North Syracuse High School Chorus, "Team Pacs PAC", took to Longbranch park to participate in the "OUT OF THE DARKNESS" walk for the American Foundation for Suicide Prevention. The team raised more than $1,500 dollars in their efforts to support the cause. The team also helped provide event entertainment through 4-D Productions, a student run club that specializes in lighting, sound, video and staging. Many thanks to 4-D student volunteers, Drew Williams and Richie Curran, for volunteering their time and talents. C-NS students in "Team Pacs PAC" are: Team Captain Genevieve Costigan (junior), Autumn Corkle (senior), Victoria Scalisi (senior), Ciann Jackson (senior), Alex ...
School Meal Program Information:

In partnership with the United States Department of Agriculture, the North Syracuse Central School District is temporarily able to offer FREE breakfast and lunch meals to ALL students. This includes meals for students taking part in remote and hybrid learning. Meals are available for pick up from 4:30 to 5:45 p.m. every Monday through Friday when school is in session. Meals can be picked up at all secondary buildings: Cicero-North Syracuse High School (6002 Route 31, Cicero) at the school's bus loop North Syracuse Junior High School (5353 West Taft Rd., N. Syracuse) at the school's kitchen door in back of building Gillette Road Middle School (6150 South Bay Rd., Cicero) at the school's front door Roxboro Road Middle School (300 Bernard ...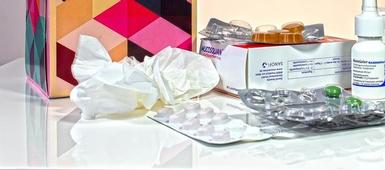 Fighting the Flu: Information for Families:

The Flu: A Guide for Parents Influenza, commonly referred to as the 'flu', is a severe respiratory illness that is easily spread and can lead to severe complications, even death. Each year in the U.S. on average, influenza and its related complications result in approximately 226,000 hospitalizations and over 23,600 deaths. Combined with pneumonia, influenza is the nation's eighth leading cause of death. You can help avoid getting and spreading influenza by getting vaccinated each year. North Syracuse Central School District families are encouraged to read the following flu resources from the New York State Department of Health and visit their website for additional information . Annual flu announcement from NYSDOH The Flu: A Guide for Parents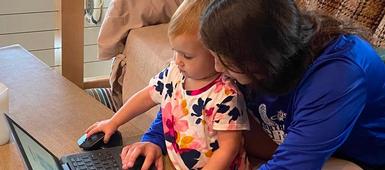 Wellness Resources for Families:

It has been said that "You never know how strong you are until being strong is the only choice you have." Despite feeling overwhelmed and uncertain, we have been strong and started a brand new school year like no other. As we navigate this journey together, we want to focus on the wellness of our students and their families. Toward that end, we have started our Family Wellness website - a place to check in for physical and mental wellness resources, ideas for fun and strategies for stress management and self-care. Click here to visit the Family Wellness Page. The site will be evolving as the year progresses and we need your input to know what is working and what isn't. We will be exploring ideas for sharing thoughts and photos so we can document ...
District Offering Free Academic Support for Eligible Native American Students:

The North Syracuse Central School District, through its Native American Grant Program, is making available free academic services to Native American students attending school within the district who have filed the appropriate 506 eligibility certification forms. Based on federal grant funding, academic services may include: Virtual after-school tutoring, provided by certified teachers for the 2020-2021 school year Financial support for advanced placement courses and SAT registration fees School-based academic counseling For more information, please contact the office of Christopher R. Leahey, Ed.D., Associate Superintendent for Teaching and Learning at 315-218-2148.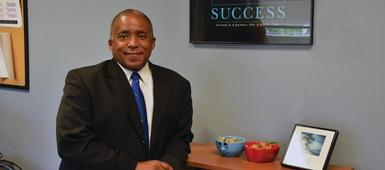 Superintendent's Updates:

The North Syracuse Central School District has created this website as a landing page for Superintendent Updates related to COVID-19. For Tuesday, October 13, all NSCSD K-12 students will be remote with the exception of students that normally attend in-person 5 days/week. NSEEP students are not impacted. October 10 Superintendent's letter to NSCSD families regarding switch to remote learning 10-13 October 10 Superintendent's letter to NSCSD staff regarding switch to remote learning 10-13 October 9 Superintendent's letter to NSCD Families Regarding Holiday Weekend October 9 ...
Technical Support Information:

For Technical Support, visit our technology website by clicking here or call our Tech Helpline at (315) 218-2108 EMAIL the HELPLINE: Allen Road: ARHelpline@nscsd.org Bear Road: BRHelpline@nscsd.org Cicero Elementary: CEHelpline@nscsd.org Lakeshore Road: LRHelpline@nscsd.org Rox Elementary: REHelpline@nscsd.org Smith Road: SRHelpline@nscsd.org Rox Middle: RMHelpline@nscsd.org Gillette Road: GRHelpline@nscsd.org Junior High: JHHelpline@nscsd.org C-NS: HSHelpline@nscsd.org October 15, 2020 - Message to K-6 Families Regarding Restrictions to K-6 Student Email Accounts due to Safety/Privacy Concerns: Due to privacy and security concerns the District has restricted email for K-6 students such that they can only send/receive emails ...
Back to School!:

Please visit our technical support website by clicking here or call our technical support Helpline at (315) 218-2190 Welcome to the 2020/2021 school year. We are excited to welcome our students back after so many months! Our teachers, administrators and staff are working very hard to be prepared for this first day of school so our students feel welcome and safe. Because things will look a bit different this year, we are asking for everyone's patience and cooperation while we navigate this new territory. Please take a few minutes to carefully read the information below and click here for the 2020/2021 First Day Checklist . As in the past, we'd love to share your first days of school pictures. Please share your photos with our school information ...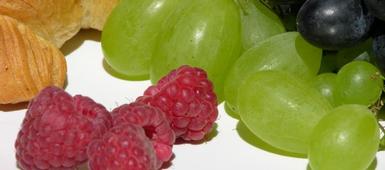 USDA Partnership Will Temporarily Provide Free Meals for All Students:

The North Syracuse Central School District is excited to announce that, in partnership with the United States Department of Agriculture, free meals will temporarily be available to all students in the District. In addition to meal service for students attending in-person learning in one of the District's 11 school buildings, provisions have been made for families of students learning remotely to pick up meals each day that school is taking place. On Friday, September 4, New York State Education Department officials confirmed that the North Syracuse Central School District would have its summer meal program extended into the fall months. While the USDA made the announcement last Tuesday , the District was not notified until Friday. The extension of the summer meal ...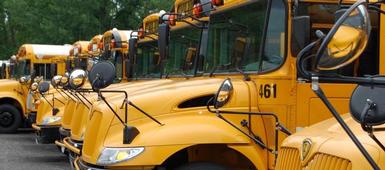 Student Transportation Information for 2020-2021 School Year:

For the 2020-2021 school year, please be aware of the following changes regarding transportation: All students will be required to wear masks ( for exceptions, please click here ). If students do not have a mask, the bus driver will provide one. To maintain social distancing, students will be seated near the window with only one student in a seat. All buses will be sanitized/disinfected between and after runs. Bus windows will be partially opened to allow air circulation. Students will be provided with loading and unloading instruction. Bus passes will not be given out. Any parent who has transportation questions should contact the Transportation Department via the Bus Hotline at 315-218-2035. Transportation Any ...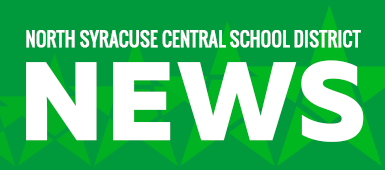 Student Passwords Have Been Reset:

Parents and students in the North Syracuse Central School District should be advised that passwords for all student school/district accounts (schooltool, Google) in grades K-12 will be reset were reset to a temporary password on Tuesday, August 25, 2020. Passwords are routinely reset each year to ensure that students will be able to access their accounts at the beginning of the school year as many students forget their unused passwords over the summer. Please note that their temporary password will be slightly different from last year. Their temporary password for this year includes their grade, two digit building code (see below), and the last 4 digits of their student ID . For example, the password for a student in grade 7 at Roxboro Middle would have a ...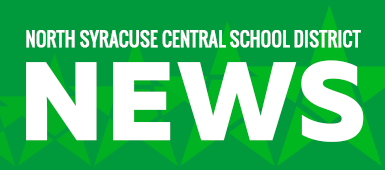 Read Superintendent Bowles' August 21 Update to Families:

August 21, 2020 Hello North Syracuse Central School District Families and Staff, As we head into the final weeks of summer at what seems to be warp speed, I thought it was important to take a moment to reach out to all of you. We have now received your requests for remote learning services and our building staff are in the process of putting together schedules. We understand that you may have questions or be considering a change but we are asking you to wait to call the schools until after Monday, August 24 so staff have time to create initial schedules. I also want to thank everyone who took time to submit questions and watch our recent parent information sessions. We received a tremendous number of excellent questions and spent a considerable amount of time on the answers. ...
Board of Education Approves Revised Calendar:

The North Syracuse Central School District Board of Education approved a revised 2020-2021 academic calendar at their August 10 meeting. The revised calendar includes the following revisions: The first day of school for students will be Thursday, September 10 The Superintendent's Conference Day originally scheduled for Tuesday, November 3 has been moved to Tuesday, September 8 The Superintendent's Conference Day originally scheduled for Friday, June 25 has been moved to Wednesday, September 9 Due to COVID-19, the District may request additional changes throughout the school year. Any future adjustments will be approved by the Board of Education and communicated to families both online and through District messaging systems. Parents and guardians are asked to ...
District Creates Parent FAQ Sheets for Reopening Questions:

In conjunction with its initial reopening plan made available on July 30, the North Syracuse Central School District is also creating a series of Frequently Asked Questions (FAQ) sheets. All sheets will be compiled and posted to the District's FAQ website. Click here for FAQ #1 (week of August 3, 2020)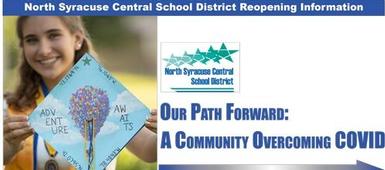 NSCSD School Reopening Information for Families:

North Syracuse, August 11, 2020 - As the North Syracuse Central School District prepares to open school buildings using a Hybrid Instructional Model and to offer a remote learning option for the fall of 2020-2021, it will conduct a series of online parent forums to answer questions. Sessions will take place on August 13 , August 17 and August 18 from 6 to 7 p.m. All sessions will be live-streamed and recorded so parents can watch live and/or view at their convenience. Individual live-stream links are posted on the District's website and online calendar. ...
July District Newsletter Available Online:

The July 2020 edition of the North Syracuse Central School District's newsletter, The District Dispatch , is now available online by clicking here . Be sure to check out the color version of the newsletter with graduation pictures, Class of 2020 information, important updates about renovations at KWS Bear Road Elementary School, the District's Re-Entry Committee and much more! District residents will receive a printed version of the newsletter in the mail the week of July 20.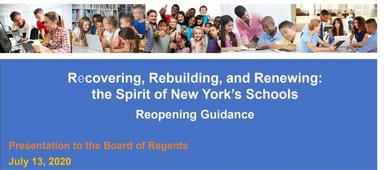 NSCSD Using State Guidelines to Formulate Re-Entry Plan:

After receiving the New York State Education Department's July 13 guidance entitled " Recovering, Rebuilding and Renewing: the Spirit of New York's Schools Reopening Guide ," the North Syracuse Central School District (NSCSD) is working to adopt the model and create its own Re-Entry Plan. The NSCSD formed a Re-Entry Committee in May to explore options for the safe reopening of schools. Additionally, the District has been working with a regional group of school districts through OCM BOCES to share information and best practices. Based on the committee's recommendations and the regional group's work, in accordance with the new state guidelines, the NSCSD expects to be able to submit an initial plan to New York State by the July 31 deadline. ...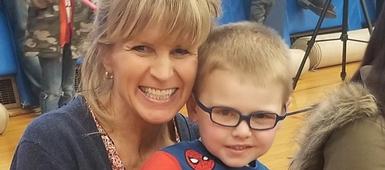 Committee Exploring School Re-Entry Options:

July 8, 2020 Hello North Syracuse Central School District families and staff, Although June has just ended, we are well into planning for the upcoming school year. As you know, this has been a challenging time as we sort through the guidelines, recommendations and logistics of COVID-19 and its impact on the North Syracuse Central School District. We continue to look for light at the end of the tunnel while facing the reality of the cancellation of large gatherings, most recently the New York State Fair. First and foremost, I want to let you know that we are actively exploring options for the safe reopening of schools. Earlier this spring, the NSCSD formed a Re-Entry Committee with more than 100 stakeholders coming together virtually to formulate a plan. In order to explore all ...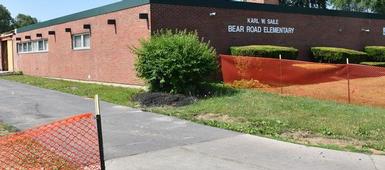 Construction Underway at KWS Bear Road Elementary District Urges Public to Use Caution and Avoid Closed Work Site:

The long-anticipated and much-needed construction is now well underway at one of the North Syracuse Central School District's oldest elementary school buildings — KWS Bear Road Elementary School thanks to tremendous community support and determination. While much of the community was tucked away, staying safe at home this past spring, the voter-approved renovations quietly began at the six-plus decades old building. The project has been a long time in the making, first seeking community support through a Capital Project Referendum in October of 2016. That vote was approved, but due to project costs being higher than planned, a second referendum was needed. That vote was also approved in December of 2019 ...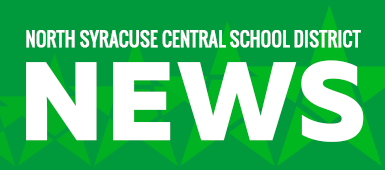 Congratulations North Syracuse Junior High School Principal's Award Winners!:

Congratulations to this year's Principal's Award winners from North Syracuse Junior High School: Dean Abdel-Aziz Nicholas Abruzzese Liam Adams Rocco Albanese Keira Anderson Olivia Anderson Rachelle Asare Mya Ashkar Maria Barbato Josselyn Barrington Kaylyn Beachner Alyssa Beckley Kimberly Bisesi Kaleigh Boismenu Gianna Boland Savannah Bold Hannah Boyle Michael Bozinovski Emily Bradley Kaylin Bristol Mallory Brooks Riley Broton Shannon Brown Jeremy Budihardjo Victoria Buswell Kathryn Byrnes Courtney Calkins Eve Campitello Lauren Capone Jack Cappon Kaitlyn Carroll Gabriella Casanova Jillian Cean Mason Ciciarelli Angelina Cifaratta Ava Cimino Amiyahliz Claudio Carlo Clerigo Reece Congel Angelina Cosentino ...
Next >> Viewing 1 - 20 of 362 stories