Next >> Viewing 1 - 20 of 348 stories
Board of Education Approves Revised Calendar:

The North Syracuse Central School District Board of Education approved a revised 2020-2021 academic calendar at their August 10 meeting. The revised calendar includes the following revisions: The first day of school for students will be Thursday, September 10 The Superintendent's Conference Day originally scheduled for Tuesday, November 3 has been moved to Tuesday, September 8 The Superintendent's Conference Day originally scheduled for Friday, June 25 has been moved to Wednesday, September 9 Due to COVID-19, the District may request additional changes throughout the school year. Any future adjustments will be approved by the Board of Education and communicated to families both online and through District messaging systems. Parents and guardians are asked to ...
District Creates Parent FAQ Sheets for Reopening Questions:

In conjunction with its initial reopening plan made available on July 30, the North Syracuse Central School District is also creating a series of Frequently Asked Questions (FAQ) sheets. All sheets will be compiled and posted to the District's FAQ website. Click here for FAQ #1 (week of August 3, 2020)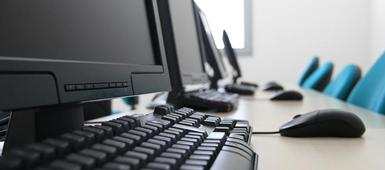 Parent/Guardian Request for Remote Learning:

On July 30, the NSCSD released its initial reopening plan to address the safe reentry to schools this fall. In response to the many follow-up questions received, the District has created a Frequently Asked Questions (FAQ) sheet . Additional FAQ sheets will be provided as necessary and all information will be posted on the District's COVID-19 Resources website. Please take a few moments to read over this week's FAQ and then respond to the online questionnaire about remote learning ONLY IF you would like to have your child(ren) enrolled in the 100% remote learning option. Parents/guardians who would like to request the remote learning option for their child(ren) need to submit an online form by August 19 . The District will provide additional details about ...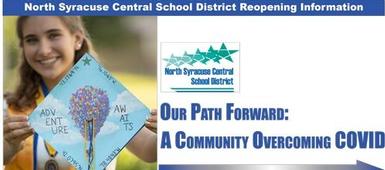 NSCSD School Reopening Information for Families, Questions Can Be Submitted Online:

North Syracuse, August 11, 2020 - As the North Syracuse Central School District prepares to open school buildings using a Hybrid Instructional Model and to offer a remote learning option for the fall of 2020-2021, it will conduct a series of online parent forums to answer questions. Sessions will take place on August 13 , August 17 and August 18 from 6 to 7 p.m. All sessions will be live-streamed and recorded so parents can watch live and/or view at their convenience. Individual live-stream links are posted on the District's website and online calendar. The District is asking parents and guardians to submit their questions online ahead of time so that they can be grouped and answered appropriately. Parents can submit their questions online ...
July District Newsletter Available Online:

The July 2020 edition of the North Syracuse Central School District's newsletter, The District Dispatch , is now available online by clicking here . Be sure to check out the color version of the newsletter with graduation pictures, Class of 2020 information, important updates about renovations at KWS Bear Road Elementary School, the District's Re-Entry Committee and much more! District residents will receive a printed version of the newsletter in the mail the week of July 20.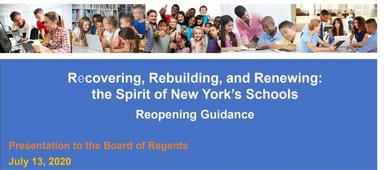 NSCSD Using State Guidelines to Formulate Re-Entry Plan:

After receiving the New York State Education Department's July 13 guidance entitled " Recovering, Rebuilding and Renewing: the Spirit of New York's Schools Reopening Guide ," the North Syracuse Central School District (NSCSD) is working to adopt the model and create its own Re-Entry Plan. The NSCSD formed a Re-Entry Committee in May to explore options for the safe reopening of schools. Additionally, the District has been working with a regional group of school districts through OCM BOCES to share information and best practices. Based on the committee's recommendations and the regional group's work, in accordance with the new state guidelines, the NSCSD expects to be able to submit an initial plan to New York State by the July 31 deadline. ...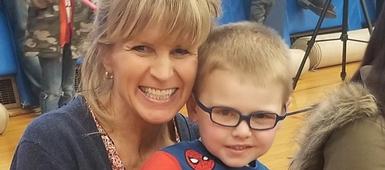 Committee Exploring School Re-Entry Options:

July 8, 2020 Hello North Syracuse Central School District families and staff, Although June has just ended, we are well into planning for the upcoming school year. As you know, this has been a challenging time as we sort through the guidelines, recommendations and logistics of COVID-19 and its impact on the North Syracuse Central School District. We continue to look for light at the end of the tunnel while facing the reality of the cancellation of large gatherings, most recently the New York State Fair. First and foremost, I want to let you know that we are actively exploring options for the safe reopening of schools. Earlier this spring, the NSCSD formed a Re-Entry Committee with more than 100 stakeholders coming together virtually to formulate a plan. In order to explore all ...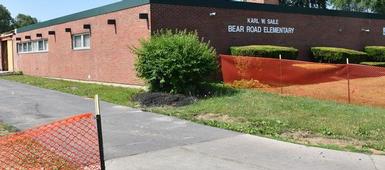 Construction Underway at KWS Bear Road Elementary District Urges Public to Use Caution and Avoid Closed Work Site:

The long-anticipated and much-needed construction is now well underway at one of the North Syracuse Central School District's oldest elementary school buildings — KWS Bear Road Elementary School thanks to tremendous community support and determination. While much of the community was tucked away, staying safe at home this past spring, the voter-approved renovations quietly began at the six-plus decades old building. The project has been a long time in the making, first seeking community support through a Capital Project Referendum in October of 2016. That vote was approved, but due to project costs being higher than planned, a second referendum was needed. That vote was also approved in December of 2019 ...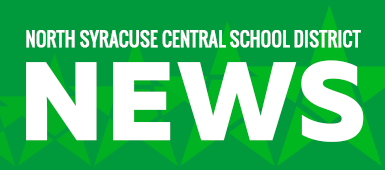 Congratulations North Syracuse Junior High School Principal's Award Winners!:

Congratulations to this year's Principal's Award winners from North Syracuse Junior High School: Dean Abdel-Aziz Nicholas Abruzzese Liam Adams Rocco Albanese Keira Anderson Olivia Anderson Rachelle Asare Mya Ashkar Maria Barbato Josselyn Barrington Kaylyn Beachner Alyssa Beckley Kimberly Bisesi Kaleigh Boismenu Gianna Boland Savannah Bold Hannah Boyle Michael Bozinovski Emily Bradley Kaylin Bristol Mallory Brooks Riley Broton Shannon Brown Jeremy Budihardjo Victoria Buswell Kathryn Byrnes Courtney Calkins Eve Campitello Lauren Capone Jack Cappon Kaitlyn Carroll Gabriella Casanova Jillian Cean Mason Ciciarelli Angelina Cifaratta Ava Cimino Amiyahliz Claudio Carlo Clerigo Reece Congel Angelina Cosentino ...
Working Papers Available at C-NS High School During Summer Months:

Throughout the summer months, working papers may be obtained each week from Tuesday through Thursday, 9:00 a.m. – 12:00 p.m. in the Main Office of Cicero-North Syracuse High School. Students must have a copy of their current physical, valid within the last year. Please call 315-218-4100 if you have questions.
C-NS Yearbook Distribution Schedule:

The day has finally arrived! C-NS yearbooks are IN! Yearbooks can be picked up at C-NS under the busport to those who pre-ordered as follows: July 2 - SENIORS ONLY 9a-1p July 6 from 9a-1p (all students who preordered) July 7 from 2 - 5p (all students who preordered)
Congratulations C-NS Class of 2020!:

June 24 Virtual Graduation Click here to re-watch the June 24 Virtual Graduation on YouTube. June 25 Graduation Livestream Click here to re-watch the June 25 graduation ceremony livestream. Click here to view a selection of photos from the live graduation on Facebook If you have additional photos that you'd like to add to the album, please email them to Laurie Cook at lcook@nscsd.org
Summer School Information:

Regional Summer School for Grades 7-12 North Syracuse Central School District will hold summer programs for students in grades 7-12 through the OCM BOCES Regional Summer Program, which will take place virtually. NSCSD students needing to enroll in the summer programs should contact their school counselor for information. The 2020 OCM BOCES Regional Summer School program will be provided virtually using Google Classroom as the format for all courses. All students must have access to a laptop or chromebook and must have Internet connectivity. Regional Summer School will begin on Wednesday, July 8 and run through Wednesday, August 12th. Please click here to review the calendar and note that Friday, July 24 and Monday, July 27 will be vacation days for students and ...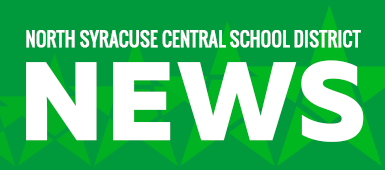 Results of Spring Parent Survey:

We received a strong response to our Parent Surveys that was administered earlier this spring. Please click here to to review the summary results. You will find that parents are seeking more communication from schools, assistance with online learning, clear instructional expectations, and awareness of and access to mental health resources. Our focus for the summer will be to continue to work toward a create a safe, supportive re-entry, and communicating our progress with our stakeholders along the way. We will continue to keep our parents updated throughout the summer. Your input is valued and we will continue to work as partners in the best interests of our students. As always, thank you for your continued support. Sincerely, Daniel D. Bowles Superintendent ...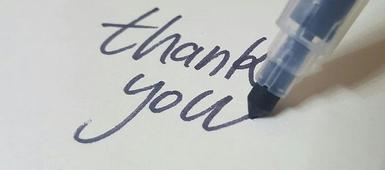 Thank You! NSCSD Voters Approve District's Budget Proposal:

North Syracuse Central School District voters have agreed to the District's proposed 2020-2021 school year budget with a 60 percent approval. A total of 7,345 votes were submitted via absentee ballot, with the final tally being 4,417 yes votes and 2,074 no votes on the $172,567,744 proposal. A bus proposition for $2,113,295 also passed with 4,155 yes votes and 2,319 no votes. Additionally, the Salina Free Library proposition for $471,228 passed with 354 yes votes and 162 no votes. Voters elected the following three candidates to the North Syracuse Central School District Board of Education for (three-year) terms beginning July 1, 2020: Erin McDonald (3,999 votes) Michael Mirizio (3,306 votes) Terri Krueger (3,109 votes) The following candidates were ...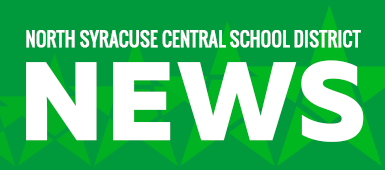 Two C-NS Students Receive Scholarships from Language Educators of CNY:

Jacqueline Cupoli Congratulations to two foreign language students from Cicero-North Syracuse High School recently awarded scholarships in the Language Educators of CNY (LECNY) Awards for 2020. C-NS seniors Jacqueline Cupoli (Spanish) and Sophie Kuryla (French) were recognized by LECNY for their successful completion of multiple years of world language study and demonstrated love of learning languages. The scholarship was also dependent on their community service, extracurricular activities, and plans to use languages in the future. Jacqueline and Sophie's teachers at C-NS, Ms. Murdoch and Ms. Murlin, reached out to extend their congratulations to the students saying that they are proud of their ...
Summer Meal Program at Roxboro Road Middle School Monday - Thursday from July 6 through August 13:

Children in our community do not need to go hungry this summer. For many kids, summertime means food, friends and fun. For families who count on school breakfast and lunch, however, the summer months can be stressful and family food budgets have to be stretched even further. The US Department of Agriculture's (USDA) Summer Food Service Program helps fill the hunger gap. Free summer meals, funded by the USDA, are available to kids and teens ages 18 and younger at Roxboro Middle School in Syracuse, NY. This is an open site therefore free meals are available to all children ages 18 and under. This site does not require families to provide income information, registration, or other paperwork. Free Summer Meal Program Details: Meals are FREE to children ...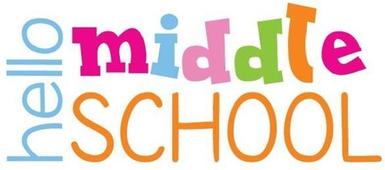 Welcome to Middle School 4th Grade Students:

Congratulations to our North Syracuse Central School District 4th Grade students moving on to middle school in the fall! Please click here to view a special Peer to Peer website with a variety of resources to help students and families learn about their new schools.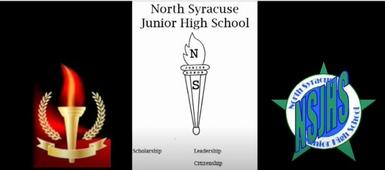 More than 100 Junior High Students Inducted to National Junior Honor Society:

Congratulations to the 122 North Syracuse Junior High School students recently inducted into the National Junior Honor Society! Because the school was not able to do an in-person presentation, please watch the video created by the school by clicking here . This year's inductees are: Jalisse Armstrong, Jasmine Ayre, Deena Badwan, Kamdin Bembry, Ryan Bianco, Julissa Blakes, Kaleigh Boismenu, Isabella Borte, Abigail Bouziden, Connor Boyle, Emily Bradley, Victoria Buswell, Courtney Calkins, Nicholas Capece, Madelina Casanova, Gabriella Casanova, Aidan Chabot, Kenton Cochran, Jesse Conklin III, Jillian Coppernoll, Jacob Crandall, Alexander D'Avirro, ...
Congratulations C-NS 2020 Student Award Winners!:

Congratulations to the Cicero-North Syracuse High School Class of 2020 as well as all of this year's academic award winners! Because we are unable to hold an in-person ceremony, we would like to recognize this year's award recipients with an on-line presentation . Please click the "play" button once video appears on your screen. These students have worked very hard and have made tremendous achievements that we all should be proud to recognize. Congratulations to all!
Next >> Viewing 1 - 20 of 348 stories