Next >> Viewing 1 - 20 of 622 stories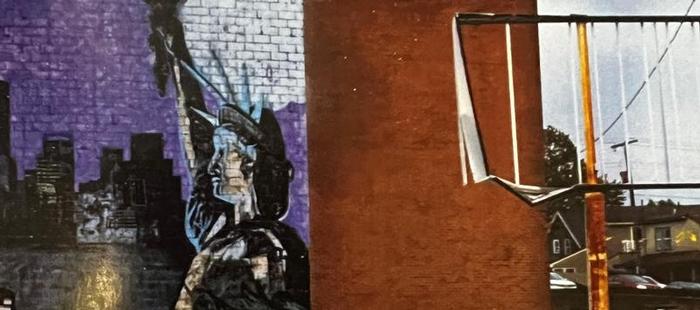 CNS photography students place first and second in local photo contest:

Mrs. Blaski's Intermediate & Advanced Photography students recently participated in the 15th Annual Bousquet Holstein Photography Contest. The theme of this year's contest was "Americana" and was based on the artworks of Frank Buffalo Hyde's Everson Museum exhibit: Native Americana. "'Americana' is broadly defined as anything associated with or characteristic of the culture, civilization, history, or geography of America. This year's contest challenged student photographers to capture their personal definition of "Americana," through the juxtaposition of their own history, lived experience, and culture within the broader iconography of America" (Bousquet Holstein). ...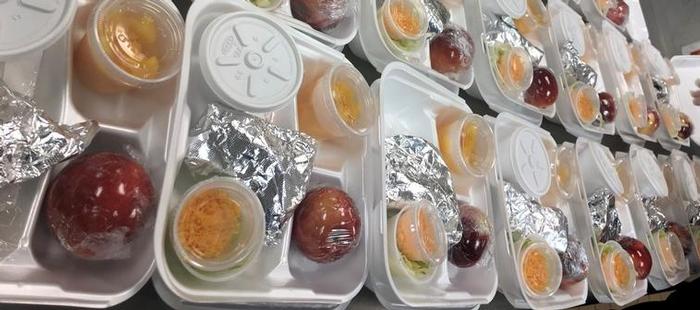 Meal program update:

Beginning December 1, 2023, all students in the North Syracuse Central School District (NSCSD) will be eligible to receive school meals as part of the USDA's Community Eligibility Provision (CEP) Program. CEP is a simplified meal service option that allows schools to provide meals at no cost to all students without requiring families to apply for free and reduced-price meals. Instead, school districts receive federal funding based on a formula using existing data from SNAP and other programs, and local or state funds must fill any gap between program costs and federal support. In September, most schools in the NSCSD became eligible for free breakfast and lunch under the same program but Lakeshore and Cicero Elementary School and Gillette Road Middle School were ...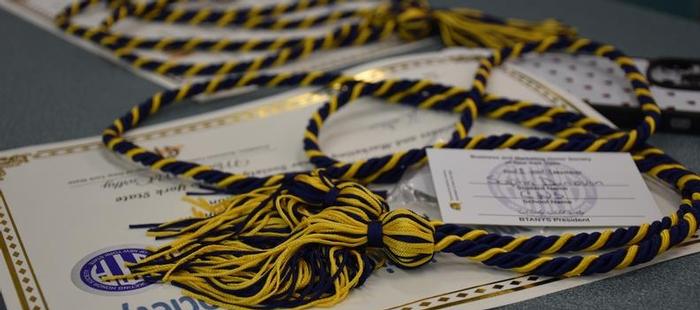 CNS seniors inducted to Business and Marketing Honor Society:

Congratulations to the Cicero-North Syracuse High School Class of 2024 Business and Marketing Honor Society inductees. The CNS Business and Marketing Honor Society is sponsored by the Business Teachers Association of New York State. 2024 is the 14th year CNS has participated in the honor society. Overall, 33 CNS students, all seniors, qualified for the honor society based on the following criteria: minimum GPA of 88 in Marketing/Business Courses; minimum GPA of 80 overall; completion of at least 2 credits of Business Courses prior to their junior year with plans to complete a third credit during senior year; proof of Character, Leadership, and Service provided in the form of a recommendation letter. This accomplishment allows students ...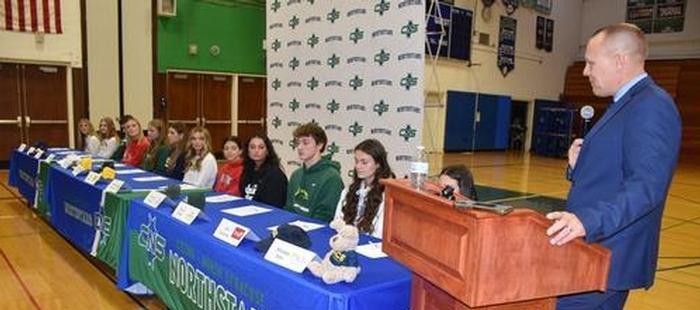 National Letter of Intent ceremony held for CNS student-athletes:

Cicero-North Syracuse High School student-athletes gathered Wednesday, November 15 to sign their official National Letters of Intent. Staff, family, and friends gathered for the ceremony. Congratulations to these outstanding students and to all athletes who signed their official commitment letters. The complete list of CNS students who made official Division 1 and Division 2 college commitments this year includes: Marissa Doty Pace, Lacrosse Ava Giannuzzi, Florida Southern, Lacrosse Jacob Griffin, LeMoyne College, Swimming Courtney Jaworski, LeMoyne College, Lacrosse Meghan McGrath, Youngstown State, Lacrosse Brooke Molchanoff, Cincinnati, Lacrosse Anna Myers, Saint Rose, Lacrosse Gabriella Pauline, Rhode ...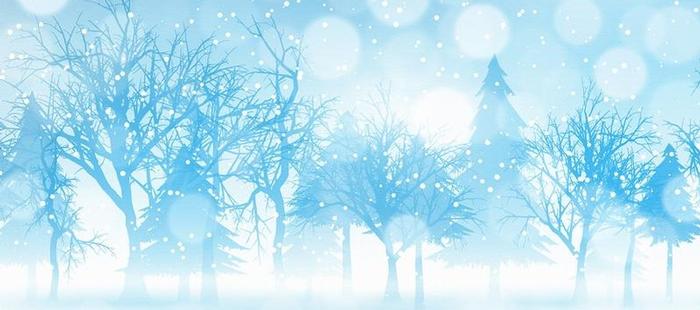 Snow day, delay and early closing information:

Winter weather is sure to arrive in Central New York soon and the North Syracuse Central School District wants to remind our families and community members of some important snow day, delay and early closing information. When schools are closed because of weather conditions or other emergencies, early announcements will be sent out via ParentSquare and posted on the district website (www.nscsd.org). On certain rare occasions, emergency conditions, such as impending storms, may necessitate the dismissal of students before regular school closing time. In such an event, announcements will be sent out via ParentSquare and posted on the district website (www.nscsd.org). Efforts will also be made to have the emergency closing announced through local media but parents and guardians should ...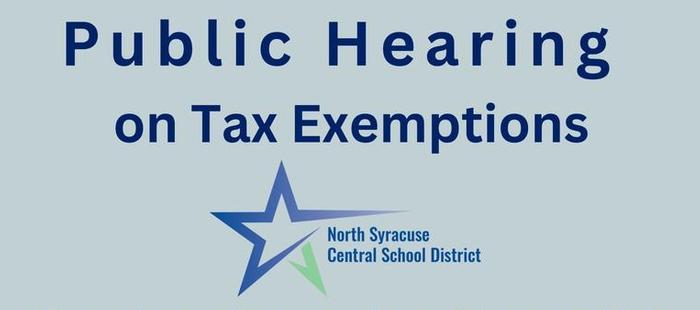 NSCSD Public Hearing regarding tax exemptions on November 20:

A public hearing regarding tax exemptions for seniors, veterans, firefighters and ambulance workers will be held from 5-6 p.m. on Monday, November 20, 2023 at the Jerome F. Melvin District Office Building (5355 West Taft Rd.) in North Syracuse. The public is welcome to attend. The hearing will also be broadcast live on the district's YouTube channel . A video recording of the event will also be posted following the meeting. If you have any questions about the hearing, please contact Don Keegan, Associate Superintendent for Business Services at 315-218-2119 or at dkeegan@nscsd.org .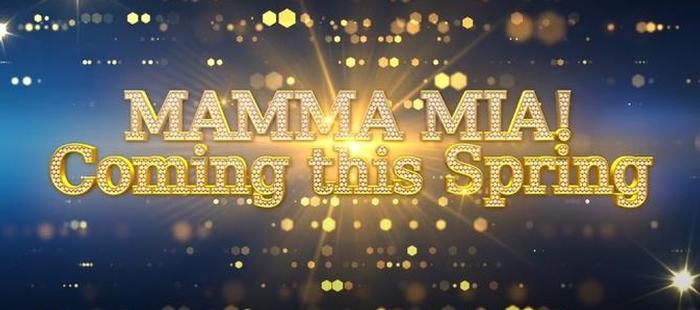 Mamma Mia, here I go again!:

On Tuesday, November 14, the Cicero-North Syracuse High School Drama Department shared a special announcement about the school's spring musical. CNS students first heard the news through a video message created by students. Check out the video here.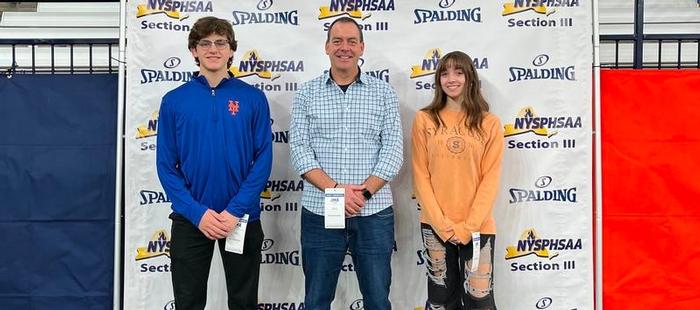 Northstar Network members asked to document Student Athlete Advisory Committee Conference for second consecutive year:

On Saturday, November 11, CNS High School student members of the Northstar Network, Caroline Dunn, Drew Matyasik and Aaron Tarquinio, took on a meaningful mission traveling to the JMA Wireless Dome for the purpose of creating a video to highlight high school athletes. 2023 marked the second consecutive year that Northstar Network was commissioned by Section III to capture the insights and perspectives of Student Athlete Advisory Committee (SAAC) members on the vital role of high school athletics in nurturing positive character traits, such as leadership and sportsmanship. Throughout their visit to the Dome, the Northstar Network team engaged with SAAC members to discuss their experiences and reflections. The aim was to underscore how participation in ...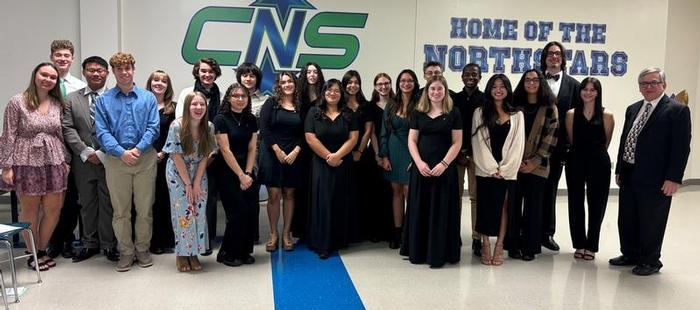 22 CNS students inducted into Tri-M Music Honor Society:

The Tri-M Music Honor Society, Chapter 6270, held a special ceremony Wednesday, November 8 for Cicero-North Syracuse High School students. The following 22 students were inducted: Lily Bero, Julissa Blakes, Isabella Borte, Bethany Brandt, Nick Capece, Jefferson Cazimer, Evan Champ, Liam Chung, Gabrielle Emm, Colin Hong, Andrea Iqbal, Lauren Malec, Ethan Meives, Gabriella Pinoargotte, Helaina Morgan, Sadie Ritholz, Benjamin Rose, Michaela Spink, Alana Tomayo, Brooke Todd, Maddisyn Uon and Emma Wall. Tri-M is part of the National Association for Music Education. Students inducted into this honor society get access to countless ...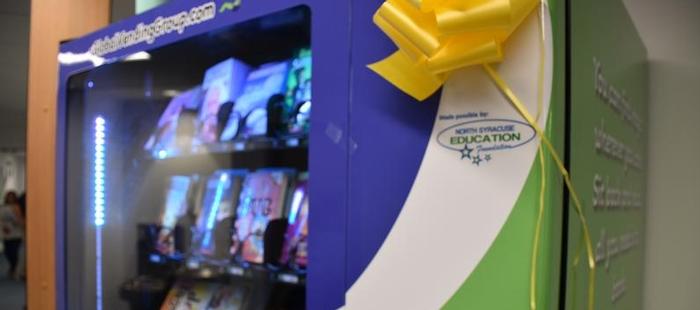 North Syracuse Education Foundation Grant Spotlight:

Empowering Students Through Innovation: The Inchy Worm Book Vending Machine Every year, the North Syracuse Education Foundation (NSEF) celebrates the dedication and creativity of educators in the NSCSD by awarding grants that bring innovative educational concepts to life. One such grant that has captured the imagination of many is the "Inchy Worm Book Vending Machine." This clever initiative was made possible by a grant to Peggy Parker at KWS Bear Road Elementary School. When Peggy retired, Debbie Gavin worked to bring Peggy's vision to life and their combined work promises to transform the educational experience for students in grades K-4. Rewarding and Recognizing Excellence The primary goal of the Inchy Worm Book ...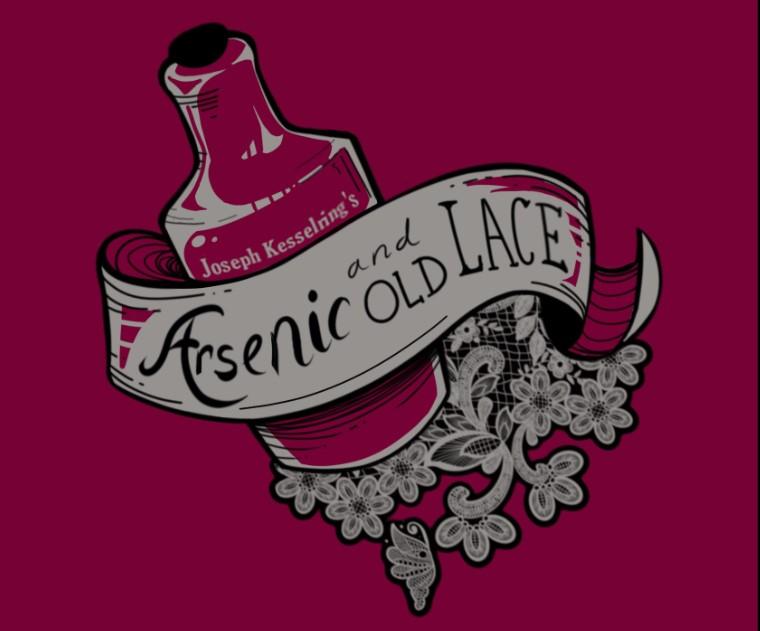 Tickets on sale now for CNS Fall Play:

Photo credit to Nadelen Imaging Photography The Cicero-North Syracuse High School Fall Play, Arsenic and Old Lace , will take place at North Syracuse Junior High School on Friday, November 17 and Saturday, November 18 and tickets are now on sale . The show stars CNS students Lucy Barrera, Lily Bero, Isabella Borte, Natalie Brushell, Evan Brzostek, Joe Calveric, Joey Cox, Halia Dice, Annalisa Emmi, Abby Gonçalves, Aiden Ketchum, Ethan Meives, Gabriella Pinoargotte and Noah Seitz. Arsenic and Old Lace is a student run production - directed by Danielle Rausa and John Nadler; and produced by Senior Mady Mohat. Set design and construction is by 4-D Productions and Mr. Nadler's Fundamentals of Design in Theater ...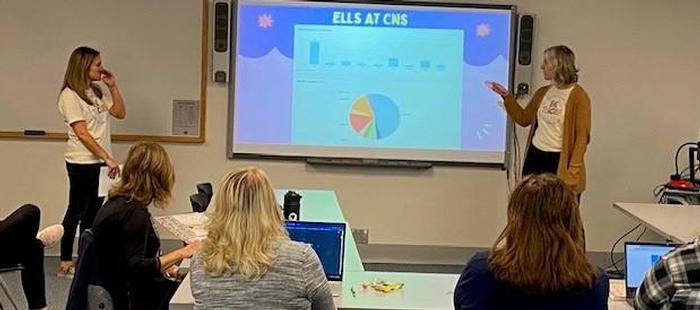 Empowering teachers: ENL workshop allows teachers to walk in students' shoes:

During the October 31 staff development portion of the school day, some teachers from CNS High School had the privilege of participating in a workshop facilitated by our ENL (English as a New Language) teachers, Ali Guiffrida and Lydia Roldan. The purpose of the training was to equip teachers with knowledge and strategies needed to support our English Language Learners (ELLs) across all subject areas effectively. In today's ever-changing educational landscape, it is critical that teachers are well-prepared to address the unique needs of ELLs. Ali Guiffrida and Lydia Roldan spearheaded this workshop to shed light on the NSCSD's ENL program and share best practices for providing a supportive and inclusive learning environment for all students. It was a day of exploration and ...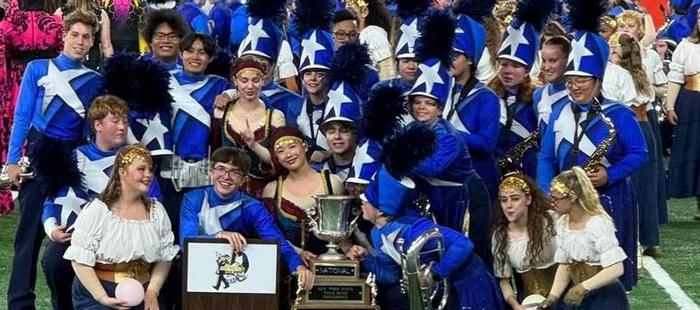 CNS marching band is National state champion for second consecutive year:

Congratulations to the Cicero-North Syracuse High Schoool marching band for securing their position as the National division champion at the New York State Field Band Conference state meet, for the second consecutive year. CNS delivered a near-perfect performance, earning a remarkable score of 96.3. Their dedication and passion shone brightly, enabling them to outshine their season-long rivals. Liverpool, who performed "Ascend." We are immensely proud of our talented students and their exceptional achievements. Karen Seamans, the CNS band director, expressed her admiration for the group, stating, "It was undoubtedly their best performance of the year. So if it wasn't good enough to win, it was still good enough for me. They couldn't do any more than they ...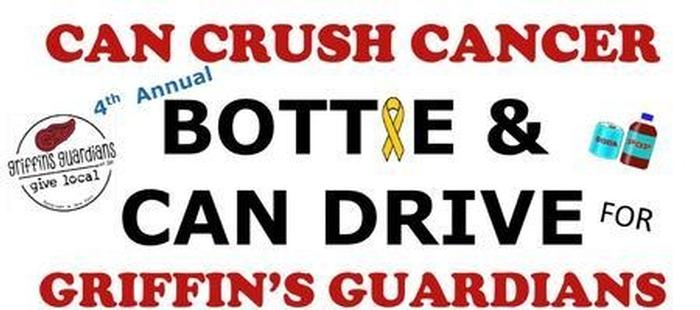 CNS Junior continues dedication to childhood best friend with "Can Crush Cancer" event November 4 & 5:

Kevin Toms, now a junior at Cicero-North Syracuse High School, continues his heartfelt dedication to honor the memory of his childhood best friend, Griffin Engle. This year's "Can Crush Cancer" event, scheduled for November 4 and 5 at Griffin's Guardians, holds special significance as Kevin dedicates it to his "circle of strength" group of friends (pictured below at last year's Gala event for Griffin's Guardians) who have steadfastly supported him in this annual effort for the past four years, despite never having known Griffin. Kevin Toms is far from your typical high school student, with passions that include sneakers, snowboarding, soccer, and spending quality time with family and friends outside of school. What truly ...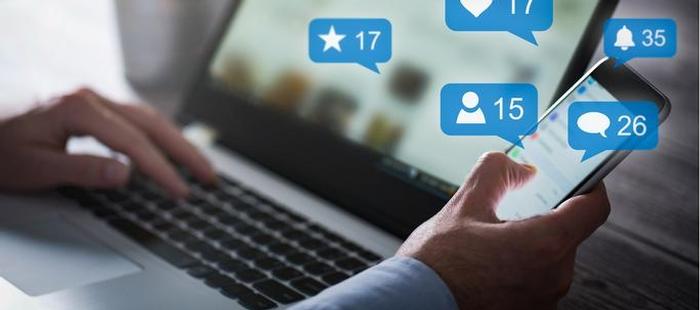 District joins nation-wide social media lawsuit:

[October 24, 2023] - In response to growing concerns over the negative impact of social media platforms on the mental health and well-being of children and teenagers, the North Syracuse Central School District Board of Education (BOE) has announced its decision to join a nation-wide lawsuit against major social media companies, including Meta, TikTok, SnapChat, and YouTube. The North Syracuse Central School District BOE was invited to join a lawsuit initiated by public entities, including many school districts, against the aforementioned social media companies. The lawsuit alleges that these companies have played a significant role in causing a mental health crisis among children and teenagers, making it increasingly challenging for them to succeed in school. At their October 23 meeting, ...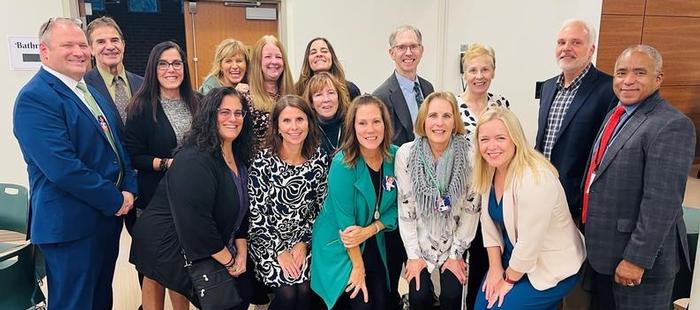 Gillette Road Middle School teacher is named TACNY Elementary/Middle School Educator of the Year:

On Monday, October 16, Gillette Road Middle School teacher Steve Bacon was honored by the Technology Alliance of Central New York (TACNY) during the 23rd annual Celebration of Technology Awards Banquet at LeMoyne College. He was named the Elementary/Middle School Educator of the Year! The title is awarded to educators who have made outstanding contributions to STEM Education at the elementary or middle school level in Central New York. Steve is a valued, longtime employee of the North Syracuse Central School District. Prior to teaching at Gillette, he taught at both Allen Road and Cicero Elementary School. In fact while at Allen Road, he taught every grade level during his time at Allen Road. He believes he was first hired because of his ...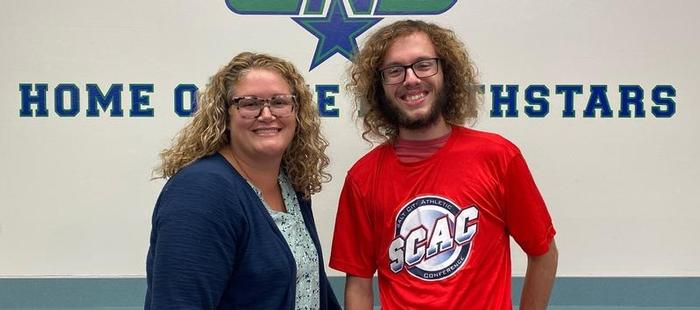 C-NS senior named National Merit Scholarship Corporation Commended Student:

We're proud to share that Cicero-North Syracuse High School senior and school board student representative Thomas Wills has been named a National Merit Scholarship Corporation Commended Student. About 34,000 Commended Students throughout the nation are being recognized for their exceptional academic promise. Although they will not continue in the 2024 competition for National Merit Scholarship awards, Commended Students placed among the top 50,000 students who entered the competition by taking the 2022 Preliminary SAT/National Merit Scholarship Qualifying Test. "Those being named Commended Students have demonstrated outstanding potential for academic success," commented a spokesperson for NMSC. "These students represent a valuable national resource; ...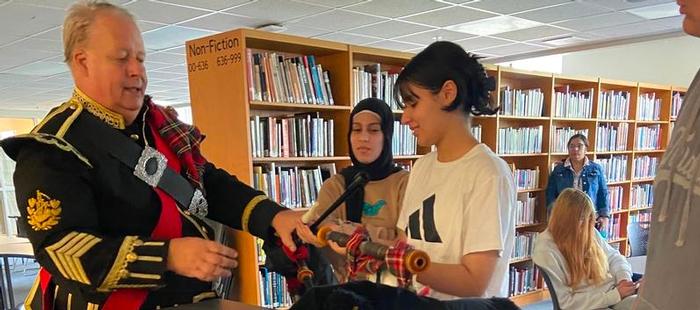 CNS offers new elective: World Culture Exploration:

Some Cicero North Syracuse High School students are enjoying a new elective, World Culture Exploration. The half year course provides students with diverse perspectives on various world cultures while looking through a local lens. Throughout the semester, several guest speakers and performers from the Central New York community will visit students and present their cultural experiences. These guest speakers will include a musician, businessman, politician, artist, language enthusiast, activists, and more. The class already met musician Piper Jack, who has been playing the bagpipes since he was 15. He plays at regional events as a solo piper and as the Pipe Major for the Syracuse Highland Pipe Band. During his presentation, Piper Jack spoke about bagpipe culture and history ...
Next >> Viewing 1 - 20 of 622 stories