<< Previous Next >> Viewing 21 - 40 of 622 stories
NSCSD students receive recognition for summer reading:

Congratulations to this year's New York State Assembly Summer Reading Challenge winners from the North Syracuse Central School District. A total of 14 students from various elementary schools in the NSCSD completed the requirements of the Challenge (reading for a minimum of 15 minutes each day for at least 40 days in the months of July and August) and were eligible to receive certificates. New York State Assemblyman Al Stirpe attended the NSCSD Board of Education meeting on Monday, October 10 to personally present certificates to this year's winners. While not all recipients were able to attend the meeting, Assemblyman Stirpe gave award certificates to several very proud students and their families. At the meeting, the assemblyman ...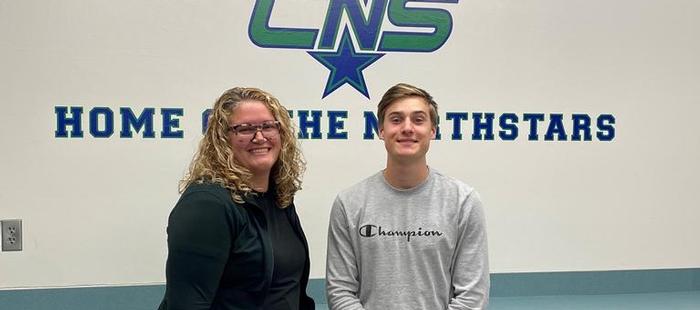 Cicero-North Syracuse High School senior earns a rare "perfect" score on Advanced Placement Exam:

The North Syracuse Central School District is celebrating high school senior Ashton Murdock for earning a perfect score on the Computer Science Principles Advanced Placement (AP) Exam in the spring of 2023. AP exams are scored on a scale of 1 to 5. Ashton not only received the top score of 5, but was also one of only 459 students in the world to earn every point possible. "This outstanding accomplishment is likely a direct reflection of the top-quality education being offered at Cicero-North Syracuse High School. We applaud Ashton's hard work and the AP teacher responsible for engaging students and enabling them to excel in a college-level course" said Trevor Packer, head of the Advanced Placement Program. ...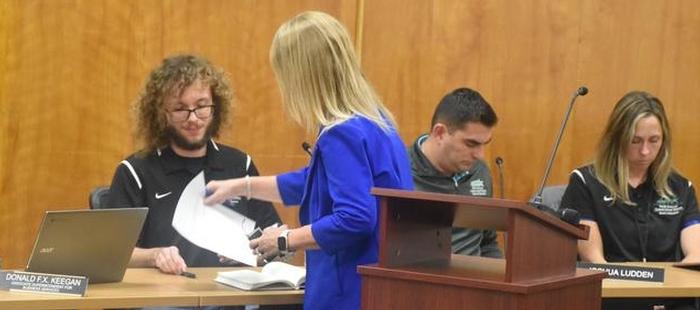 Meet the NSCSD's first-ever student board of education member:

October 13, 2023: This year marks an exciting milestone as we proudly introduce the district's inaugural Ex-Officio Student Board Member on the North Syracuse Central School District Board of Education. We extend our congratulations to Thomas Wills, a Cicero-North Syracuse High School senior, for assuming the role for the 2023-24 term. This voter-approved position aims to give a voice to the student population. Thomas was selected for this role after a thorough evaluation and interview process of senior candidates. He will have the privilege of attending all public board meetings and public hearings, although he will not be present during executive sessions . To get to know Thomas a bit, we asked him the following questions: ...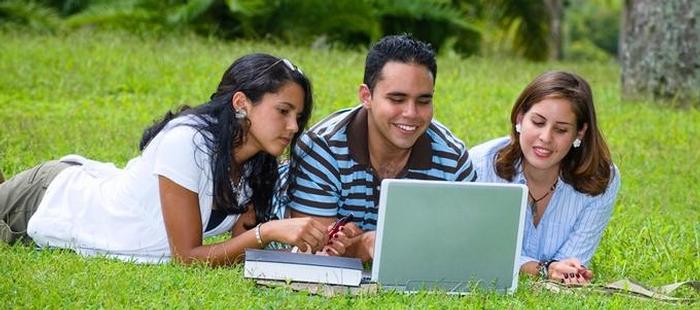 Digital Citizenship Week:

Digital Citizenship Week takes place from October 16th to October 20th. This annual event provides a wonderful opportunity to empower our students with the knowledge and skills they need to be responsible and ethical digital citizens. To help you make the most of this important week, the North Syracuse Central School District's technology team has compiled a variety of valuable resources that can be used to inspire and incorporate digital citizenship concepts into teaching and life at home. The following resource from Common Sense Media are specifically for families. NSCSD staff have also been given a number of resources to share in class with students. Make Screen Time Safe and Positive - Use these planners to inspire conversations about tech use as a family. How ...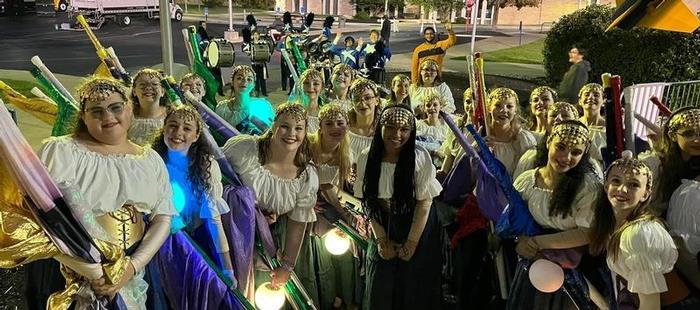 CNS Northstars Marching Band competes in Ohio:

The Northstars Marching Band traveled to the Glass Bowl at the University of Toledo in Ohio to take on some of the top bands in the country at the Bands of America Toledo Regional. The preliminary competition began at 9am with 22 bands seeking one of the 12 spots in finals. When it was over, the Northstars had placed second in their class and made it into the top twelve for the evening finals. The Northstars came out strong in finals and finished in the top half of the field in 6th place, moving up from their prelims placement! Click here to watch the awards presentation on YouTube.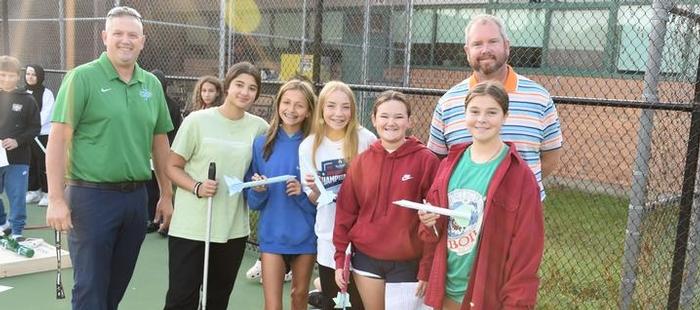 Taking a lesson from Micron Chip Camp:

North Syracuse Junior High School students are benefitting from a new hands-on learning opportunity thanks to the district's first-ever Chip Camp collaboration with Micron. The technology program now has access to five rocket launchers used during camp and they are putting them to good use! NSJH technology teachers Bryan Buchanan, Jason Downing, Aaron Gross, Luke Morse and Tim VanBeveren have been using the launchers to engage 8th grade students and teach the scientific process. They've called the project the "Paper Air Rocket" challenge. Students work individually at first, then in pairs to problem solve and create a rocket that will fly the greatest distance. Students construct their solutions in the lab, and then ...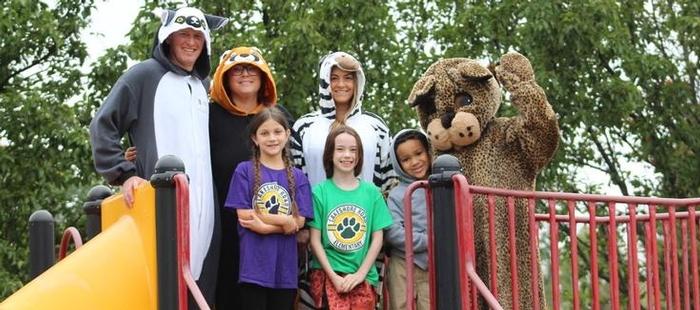 Lakeshore takes a walk on the wild side:

Lakeshore Road Elementary students took a walk on the wild side back on Friday, Sept. 29 to help raise funds for the PTO. Students wore animal masks and took turns walking around the school's track. The Walk-A-Thon had a goal of $10,000. They ended up raising almost $15,000 which will be used to fund future PTO programs and activities. Principal Chmielewski even made good on a promise to take a pie in the face if students exceeded their fundraising goa! Prizes were given to the top earners. It was a great event filled with lots of smiles. Thank you to everyone who participated and donated. ...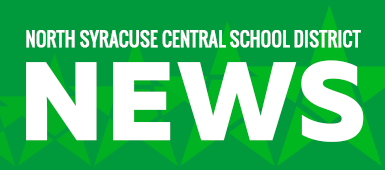 Manage your ParentSquare Notification Settings:

North Syracuse Central School District families and staff - Did you know that you have options to adjust your ParentSquare notification settings? You can receive messages about new posts instantly or as a "digest" once per day (in the evening after 6 PM). The following video explains how to adjust your settings on the ParentSquare website and in the app: https://vimeo.com/848892780/1f992429b7?share=copy
Schools participate in Chalk the Walk:

In honor of September being Suicide Prevention month, The Onondaga County Suicide Prevention Coalition (OCSPC,) recently hosted "Chalk the Walk" from Sept. 24 through Sept. 29. Several schools in the North Syracuse Central School District took part in the event. During the activity students were encouraged to get outside and chalk the sidewalks with messages of hope, inspiration, and resilience to shine a light on mental wellness and suicide prevention. The North Syracuse Central School District is committed to the mental health and wellness of all of our students and is excited to participate in awareness activities that promote the mental wellbeing of all students. Thank you to everyone who shared their event photos. ...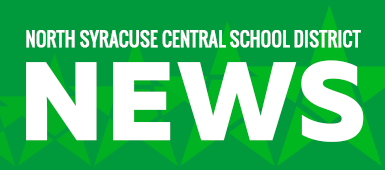 NSCSD committed to safety - updates being made to security at Michael J. Bragman Stadium:

The North Syracuse Central School District is committed to providing a safe and healthy environment for all students, staff and visitors to all of its facilities. Over the years, the district has made numerous changes to address building security. Some of the many changes have included: Installation of the Raptor visitor registration system in all buildings; Creation of single point of entry at all school buildings; Expansion of partnership with local law enforcement agencies to include SROs at all schools; Availability of the Tip411 reporting system for all secondary schools; Installation of camera surveillance and monitoring systems; Addition of staff in the area of SEL to improve identification of and support for distressed students. NSCSD Superintendent ...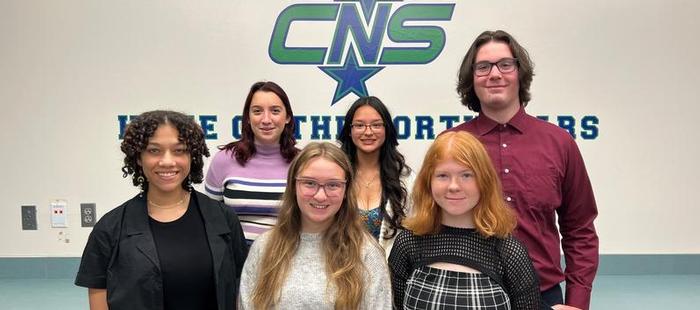 CNS musicians invited to All-State:

Six Cicero-North Syracuse High School musicians have been selected as participants and/or alternates for the 2023 NYSSMA All-State Performing Ensembles, which will be held in Rochester, November 30 - December 3, 2023. The conference, including the final concerts, will take place at the Rochester Convention Center and the Eastman Theatre. Thousands of students auditioned for this honor last spring at solo and ensemble festivals throughout the State. The students performed a level 6 solo and were evaluated by a NYSSMA adjudicator. The following students were selected: Aiden Hanas - Alternate - Jazz Bass Andrea Iqbal - Symphonic Band - Piccolo Ava Tyler - Vocal Jazz - Jazz Soprano Voice Lydia Morris - Alternate - Trumpet Madelynn Hilt ...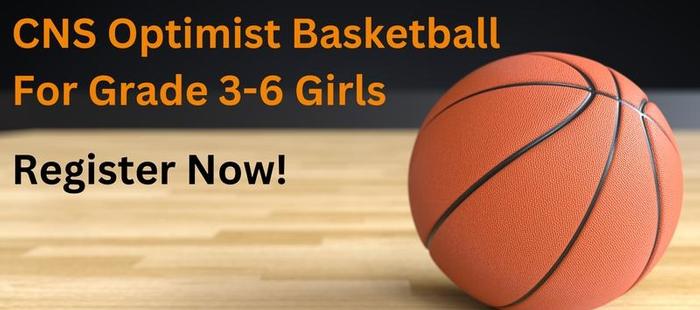 Register Grades 3-6 Girls for CNS Optimist Basketball:

The CNS Optimist Club is once again sponsoring a girls' basketball league at Gillette on Saturday mornings beginning in October for Grades 3-6. This is a great program to get girls ready for a great basketball career in the NSCSD! Registration is due by October 1. Click here to download the registration form .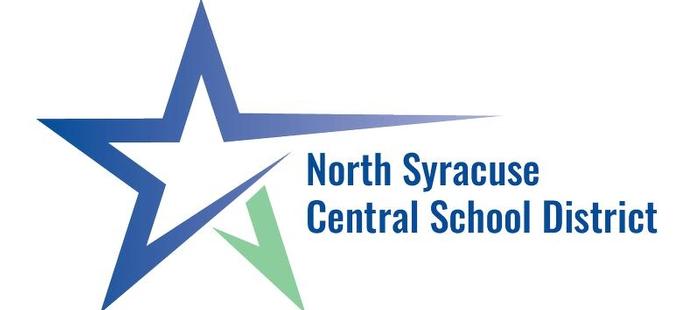 Bringing unity to the North Syracuse Central School District:

The North Syracuse Central School District strives to be a positive force within our diverse community of 11 schools. Our school spirit has never wavered, but as you are probably aware, a communications audit and survey conducted earlier this year revealed there is confusion among community members regarding our district's name. More than 74% of survey respondents indicated that they had heard of the district referred to as CNS or had in fact done so themselves. Because many use North Syracuse Central School District and "CNS" interchangeably, this lack of consistency impacts our image and our brand. The district took these results and additional feedback to heart. We are not talking about changing the district's name, we are now talking about clarifying ...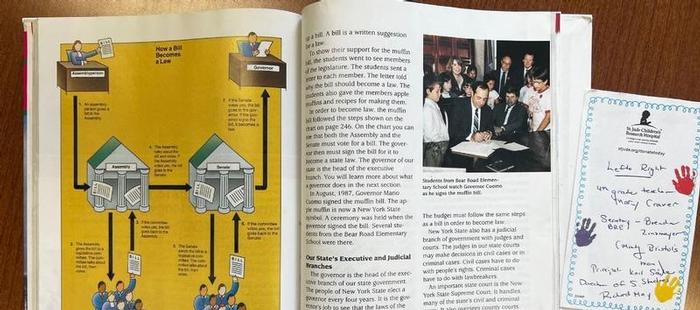 WANTED: members of the Apple Muffin Gang:

The North Syracuse Central School District is interested in finding members of the Apple Muffin Gang to celebrate its contributions to the district and state history. Back in 1987, students in Mary Craven's fourth grade class at KWS Bear Road Elementary School campaigned to create a law making the apple muffin the official state muffin. The students wrote to state legislators promoting their bill, handed out countless apple muffins, and made four trips to the Capitol to lobby for it. They tasted victory when the state Assembly and Senate passed the bill and former Governor Mario M. Cuomo signed it into law, making the apple muffin the official muffin of New York. To celebrate this past accomplishment, the district decided to plant an apple tree and install ...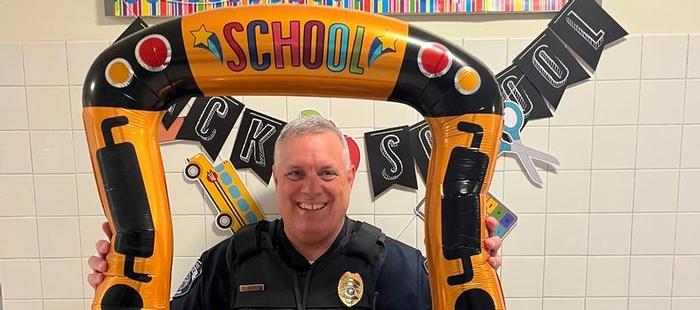 Share Your Back to School Photos!:

The first day of the 2023-2024 school year is Thursday, September 8 and we want to see your photos! Please send your first days pictures to Laurie Cook, our school information officer by email at lcook@nscsd.org so they can be shared on social media and used in district newsletters throughout the school year. School calendars have been mailed to homes of all students in the District and student schedules are available on SchoolTool . Transportation letters were sent to families through ParentSquare. Any parent who has not received notification should contact the: Transportation Department Bus Hotline at 315-218-2035 (August 21 - September 15 only). School Hours Elementary Schools 9:15 a.m. to 3:20 p.m. Middle Schools: 8:10 a.m. to 2:45 p.m. North ...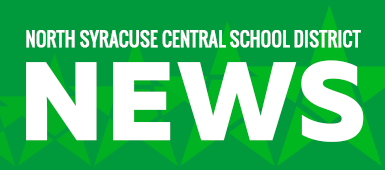 ParentSquare Information for Parents/Guardians:

August 2023: The North Syracuse Central School District uses ParentSquare for school to home and district to home communications. ParentSquare is a unified app for school communication so parents and guardians can receive all announcements from the district, their children's schools and teachers in one place. Parent/guardian information is pulled from SchoolTool , the district's student data management system. When information is updated in SchoolTool, it will take 24 hours for the information to update in ParentSquare. All parents that have an email or cell phone in SchoolTool automatically have an account created in ParentSquare. The NSCSD sends monthly invitations to all unregistered parents/guardians through ParentSquare. ...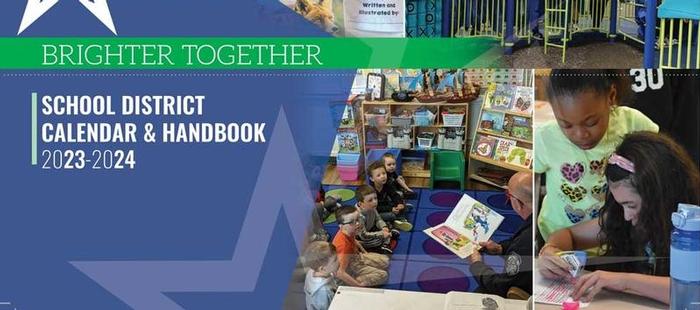 School Calendar Available Online:

The 2023-2024 school calendar has been mailed to families of current North Syracuse Central School District students and is also available online . As always, the print version of the district calendar is subject to change. While it serves as a reference for families in the North Syracuse Central School District, it is important to check the online calendar at www.nscsd.org/calendar to verify event dates and times and/or check with your child's school. The online calendar provides more specific, up-to-date event information than this print version. Users can customize their online calendar to include multiple schools, District events and meetings and can even download event information to their mobile devices. ...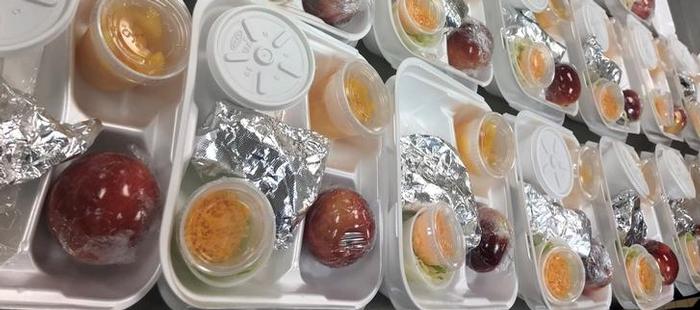 Free school meals: 8 buildings qualify for 2023-24 school year:

School breakfast and lunch meals are offered to all students in the North Syracuse Central School District through the district's Food Service Program. The Board of Education, the legal sponsor of the program, is committed to ensuring that every child has access to healthy and nutritious meals. Meal prices are set according to the United States Department of Agriculture program guidelines. The North Syracuse Central School District is proud to take part in the USDA's Community Eligibility Provision Program (CEP), which allows qualifying schools to provide free breakfast and lunch meals for all students. CEP schools are reimbursed using a formula based on the percentage of students categorically eligible for free meals based on their participation in other specific means-tested ...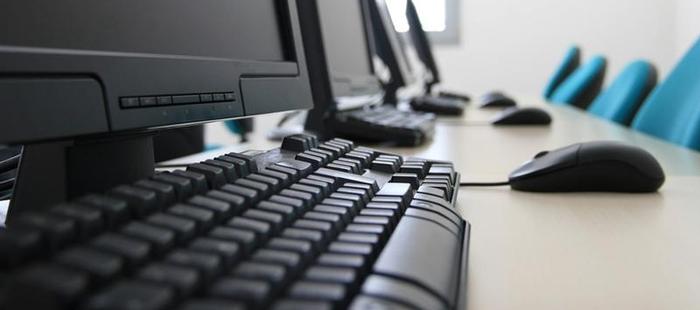 Annual Student Password Reset 2023:

Parents and students in the North Syracuse Central School District should be advised that student passwords for school/district accounts (SchoolTool, Google) were reset to their default password on August 22. Passwords are routinely reset each year to ensure that students will be able to access their accounts at the beginning of the school year as many students forget their unused passwords over the summer. For students that may be unsure of their default password, email messages will be sent to parents with information about default settings. Parents/students will also receive a pop-up message with instructions when logging into SchoolTool prior to August 22. After passwords are reset on August 22, students or parents that run into an issue can get tech help by completing ...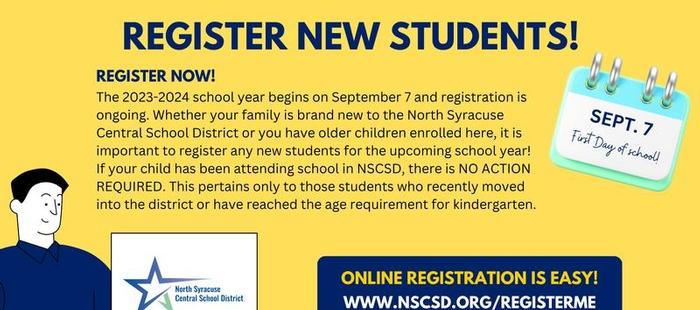 Register New Students:

The 2023-2024 school year begins on September 7 and registration is ongoing. Whether your family is brand new to the North Syracuse Central School District or you have older children enrolled here, it is important to register any new students for the upcoming school year! If your child has been attending school in NSCSD, there is NO ACTION REQUIRED. This pertains only to those students who recently moved into the district or have reached the age requirement for kindergarten. Click here to learn more.
<< Previous Next >> Viewing 21 - 40 of 622 stories