<< Previous Next >> Viewing 21 - 40 of 157 stories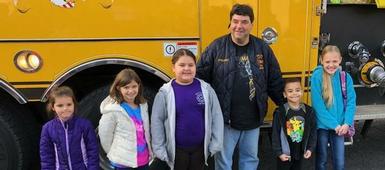 Roxboro Road Elementary School students learn from Mattydale Fire Department staff:

Students at Roxboro Road Elementary School recently joined their community's fun by participating in Mattydale Fire Department's annual coloring contest to promote fire safety and prevention. Students throughout the school created and submitted pictures and the following winners were selected (pictured left to right with volunteer firefighter Steve Stolusky): Zoe Pizzingrilli, Gracyn DeLong, Aleena Lomeli, Steve Stolusky, Adrian Pabon and Kherington Myers. Kherington, who was the over- all contest winner, was treated to an exciting ride to school on board one of the firetrucks. Many thanks to the Mattydale Fire Department for instructing our students and for getting them involved in a fun way!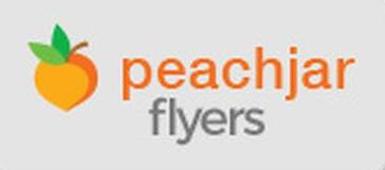 Connect to the North Syracuse Central School District using Peachjar:

In addition to distributing flyers about school and district events, the North Syracuse Central School District works with community groups and organizations that sponsor activities of an educational/enrichment nature for students and staff by distributing their relevant informational materials electronically. In an effort to be more environmentally friendly, utilize technology, and maintain fiscal responsibility, we have moved from distributing paper copies to digital flyer delivery via Peachjar, a free online service for schools. E-flyers will now be emailed directly to parents' inboxes, as well as posted online for easy access. Paper flyers from outside organizations will no longer be distributed within the schools. Once a flyer is posted to a school's Peachjar site, ...
Family Fit & Fun Night - January 9:

On Wednesday, January 9, the North Syracuse Central School District Physical Education Department will host their annual Family Fit & Fun Night at North Syracuse Junior High School (5353 West Taft Road) in North Syracuse. The free, family friendly event will take place from 6 to 7:30 p.m. All district K-5 students are invited to participate in a variety of fun sports skills, fitness games and activities including volleyball, badminton, speed stacking and much more! All children must be accompanied by an adult. In conjunction with the free event, the C-NS Varsity Dance Team is holding a spaghetti dinner fundraiser. Spaghetti and meatball dinners, complete with salad, bread and butter, a drink a dessert are available for $8 for adults, $5 for kids (4-12) and free for ...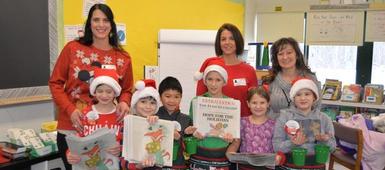 Cicero Elementary students help Christmas Bureau:

On Friday, December 7, 2018, students at Cicero Elementary school were among the hundreds of volunteers spreading out across Central New York selling special edition Post Standard newspapers to benefit the Christmas Bureau. Six students and two parent volunteers went from room to room at the school asking if teachers and other school staff were interested in buying a newspaper to support the Bureau, which is sponsored by The Salvation Army and United Way of Central New York. The effort, which began in 1932 as the "Old Newsboys" campaign for the purpose of buying coal for people who couldn't afford to heat their homes, has evolved to now pay for food, books, toys and clothing for local children. Cicero Elementary School teacher Holly Lee has been leading the ...
Spelling Bee Competition Winners Advance:

On Thursday, December 6, forty students from North Syracuse Junior High School, Roxboro Road Middle School and Gillette Road Middle School gathered at the North Syracuse Central School District Administrative Office building to compete in a district-wide spelling bee. The talented students, from grades five through eight, were challenged with a variety of words ranging from simple spellings such as "ghost" and "signals" to more difficult spellings such as "electrolysis" and "astonishment." All students came to the competition after completing written and oral exams within their schools. All students did very well in the spelling bee and the final two competitors, Anne Capone and ...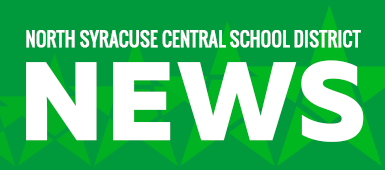 Board of Education seeking Superintendent Search Community Interview Team Members:

The North Syracuse Central School District Board of Education has hired Dr. William Silky, Castallo & Silky, LLC, to conduct the Superintendent Search to replace retiring superintendent Annette Speach. As part of the search process, the Board is putting together separate interview teams of employees, students and community members. The Board of Education is in the process of developing employee and student interview teams and is seeking residents to serve on the community interview team. The community interview team will be comprised of no more than 15 community members. The criteria for serving on this committee would be: A resident of the District (not a district employee or a current student – there are separate interview teams for employees and ...
C-NS Students Selected for All-State Music Festival:

Three Cicero-North Syracuse high School students were selected from over 10,000 students to participate in the 2018 New York State School Music Association's All-State Music Festival. Students from all over New York State compete for the honor of being selected to participate in the all-state bands, orchestras, and choruses. Less than 10% of all students auditioning were accepted. Jenna Sherry and Brianna Ballard were accepted into the All-State Vocal Jazz Ensemble, and Natalie Romano was accepted into the All-State Mixed Chorus. The festival took place in Rochester November 29-December 1 with culminating performances held at the gorgeous Eastman School of Music Concert Hall. Congratulations to our C-NS students! Pictured above left ...
District-wide Spelling Bee on Dec. 6:

On Thursday, December 6, forty talented students from North Syracuse Junior High School, Roxboro Road Middle School and Gillette Road Middle School will gather at the Jerome F. Melvin Administrative Office building (5355 W. Taft Rd.) in North Syracuse to compete in a district-wide oral spelling bee. The competition will take place at 2:00 p.m. The top six competitors from the North Syracuse Central School District spelling bee will advance to The Post Standard/WCNY 2018 Spelling Bee. This year's competitors are: From Gillette Road Middle School – Kamdin Bembry (7 th Grade), Samuel Budihardjo (5 th Grade), Nicholas Capece (7 th Grade), Anne Capone (5 th Grade), Nicholas Fiori (6 th Grade), Emma Hall (7 th Grade), Aiden Hanas (7 th Grade), Shannon Loughlin (7 th ...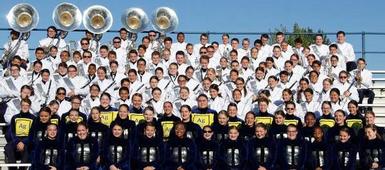 C-NS Marching Band off to New York City!:

The Cicero-North Syracuse High School Marching Band left C-NS on Tuesday morning, November 19 to head to New York City to march in this year's Macy's Thanksgiving Day Parade! Please take a few moments to watch the superintendent's video newsletter message.
C-NS students learn from Syracuse University speakers:

Hundreds of students at Cicero-North Syracuse High School have had the opportunity this school year to learn about important global issues, women's rights and terrorism, from experts at Syracuse University. In October, the Large Group Instruction room was packed with far more than 100 students when two guest speakers came to talk about journalism and sexual harassment. The two speakers, Rakesh Arya and Ha Thi Thanh Huong, come from the Humphrey Fellowship from Syracuse University.This group has 150 mid-career professionals from 97 emerging countries visit 13 universites. Ha Thi Thanh Huong is from Vietnam and Rakesh Arya is from India. Ha Thi Thanh Huong, a journalist who covers political issues, talked to students about sexual harassment and her personal experiences ...
Snow day, delay and early closing information:

Winter weather has come to Central New York and the North Syracuse Central School District wants to remind our families and community members of some important snow day, delay and early closing information. SCHOOLMESSENGER - The district uses SchoolMessenger to notify parents, guardians and district staff of emergency school closings, delays and early dismissals. The system generates an automated phone call, email message – if an email address has been provided to the district – and a text message for parents, guardians and staff members who have opted in to the SchoolMessenger text message service. Learn more about text alerts on our website by clicking here . If parents or guardians are unsure whether the district has their correct email or phone numbers on file, ...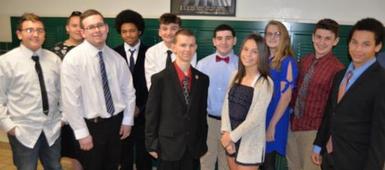 Junior High students dress for success!:

Throughout the North Syracuse Central School District, students have opportunities to pursue a variety of interests - through their regular coursework as well as extra-curricular activities. Secondary-level business courses at North Syracuse Junior High School and Cicero-North Syracuse High School are designed to meet the needs of both college-bound students and those seeking entry-level employment. From introductory business classes to advanced business law, finance and entrepreneurship classes, NSCSD students have the opportunity to tackle all aspects of business. On Thursday, November 15, business students at North Syracuse Junior High School not only learned about the business world, they dressed for it. Business ...
Chinese culture comes to life at Roxboro Road Middle School:

On Monday, November 5, students at Roxboro Road Middle School in the North Syracuse Central School District were treated to some very special performances by a Chinese Art Troupe from the University of Geosciences in Wuhan, China, sponsored by the Confucius Institute at Alfred University. Five different singers, musicians and dancers entertained two groups of the middle school's students. Additionally, several of the students who have taken part in Mandarin enrichment lessons at Roxboro Road Middle School, performed "Twinkle, Twinkle Little Star" for the audiences.
C-NS Chirp Crew t-shirts on sale:

The Cicero-North Syracuse High School Entrepreneurship Club is selling Chirp Crew t-shirts in the C-NS Star Shop. They're available for $15 while supplies last! Don't miss out!
C-NS Star Shop Under Armour Hoodie Sale:

The Star Shop at Cicero-North Syracuse High School is holding a public sale for Under Armour hoodies! The hoodies run on the small side so you may want to order a size larger than you typically wear--if you like your hoodie roomier. The price including tax is $47 for sizes up to XL. Sizes XXL & XXXL are $49. Payment must be made within three days of ordering. To Order: 1. Complete the online form (click here to fill out the form ) 2. Mail a check made payable to C-NS Bookstore to: Linda Dwyer, C-NS High School, 6002 Route 31, Cicero, NY 13039 or Call (315) 218-4150 after 11:00 am to pay by card. Orders can be picked up at the C-NS Star Shop from 7 to 7:30 am or from 11 a.m to 2:10 p.m.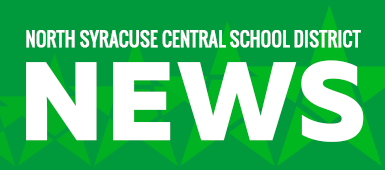 Superintendent announces retirement at end of school year:

North Syracuse Central School District Board of Education President Michael Shusda announced today Superintendent of Schools Annette Speach, will be retiring effective June 30, 2019. The Board of Education will formally accept the superintendent's retirement resignation at its November 19th meeting. Speach made a public announcement to district staff during her November 6 Superintendent's Conference Day address. "Please know the North Syracuse Central School District and all of you will always be a part of me. I feel blessed to have had such a rewarding career…as teacher, principal, HR administrator and most recently superintendent," said Speach during her remarks. "I am blessed to have been your leader, blessed for the support of this community ...
Boys' Volleyball takes Section III Championship:

Congratulations to the Cicero-North Syracuse High School Boys' Volleyball team for winning their 4th straight Division I Championship! The team will now go on to play the Section I winners on Nov. 9 in the sub-regional competition. Click here to read more on Syracuse.com .
2018 Military Honor Roll inductees:

Congratulations to the following North Syracuse Central School District alumni for being inducted to the Military Honor Roll for 2018: Neil Armani, William Behan, Alexander Hamling Bottorff, Erwinn H. Brown, Jr., Brian J. Carrington, Richard Robert Caza, Shawn Davis, Mark Douglas Dickinson, Jacob Dollinger, David Downey, David Dudzinski, Gerald Allen Dwyer, Brian Dykeman, James R. Exner, John S. Figueiredo, Kenneth W. Fitzgerald, Richard A. Forster, Joseph P. Golembieski, Nicholas A. Golembieski, Anthony Gotham, John G. Greene, Gail A. Hahn, Anthony Halas, Lucinda Hazen, Dylan Isgar, Phillip R. Johnson, Sr., Nicole Lynn Junod, Joseph M. Keating, Daniel Lee Kimler, Christopher M. Kimpland, Stephen McNeilly Kinne, Stephen John Kliphon, Stephen Kostiw. Thomas Labarre, Alexander Lantry. Paul ...
"Team Blue" wins NSJH battle against ALS:

"Team blue" took home the trophy in North Syracuse Junior High School's Friday, October 26th flag football game to benefit the ALS Association. Staff from North Syracuse Junior High School participated in the game to raise money for the ALS Association. Staff were divided into "Team Green" and "Team Blue" and were coached by student athletes. The game was complete with a referee, cheerleaders and a mascot...also staff from the junior high. The event was held in support of former NSJH staff Tammy Asche, who was diagnosed with the disease. Students paid $1 to watch the game and more than $400 was raised...all of which went to the ALS Association. Thanks to all students and families for supporting this great event! ...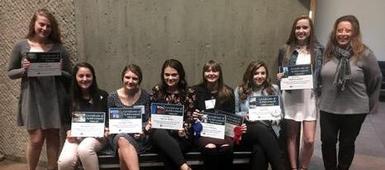 C-NS students take top honors in local photo contest:

The 10th Annual Bousquet Holstein High School Photography Contest is open to high school photography students in Onondaga County. Each year, the contest is inspired by the theme of an upcoming exhibit at the Everson Museum of Art. This year's theme was centered around the 50th Anniversary of the Everson Museum of Art - which was designed by internationally acclaimed architect I.M. Pei. Students in Mrs. Blaski's Intermediate and Advanced Photography classes at Cicero-North Syracuse High School took pictures over the summer for the photography contest entitled "Architecture: The Mirror of Life". Students were asked to capture photographs of architecture from different perspectives and viewpoints to reveal the inspiration of the past and the spirit of the place. ...
<< Previous Next >> Viewing 21 - 40 of 157 stories