<< Previous Next >> Viewing 21 - 40 of 419 stories
Summer Meal Program:

Children in our community do not need to go hungry this summer. For many kids, summertime means food, friends and fun. For families who count on school breakfast and lunch, however, the summer months can be stressful and family food budgets have to be stretched even further. The US Department of Agriculture's (USDA) Summer Food Service Program helps fill the hunger gap. Free Summer Meal Program Details: Meals are FREE to children and teens ages 18 and younger . Free summer meals will help families save money and stretch their already tight food budgets. Food served is healthy and follows USDA nutrition guidelines . No application or proof of income needed. You can just pick up meals at a summer meals site in your community. Free meal site: ...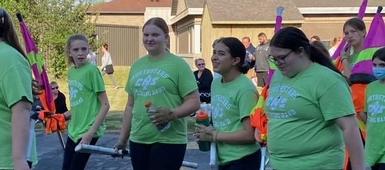 Marching Band Performs at Malta House:

The Cicero-North Syracuse High School marching band, under the Direction of Karen Seamans, recently performed at the Malta House Senior Living Apartment Building in North Syracuse. Students wanted to give back to the community, especially the high school seniors who have not had many opportunities to get out in the past year. The band performed songs such as Apache , Don't Stop Belivin' , Happy and Sweet Caroline . Karen Calkins, President of the Northstars Band Parents group, attended the event and shared photos. She said that the students had a great time performing and the residents were so pleased! The performance was also featured on NewsChannel 9's "Tell Me Something Good" segment. Click here to watch the segment online . ...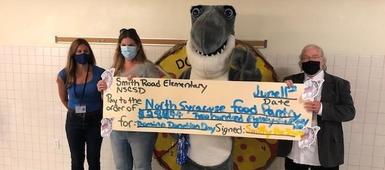 Smith Road Elementary School Celebrates Giving:

The Character Education Team at Smith Road Elementary School (J. Bennett, K. DeSpirito, L. Marzullo, J. McCurdy, S. Garrett, K. Norton, M. Harrington) helped knock down hunger through their school's "Domino Day" collection event. Students and staff collected an astounding two THOUSAND boxes of cereal and raised nearly $300 in donations for the North Syracuse Christian Church Food Pantry. Before the boxes were donated to the pantry, the school celebrated their accomplishment by lining them up like dominoes through the school's hallway. Smith Road Elementary School Principal, Lyndsey Maloney then led the students in a countdown and their mascot, Smitty the Shark, started a domino demolition with cheers from the students. Smith Road Elementary School Music ...
C-NS Musical Club Makes a Splash:

Two films created by Cicero-North Syracuse High School students and advisors were among the hundreds submitted from across the globe selected to be shown at the first International Global Water Dance Online Film Festival from June 9 -11, 2021. Filmed at the beautiful Oneida Lake with original music by local artist Shane Patterson, the video includes 17students from the C-NS Musical Club and Tri M Music Honor Society. Global Water Dances is a world wide initiate using art for activism! As part of the movement, the C-NS Musical Club produced two small films to bring awareness to water issues. Why dance? As described on the Global Water Dance site, "Communities evolve and are defined by the water nearby. Dance is an embodied practice of community ...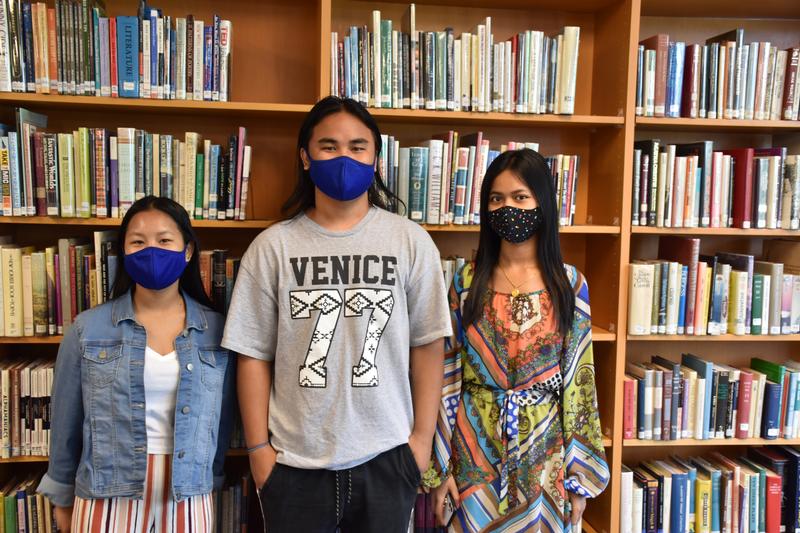 Burmese Refugees Among C-NS Class of 2021:

For three Cicero-North Syracuse High School Class of 2021 students, the steps they take when they cross the graduation stage this June will be the final ones in a journey of refuge and realization. C-NS Seniors Dimi Mu, Lydia Par and Van Bik are all Burmese refugees whose families came to the United States in search of better lives when they were just children. The three young people are also the first ones in their respective families planning their next journeys as college students. The three students are from the Chin State in Myanmar where members of ethnic communities have often been mistreated by the government. The Chin people suffered torture, rape, forced labor, and restrictions on expression and religious freedom among other abuses. Due to these dangerous conditions, the ...
C-NS Grad Returns to NSJH to Discuss Career Options:

McKenzie Cramer, an account manager at Pinckney Hugo Group recently visited Mrs. Ciarico's Introduction to Marketing classes at North Syracuse Junior High School. Ms. Cramer, a 2014 graduate of Cicero-North Syracuse High School, returned to her former school to discuss the career path she followed from being a student at the junior high school through her current profession. Cramer has been with Pinckney Hugo Group for the last two years and shared with students what it is like to work at a Syracuse-based marketing agency. The former NSJH student also talked about companies the agency works with and specifically the projects she works on. Students also heard from Cramer about the challenges faced by the marketing issue during the pandemic. Mrs. Ciarico shared ...
Seniors Inducted to Business Honor Society:

Congratulations to the Cicero-North Syracuse High School Class of 2021 Business and Marketing Honor Society inductees. The C-NS Business and Marketing Honor Society is sponsored by the Business Teacher's Association of New York State. 2021 is the 11th year C-NS has participated in the honor society. Overall, 26 CNS students, all seniors at C-NS, qualified for the honor society based on the following criteria: minimum GPA of 88 in Marketing/Business Courses; minimum GPA of 80 overall; completion of at least 2 credits of Business Courses prior to their junior year with plans to complete a third credit during senior year; proof of Character, Leadership, and Service provided in the form of a recommendation letter. This accomplishment allows students to stand out from a pool of ...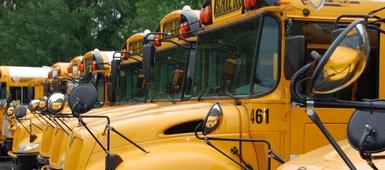 Transportation for 2021-2022 School Year:

The North Syracuse Central School District provides busing for students based on their home address. Students requiring transportation to and/or from an alternate location within the District must have a Change of Transportation form on file. The form must be updated annually. Change of Transportation Forms should be completed and returned to the Transportation Office by June 18 . Transportation arrangements not updated before the deadline will revert back to students' home address for pick up and drop off. The Change of Transportation Form is available by clicking here . Any questions should be directed to the Transportation Department at 315-218-2107. If your child is attending a school outside of the enrollment area, you must file a written request ...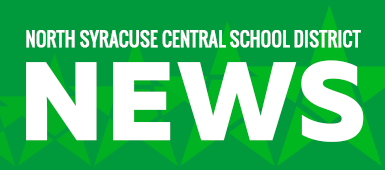 Full-Day UPK Beginning Next School Year:

The North Syracuse Central School District has extended registration for its Universal Pre-Kindergarten (UPK) program through June 4, 2021. Additionally, beginning in the 2021-2022 school year, the District will offer the option of full-day UPK . To be eligible for the District's UPK program, children must live in the North Syracuse Central School District and be four years old on or before December 1, 2021. Enrollment in the UPK program is NOT done on a first-come, first-served basis. UPK applications received prior to the June 4 deadline will be placed into a lottery to be drawn toward the end of July, 2021. If the UPK program fills up before all names are pulled from the lottery, the remaining students will be placed on a waitlist and parents will be notified if a spot becomes ...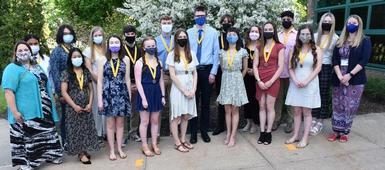 NSCSD Once Again Celebrates Students In-Person at First Public Presentation in More Than a Year:

As part of their regular Board of Education meeting on May 17, 2021, the North Syracuse Central School District held its first public student recognition presentation in more than a year. The occasion proudly honored the 17 Cicero-North Syracuse High School students who met the rigorous requirements necessary to earn Seals of Biliteracy on their 2021 high school diplomas. The New York State Seal of Biliteracy recognizes high school graduates who have attained a high level of proficiency in listening, speaking, reading, and writing in one or more languages, in addition to English. To qualify for the designation, students must meet rigorous requirements and this year, because of the pandemic, the process added an additional level of challenge. David Lunden, who oversees ...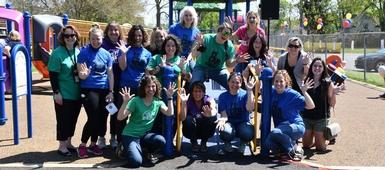 North Syracuse Early Education Program celebrates community's support for inclusive playground:

On Saturday, May 15, the North Syracuse Early Education Program (NSEEP) celebrated a vision realized with a grand opening ceremony for the school's new inclusive playground. The celebration was the result of many years of fundraising, hard work and community support. The North Syracuse Early Education Program serves disabled and non-disabled students in an inclusive setting. Many disabled students receive special therapies through multi-disciplinary teams. The addition of an inclusive playground, with features such as wide wheelchair-accessible ramps, a poured smooth rubber surface and a communication board, allows more students to participate in learning opportunities through play. Cheri Rotelli, a physical therapist at NSEEP and the coordinator of the playground project, ...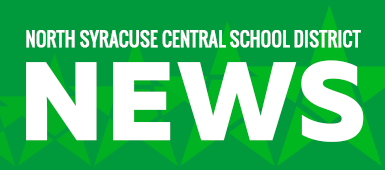 Thank You! NSCSD Voters Approve District's Budget Proposal:

North Syracuse Central School District voters have agreed to the District's proposed 2021-2022 school year budget with a 72 percent approval. A total of 1,488 votes were cast, with the final tally being 1,063 yes votes and 407 no votes on the $180,258,175 proposal. A bus proposition for $1,709,850 also passed with 1,076 yes votes and 392 no votes for a 73 percent approval. Additionally, the Salina Free Library proposition for $480,181 passed with 41 yes votes and 14 no votes. Voters elected the following three candidates to the North Syracuse Central School District Board of Education for (three-year) terms beginning July 1, 2021: Paul Farfaglia (1,077 votes) Mark Thorne (1,036 votes) Beth Kramer, Ed.D. (1,018 votes) Additionally, Xavier Moody-Wusik ...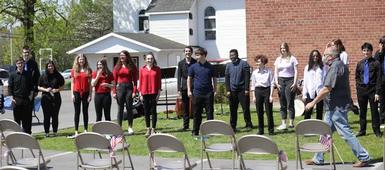 W3B C-NS Vocal Jazz Ensemble Returns to the Stage:

On Sunday, May 16, student members of the W3B C-NS Vocal Jazz Ensemble, made a return to the stage (after a hiatus of 15 months due to COVID) at a beautiful outdoor concert. The group was invited to perform at Immanuel Lutheran Church for a celebration of their Pastor's retirement. In the past, the Vocal Jazz has performed many times for their senior citizen luncheon and was honored to be asked to return. It was a beautiful day for an outdoor concert! The group will be travelling to North Syracuse Junior High School to perform on Friday, May 21 and will also be participating in the CNY Interscholastic Jazz Festival on May 23 at 2:30 p.m. and giving a concert at Town of Clay Park on Wetzel Road on June 10 at 6:00 with the ...
School Nurses are Essential for Overcoming COVID:

Because this past week was Appreciation Week for Teachers, School Nurses and Transportation, the District would like to highlight people in each of these areas. If you haven't already, please take time to consider what these employees have done for others this past year and offer your thanks! In a typical school year, the 27 school nurses (both LPNs and RNs) working in the North Syracuse Central School District's public and parochial schools are quite busy attending to the health needs of their schools' populations. In a pandemic school year, their work days are a blur of constant motion that extends into the evening and weekend hours. NSCSD School Nurses and Athletic Trainers spent hours providing COVID testing for student ...
Transportation Department Keeps Things Moving Through Pandemic:

Because this past week was Appreciation Week for Teachers, School Nurses and Transportation, the District would like to highlight people in each of these areas. If you haven't already, please take time to consider what these employees have done for others this past year and offer your thanks! Shannon Owens is a bus dispatcher with the NSCSD Transportation Department and has worked in the transportation industry for the past 20 years. Shannon is one of only four dispatchers managing the District's fleet of 145 vehicles and 175 drivers and attendants. While Shannon was individually nominated for Shining Star recognition, she and the District's Transportation Director, Matthew Conti, want to credit the TEAM at transportation for keeping things rolling smoothly this year. ...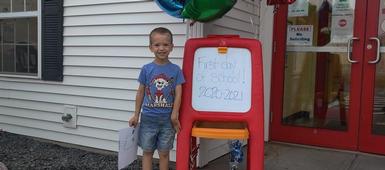 Community Input Needed as District Explores Full-Day UPK:

New York State recently announced a new investment in state-administered Universal Prekindergarten (UPK) programs. UPK refers to state government-funded preschool programs that are free for those who attend them. The UPK expansion funding is limited to full-day slots for four year old students. School districts will be required to submit an application and proposed budget to NYS shortly to qualify for expanded funding. To help the North Syracuse Central School District submit a realistic application and budget, we need to determine the interest of our residents for full-day UPK. If you, or someone you know living within the North Syracuse Central School District limits, is interested in UPK, please click here to complete a brief survey. The survey will be ...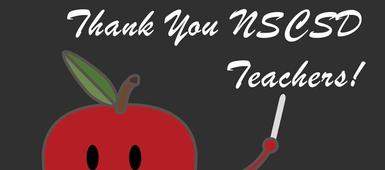 Thank You NSCSD Teachers!:

It is National Teacher Appreciation Week and we want to show our teachers what a difference they've made to your children. Please consider taking a moment to thank your child's teachers. The past year has been hard on all of us but we have rallied as a community. Without a doubt, our teachers have been critical in getting us through some tough times. Our teachers have adjusted to the many obstacles presented over the past year and have continued to educate our students and shape their success. You can share your positive comments for a teacher that has made a difference to your child or family over the past year. We will be compiling the comments and sharing them with our teachers in a video at the end of the school year. If you'd ...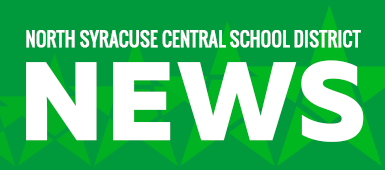 NSCSD Budget Public Hearing Tonight, Tuesday, May 4:

The North Syracuse Central School District will hold a public meeting tonight, Tuesday, May 4 at 6:00 PM on the proposed 2021-2022 school budget. The meeting will take place at the Jerome F. Melvin Administrative Office Building (5355 West Taft Rd., N. Syracuse) and will be broadcast live on the District's YouTube Channel . At the meeting, District officials will discuss the proposed 2021-2022 school budget and introduce candidates for the Board of Education . The agenda for the meeting can be found online by clicking here . Additional information about the budget proposal and Board candidates is also available in the District's budget newsletter. Community members will vote on the budget proposal on Tuesday, May 18.
<< Previous Next >> Viewing 21 - 40 of 419 stories