<< Previous Next >> Viewing 21 - 40 of 574 stories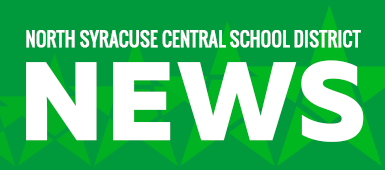 NSCSD Students and Staff Spread Holiday Cheer to Community:

Many thanks to the many NSCSD staff, students coaches, teachers, leaders and student groups who helped make the recent holiday season warmer, brighter and better for various students and community members! All schools in the District held their own multi-cultural holiday events and donation drives for various charity organizations. Some of the many groups to benefit from the efforts included The CNS Food Project (helping our own students), Make-A-Wish, The Rescue Mission, The Salvation Army, The Christmas Bureau, Meals on Wheels, Toys for Tots and Veteran's groups. In addition to the various charity events, schools worked hard to spread kindness and share the spirt of the season. Some of the many pictures shared with us from the holiday season ...
Students Recognized in CNY Scholastic Art Awards:

C-NS Junior Nikolas Servider's "La Citta Antica" Gold Key Award Winning Photograph For the past 70+ years, high school students from across Central New York have been recognized in the Central New York Scholastic Art Awards. Congratulations to the students from the North Syracuse Central School District, who were among the hundreds of Central New York junior and senior high school artists recognized in this year's CNY Scholastic Art Awards. The annual awards' program draws thousands of entries from talented students throughout 13 Central New York counties. Entries are judged by professional artists, educators and photographers. The 2023 Awards Ceremony took place on Tuesday, Jan. 17 at the SRC Arena ...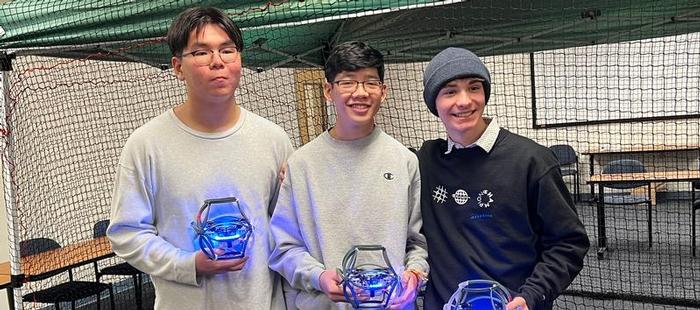 C-NS Students Participate in Drone Day at OCM BOCES:

On Friday, January 13, OCM BOCES held its first-ever Drone Day today at their main campus in Liverpool. As the educational organization gets ready to start a Drone service for students in its 23 component districts, it brought together about 30 staff and students from those districts to get a first-hand look at drones. Marty Miner, a North Syracuse Central School District Technology Teacher at Cicero-North Syracuse High School, brought three of his students to the event to share their experiences with drone technology. We appreciate our students, juniors Nolan Hartough, Nathan Luangaphay and Brian Pham, taking their time to speak to others about the skills they have gained and potential job opportunities. Our Technology Director Jason Clark and Instructional Technology ...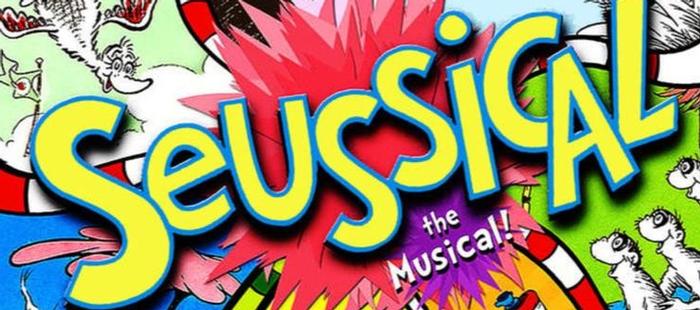 North Syracuse Junior High School Presents "Seussical" Jan. 13 & 14:

The North Syracuse Junior High School Drama Club is excited to present "Seussical the Musical" this week on Friday, Jan. 13 and Saturday, Jan. 14. Performances will take place in the school's auditorium both nights at 7 PM. Advanced sale, reserved seat tickets are available for $12 and can be purchased from cast and crew members (see listing below) or Mr. Halpin (jhalpin@nscsd.org) General admission tickets are available and can be purchased ahead of time and at the door. General admission ticket are $8 for students and senior citizens and $10 for adults. WHAT IS SEUSSICAL? This is a musical based on the works of Dr. Seuss, but it isn't just a string of his stories set to music. And it isn't ...
C-NS Welcomes All-County Musicians This Weekend - January 7, 2023:

C-NS High School is Getting Ready to Welcome all the wonderful musicians in Onondaga County to the 2023 SENIOR HIGH SCHOOL ALL-COUNTY MUSIC FESTIVAL THE CONCERT IS SATURDAY, JANUARY 7, AT 2:00. TICKETS ARE $5.OO EACH The Onondaga County Music Educators Association presents the 2023 Senior High School All-County Music Festival at Cicero-North Syracuse High School on Saturday, January 7th. The program consisted of the Orchestra, under the direction of Dr. Juan LaManna (SUNY Oswego); Chorus, under the direction of Dr. David J. Rudari (Onondaga Community College); and Band, under the direction of Dr. Jared Chase (Nazareth College). Each Fall, students from all ...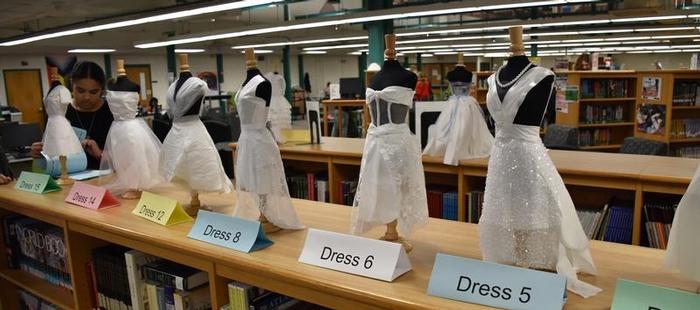 North Syracuse Junior High School "Project Runway" Winners Announced:

Again this school year, the North Syracuse Junior High School Library hosted their very own Project Runway! This is the second year that Ms. Bellucci's Fashion 9 classes have been tasked with creating beautiful wedding dress designs out of toilet paper, mimicking the popular show, Project Runway. Students and staff at the junior high then had the very difficult task of voting on their favorites. The results are in and the school is proud to announce winners from the four categories of Best Overall Design, Best Use of Fabric, Best Execution & Detail, and Most Original Design. Don't miss congratulating the winners and participants on a job well done for this exciting event showcasing their talent and hard work. Winners: Best ...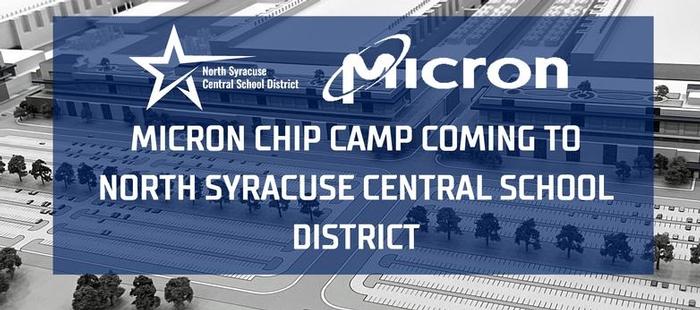 District Will Offer Micron Chip Camp Thanks to Grant Received by North Syracuse Education Foundation:

The North Syracuse Central School District is excited to announce that approximately 120-150 NSCSD students will have the opportunity to attend Chip Camp this June thanks to a grant from the Micron Foundation, awarded to the North Syracuse Education Foundation (NSEF) on November 30. Sponsored by the Micron Foundation, Chip Camp is a day camp filled with hands-on STEM (Science, Technology, Engineering & Math) activities related to semiconductor manufacturing and engineering jobs. Chip Camp attendees will learn and experience what engineers and scientists do every day in a semiconductor company. Thanks to the grant funding, the camp will be offered at no cost to 7th, 8th, and 9th grade NSCSD students. The North ...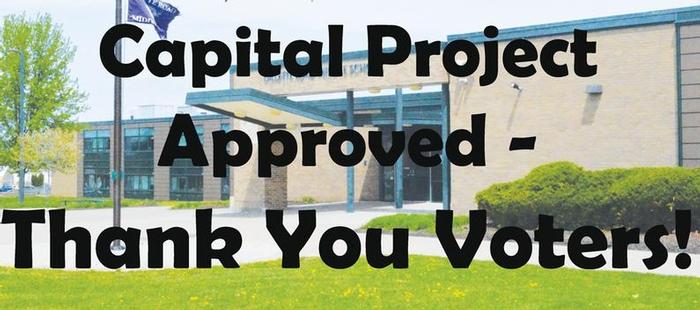 District Voters Approve Capital Referendum:

December 7, 2022: North Syracuse Central School District voters have approved a capital project referendum for $61.2 million including safety & security and infrastructure improvements throughout the District, along with the installation of a multipurpose turf field for athletic teams. 786 votes were cast, with the final tally being 485 yes votes and 301 no votes for a 61.7% voter approval. The majority of the project will be covered by state aid, reducing the tax levy increase to less than ½ percent or approximately $9 annually on a home valued at $100,000. "Many thanks to all of our community members who came out to vote on this important project. We're grateful for a community that supports all aspects of education and extracurricular opportunities for students," ...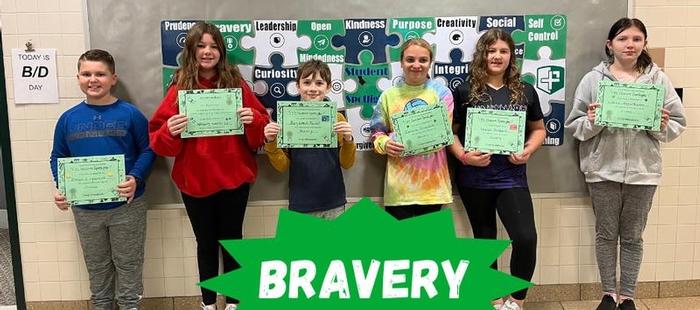 Gillette Road Middle School Students Receive P2 Awards:

On Tuesday, Nov. 29, 2022, a group of Gillette Road Middle School students received their school's Positivity Project Student Spotlight awards. Students were nominated by staff members or classmates to receive this recognition for demonstrating the character strengths of integrity, teamwork, creativity, bravery or curiosity. Associate Principal Sarah Jones shared the pictures and said, "Congratulations to all of our Student Spotlight recipients. You help to make our school a great place to be every day." The following students were recognized with awards: For Teamwork - Anthony Aloi (5 th grade), Suhaill Ali Raza (5 th grade), Ava Beatie (5 th grade), Austin Benedict (6 th grade), Molly Byrne (6 th grade), Kailey Campbell ...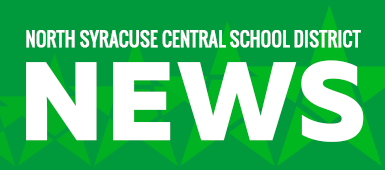 Nutritional News:

The North Syracuse Central School District Food Services Department provides thousands of students with healthy, nutritious meals during their school-day. Children can learn good habits for life by making healthy food choices and getting proper exercise. Food Services staff work hard to ensure that students and families know about meal and snack options available. The department recently provided a Smart Snacking guide to help students decide on choices that will serve them well. Click here to view the flyer on Peachjar.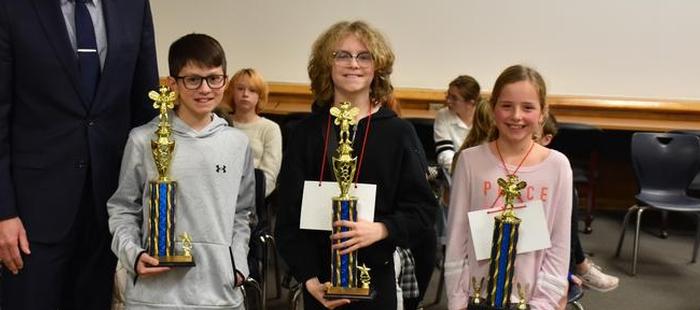 Stellar Spellers Shine in Spelling Bee Competition:

On November 30, 2022, thirty-three students from Roxboro Road Middle School, Gillette Road Middle and North Syracuse Junior High School gathered at the North Syracuse Central School District Office to compete in a District-wide spelling bee. The talented youth from grades five through eight were challenged with a variety of words ranging from simple spellings such as "streak" and "freedom" to more difficult spellings such as "aggravate." All students came to this competition after completing written and oral exams within their schools. The competition ended with the correct spelling of "philosophy," "Camelot" and "Penelope" by Abby Baker from Gillette Road Middle School. ...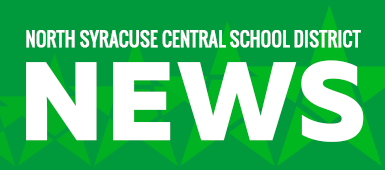 Junior High School Community Builders Club Donates to Local Festival of Trees:

For the fourth year in a row, the Community Builders Club at North Syracuse Junior High School has donated a tree to the Everson Museum of Art Festival of Trees and Light. The theme of this year's Community Builders Club tree is Building Community through Helping Hands. Kathy Carr, the advisor for the school's club shared the pictures and her thanks to everyone involved in this project. Students pictured in the photos are Bailey Corp, Sierra Anderson, Ariyanna Davis and Katie Barney. Click here to learn more about the Festival and to purchase tickets for the event.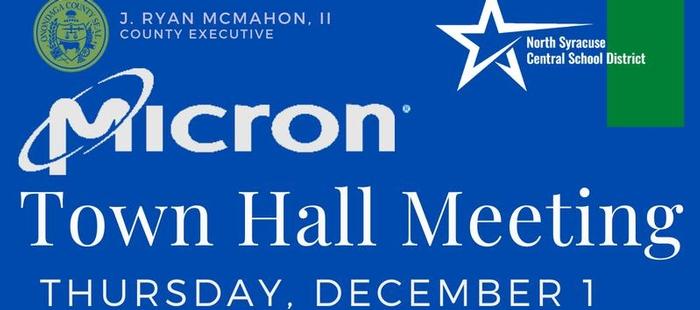 Micron Town Hall Thursday, Dec. 1 at North Syracuse Junior High School:

Onondaga County Executive J. Ryan McMahon, II has announced another public town hall meeting regarding the recent commitment from Micron Technology to invest $100 billion to build a state-of-the-art semiconductor facility in Onondaga County. It will take place at North Syracuse Junior High School (5353 West Taft Road in North Syracuse) on Thursday, December 1 at 5:30 PM. Onondaga County Executive McMahon said, "This latest town hall continues the commitment made by Micron and my administration to actively engage and inform the community as this historic invest progresses." McMahon continued, "To date, we have had several meetings with key stakeholders, community groups as well as town halls and we will continue to engage with all members ...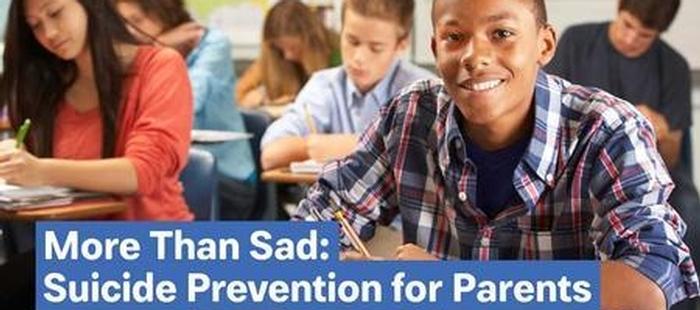 More Than Sad: Suicide Prevention for Parents Virtual Workshops:

The NSCSD's Mental Health and Wellness Monthly Awareness programing for December is Healthy Holiday Expectations. Please join us for two free virtual presentations, "More Than Sad: Suicide Prevention for Parents" on Thursday, December 8. Kristen Stanton, the District's School Based Mental Health and Wellness Coordinator said, "The holidays can be a very stressful and difficult time for many people, especially with COVID. We may be missing family and traditions that we can't do anymore. Because of this we want to provide parents with information that will help them to identify warning signs in their children, how to have a conversation about how they are feeling and where to go for help." ...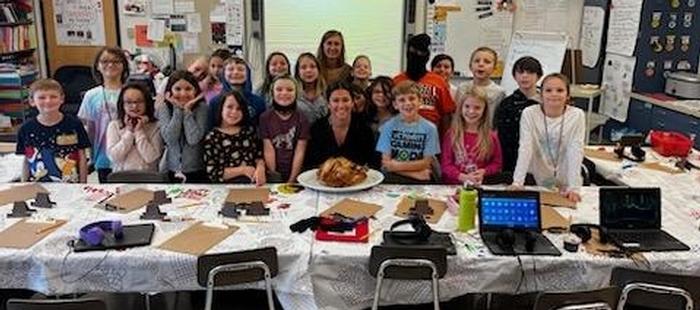 Teachers Celebrate Thanks GIVING with Students:

Prior to the Thanksgiving break, teachers and staff in the NSCSD, helped students prepare for the holiday by starting celebrations at school. Mrs. Sciarrino and Mrs. Dolbear, two third grade teachers at Roxboro Road Elementary School, prepared an entire Thanksgiving meal to share with their students. School Secretary Maryanne Nash, shared photos of the celebration and extended her wishes for a "Happy Thanksgiving" to the entire NSCSD community.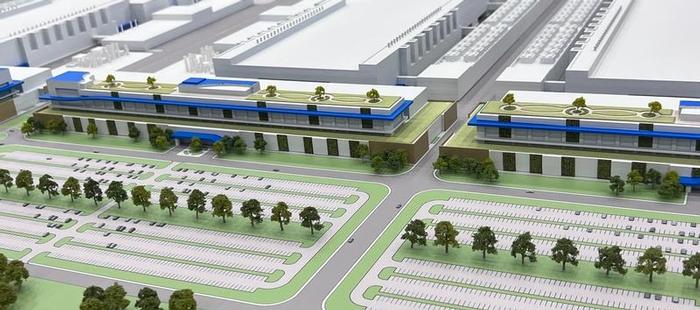 NSCSD Community Asked to Join District in Welcoming Micron:

The North Syracuse Central School District is excited to welcome its newest resident, as Micron prepares to build their largest ever semiconductor plant in Clay, NY . The Company plans to invest up to $100 billion over the next 20+ years to build a leading-edge semiconductor fabrication facility. The site of the plant, White Plains Industrial Park , is completely within the District's boundaries. On Oct. 27, Micron CEO Sanjay Mehrotra and NYS Governor Kathy Hochul welcomed U.S. President Joe Biden and other federal, state and local officials to Central New York for its official announcement. With the signing of the Community Investment Framework that day, Micron made its initial community and workforce commitments established with Empire State Development ...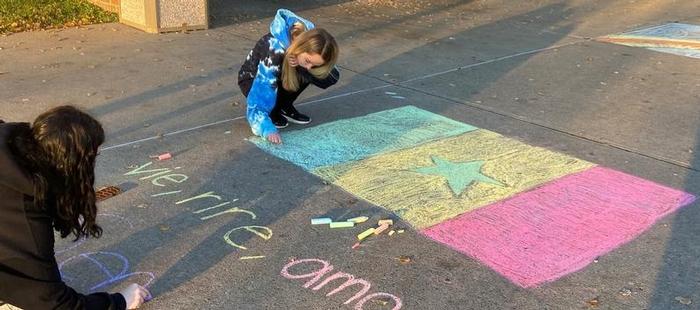 Secondary Schools Celebrate National French Week With Francophone Activities:

Secondary students in the North Syracuse Central School District recently had the chance to participate in some unique Francophone activities as part of National French Week, which was Nov. 3-9. Jessica Keane, a French Teacher at Cicero-North Syracuse High School, shared photos from the District's four secondary buildings, along with a list of activities students enjoyed during individual school celebrations. Language teachers from each building, Lisa Ryder (Gillette and Roxboro Road middle schools), Maureen Scoville and Elise Brown (North Syracuse Junior High) and Lyssa Newport and Jessica Keane (C-NS High School) worked together to plan their school's activities and encouraged students to learn more about the French language and culture. ...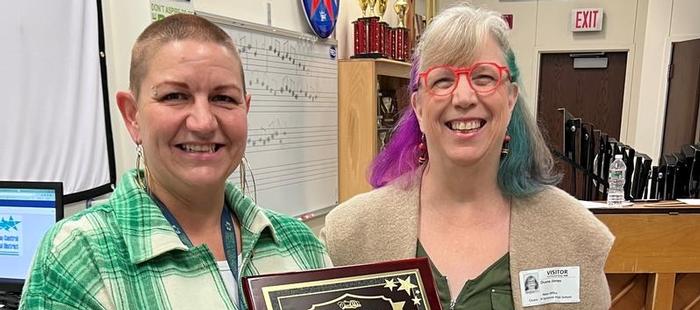 C-NS Band Director and Music Teacher is Named WCNY Classic FM Music Educator of the Month for November:

Diane Jones, the program manager with WCNY Classic FM, is pictured with Karen Seamans after presenting her with an award plaque. Karen is pictured with a freshly shaved head as part of a bet she made with her marching band students. Click here to read that story on Syracuse.com . On Tuesday, Nov. 15, Cicero-North Syracuse High School Music Teacher and Band Director Karen Seamans, had a surprise visit from staff of WCNY Classic FM Radio for a special presentation. The media representatives had come to the school to announce in front of Karen's band class that she had been selected as the station's Music Educator of the Month for November . The Station's Music Educator Awards Program began this September as part of ...
Snow Day, Delay and Early Closing Information:

The North Syracuse Central School District wants to remind our families and community members of some important snow day, delay and early closing information. ParentSquare - The District uses ParentSquare to notify parents, guardians and staff of emergency school closings, delays and early dismissals. The system sends automated notifications based on user preferences. If parents or guardians need to update an email address or phone number, they should contact the Main Office of their child's school. Grandparents, babysitters and community members can sign up to receive Emergency Notifications by going to our "Join Community Groups" page , providing a name and email address and clicking the "Emergency Alerts" category. WEBSITE/SOCIAL ...
<< Previous Next >> Viewing 21 - 40 of 574 stories