Next >> Viewing 1 - 20 of 157 stories
See the World at C-NS during March 7 Festival of Nations:

More than 25 countries from across the globe, including France, Italy, Laos and Ethiopia, will be represented at this year's Festival of Nations at Cicero-North Syracuse High School on March 7. The event, which is free and open to the public, will take place from 5:30 - 7:30 p.m. Guests will have the opportunity to learn about various countries and cultures through food samples, displays and music and dance performances. C-NS student James Corl has organized the event for the past three years and is excited about the festival's growth over the years. He said, "The festival has grown significantly in size since its inception 4 years ago...from 12 countries in year one to more than 25 this year."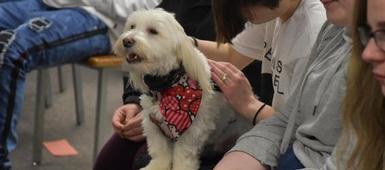 NSJHS students PAWS to de-stress:

Students at North Syracuse Junior High School have had several opportunities to de-stress this semester with the help of some furry friends from K9 Caring Angels Therapy Dogs of Syracuse. In January and twice in February, one or more dogs and their owners/handlers from the agency, spent time with groups of junior high students. During the visits, the owners talked to students about the work that therapy dogs do, explained the difference between therapy and service dogs and discussed what makes a good therapy dog. The students were able to directly interact with the dogs and ask questions of the handlers. Thanks to K9 Caring Angels for sharing your furry angels.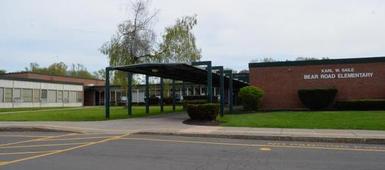 District revising timeline for renovations to KWS Bear Road Elementary School:

The North Syracuse Central School District and its Board of Education are working to create a revised timeline for capital project renovations at KWS Bear Road Elementary School after receiving construction bids approximately $12 million over the approved project budget. As a result of the large difference, the District will not be proceeding with renovations at the school until it is able to come up with a revised project plan. North Syracuse Central School District's Associate Superintendent for Business Services, Don Keegan, spoke about the change saying, "As educators it is our job to provide the best educational environment for our students and as financial stewards of tax payer dollars, it is our job to appropriately and efficiently utilize the funds ...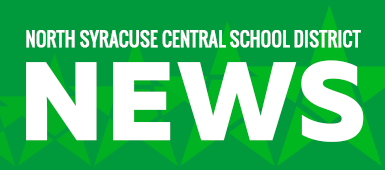 Board of Education releases results of Superintendent Search survey:

As part of its search for a new superintendent of schools, the North Syracuse Central School District Board of Education recently surveyed the community regarding the qualities and characteristics desired in the school district's next leader. The results of the survey have been compiled and are now available online via the link below or by clicking here .
District sets dates for Kindergarten Registration:

The North Syracuse Central School District has announced its registration dates for 2019-2020 kindergarten students. Home schools will mail appointment letters to families that will be registering known new students. In order for your child to enter school next fall, he or she must be five (5) years old on or before December 1, 2019. Elementary schools are holding registration at individual schools on the following dates by appointment . Families will receive an appointment letter from their child's home school in February. Families who will be registering a new kindergarten student and who have not received their letter by the 3 rd week in February, should contact the school to schedule an appointment. Kindergarten registration will take place by appointment at ...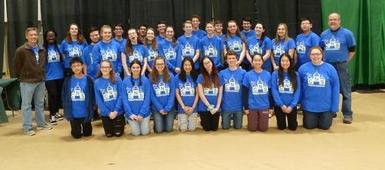 Science Olympiad teams place in Regional Competition:

On Saturday, January 26, the Cicero-North Syracuse High School Science Olympiad teams competed in the Regional Science Olympiad Competition held at LeMoyne College. Out of a total of thirty-nine teams competing, C-NS Team Green finished fourth and Team Blue Finished ninth. The teams competed in twenty six events which covered topics related to Earth Science, Biology, Chemistry, Physics, and Technology. The teams medaled in twenty of the twenty-six events. The following is a list of those events, along with the students who participated in them. Anatomy & Physiology - Ibrahim Khan and Conor Crouse (7th place) Astronomy - Emily Temple and Molly Dano (6th place) Boomilever - Sandy Lin and Kadin Cochran (3rd place) Boomilever - Karla ...
Students recognized in CNY Regional Scholastic Art Competition:

More than 50 Cicero-North Syracuse High School students, with nearly 100 individual works of art, were recently honored with awards in the Central New York Regional Scholastic Art Competition. The Scholastic Art & Writing Awards is the largest annual art competition in America, and the participating Central New York awards program has been honoring the creative work of junior/senior high school students for more than 70 years. This year, nearly 6,000 individual works of art were submitted and 1,800 winning works were selected to be displayed at Onondaga Community College's Whitney Applied Technology Center through March 1. The 2019 first-place winners (Gold Key), second-place (Silver Key) and honorable mentions, as well as special award honorees, will ...
Feb. 26 Parent Advocacy Group meeting will focus on effective communication:

The North Syracuse Central School District has announced the topic for their Feb. 26 Parent Advocacy Group (PAG) meeting as Effective Communication Between Schools and Families: The Key to Success. This New York State Education Department-vetted training was developed to promote quality special education services for all students with disabilities. The modules contained within this training are intended to help Families and School Personnel to build their communication skills in their role as a CSE team member that is consistent with State laws and regulations. The district launched its new Parent Advocacy Group (PAG) in conjunction with Syracuse University Parent Assistance Center (SUPAC) this past fall to provide parents of children with disabilities opportunities to collaborate and ...
District students participate in All-County Music Festival:

Congratulations to the 17 North Syracuse Junior High School students and 3 Roxboro Road Middle School students selected to participate in the Saturday, January 26 Onondaga County Music Educators' Association's Junior High (grades 7-9) All-County Music Festival! The students auditioned in December and were selected to participate. The following North Syracuse Junior High School students are pictured in the left photo: (Front row left to right): Christina Wagner, Peyton Empey, Grace Doherty, Maddie Rodoski, Katie Parker, Maria Barbato, Alicia Tow (Back row left to right): Megan Miles, Lauren Coleman, Adriana Capato, Katherine Rockhill, Jaden Britton, Jordan Hnatiw, Jeremy Budihardjo, Emily Bradley, Cecilia D'Alberto, Chris ...
We want to hear from YOU! 2019 Community Survey available online:

The North Syracuse Central School District has sent out their annual community survey seeking input from parents, guardians and community members. 2019 is the fourth year that the district has administered a community survey. The survey is being sent as a link to families with children currently enrolled in the district. The survey can also be accessed online by clicking here from January 21, 2019 through February 28, 2019. The survey results will be compiled and analyzed during the month of March and will be shared with the community. For details about information collected through previous surveys, click here to visit the District's survey webpage .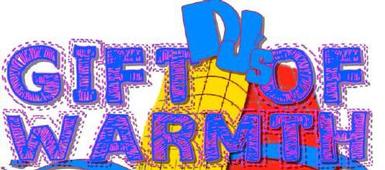 DJ's Gift of Warmth blanket drive now underway:

For the past several years, DJ Villnave, now a high school sophomore at Cicero-North Syracuse High School, has spearheaded a community blanket drive to help people in need. Again this year, DJ has the support of all schools in the district. Blankets can be dropped off at any school through the end of January. Please consider sending in a new or gently used blanket to help with the cause! Following are the addresses of all schools in the North Syracuse Central School District: Cicero-North Syracuse High School (6002 Route 31 in Cicero) North Syracuse Junior High School (5353 West Taft Rd. in North Syracuse) Gillette Road Middle School (6150 South Bay Rd. in Cicero) Roxboro Road Middle School (300 Bernard St. in Mattydale) Allen Road Elementary School (803 Allen Rd. ...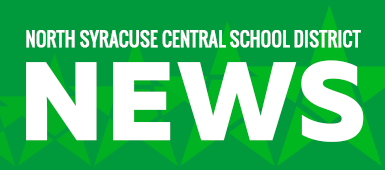 Board of Education seeks input in superintendent search:

As part of its search for a new superintendent of schools, the North Syracuse Central School District Board of Education is seeking the community's input regarding the qualities and characteristics desired in the school district's next leader. Community members, parents, staff and students are being asked to assist the Board in developing a profile of desirable attributes/qualities by taking a brief survey . The survey will close on January 18, 2019 and a summary of all responses will be completed and used to evaluate applicants. For those that are unable to take the survey online , paper copies are available at the reception desk of the Jerome F. Melvin Administrative Office Building (5355 West Taft Rd.) in N. Syracuse. Anyone wanting to complete a paper copy must do so ...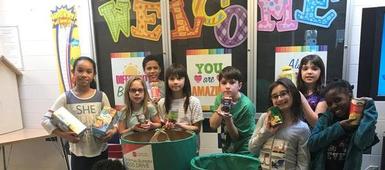 Second Annual "Soup"er Bowl Success at Roxboro Road Elementary School:

Students at Roxboro Road Elementary School were challenged this holiday season to fill three barrels with non-perishable food items for the school's second annual "Soup"er Bowl. They stepped up to the challenge and collecting hundreds of food items for the Salvation Army. Pictured are some of the students from Trustworthy Trail, the hallway that collected the most food items and earned the Golden Soup-er Bowl Trophy. Front Row – Davida Jackson, Porshe Delapaz, Preston Loftin, Juliana Nelipowitz and Lisa Ramos Back Row – Ava Torres, Judith Coyne, Damien Soloman, Nina Tran, Landon Russo, Isabella Brennan, Lynnai Epolito and Gloria Gabriel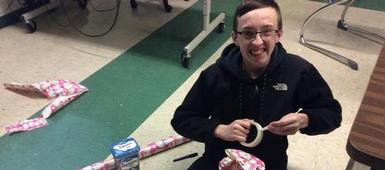 NSJH students learn lessons that go well beyond the classroom:

Prior to Thanksgiving, groups of 8th and 9th grade students in Sharon Byrns' AIS-ELA classes at North Syracuse Junior High School began reflecting on the holiday season discussing empathy, compassion and community service. With such a diverse group; acceptance, self-identity and character traits are all topics mainstreamed into their daily lives. Being reminded that the holidays may not be happy for everyone, the students brainstormed how their personal concerns or issues can be addressed during the long holiday season. Students created their own learning by exploring their individual voice, researching and developing ideas of how to solve or make awareness of an issue. Immersed in brainstorming, critical thought, individual ...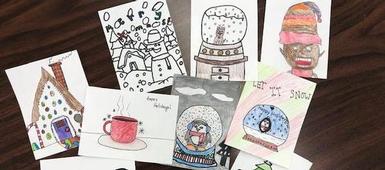 Students' kindness benefits Meals on Wheels Clients:

Students in Bethany Riordan's 5th, 6th and 8h grade Art classes at Gillette Road Middle School and North Syracuse Junior High School took time to express their creativity for a cause this holiday season. Students got together to make cards and bookmarks for local Meals on Wheels clients. During the project, the classroom discussion turned toward giving back to the community and helping those in need. Students learned some of the reasons that people accept Meals on Wheels and had thoughtful conversations around the topic. Bethany was impressed with her students' artwork and also the discussions that came out of the project and says she plans to repeat the activity in February of the new year. ...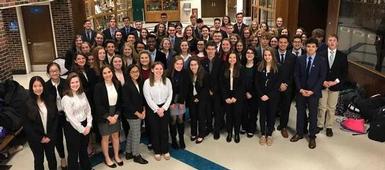 Dozens of C-NS students place at Regional DECA Competition:

The 2018-2019 Regional DECA competition was held on December 18, 2018, at LeMoyne College. Region 9 DECA's membership this year consisted of more than 500 students participating in some very tough competitions. Those students come from eleven high schools across Central New York, including: Phoenix, Norwich, Henninger, Liverpool, Solvay, Central Square, East Syracuse-Minoa, Fowler, Skaneateles, Nottingham, and Cicero-North Syracuse High School. The future marketing/management leaders' events consist of a 100-question college level marketing/management test and a role-play with a member of the business community. The role-play is given to the students during competition and they have a 10 or 20 minute preparation period to generate solutions ...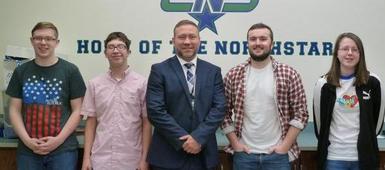 C-NS students receive early acceptance letters:

Congratulations to ten Cicero-North Syracuse High School seniors, who recently received letters of early decision acceptance to their colleges of choice! Five seniors received their letters of early decision acceptance to Rochester Institute of Technology (RIT). Four of the students are from one Advanced Placement (AP) class (Computer Science) taught by Matt Harbinger. Pictured (left) from left to right are: Brian Hughes, Zachary Graham, Mr. LaClair, Benjamin Stevenson and Caitlin Trombley. The students will all take on different majors at RIT: Ben Stevenson – Software Development, Caitlin Trombley – CyberSecurity, Brian Hughes – Computer Science, Eric Nilsson – not pictured, Computer Explorations and Zach ...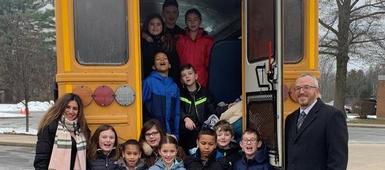 Creatures Great and Small, Smith Road Cares for All!:

Students, staff and families at Smith Road Elementary School took on a true "pet" project this holiday season through their "Creatures Great and Small, Smith Road Cares for All" campaign. The three week-long donation drive asked families for supply and monetary donations for the Central New York SPCA. Rebecca Hall, a music teacher at Smith Road Elementary School led the campaign along with the school's Character Education Team. Hall said, "We set a school-wide goal of collecting 600 pet supplies and hoped to receive a few monetary donations. At the end of the period, we had far surpassed the supply goal AND raised more than $400!" The campaign's final event was a combined third- and fourth-grade chorus concert on December 10. On December ...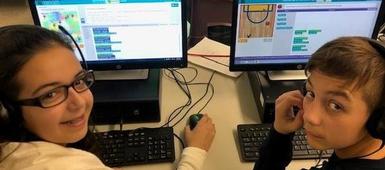 Students Excited to Learn about Coding at NSJHS:

Students in Mr. Cook's Business classes and in Ms. Carozza's Academic Support class at North Syracuse Junior High School participated in the Hour of Code during the week of Dec. 3-8 through activities designed in collaboration with Mrs. Villeneuve, School Librarian. The Hour of Code is an annual event celebrated across the world during the first week of December and sponsored by Code.org. According to the United States Bureau of Labor Statistics, there are currently 570,926 jobs in computer science that are open in the United States! That is 90,000 more jobs than were open the previous year! The Hour of Code provides students with an opportunity to experience coding at various levels of complexity. In working through various levels of coding, students learn about ...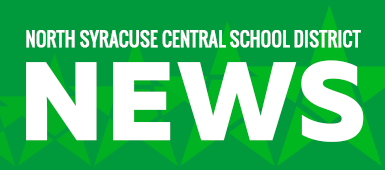 Sheriff's Office investigating suspicious incident:

Please be advised that the Onondaga County Sheriff's Office is currently investigating the report of a Roxboro Road Middle School student having been followed by a stranger in a white conversion van after school on Thursday, Dec. 13 and again on the morning of Friday, Dec. 14. No communication was made between the student and the vehicle's operator. All students are safe. Police are asking students and families in the Mattydale area to be aware of the incident and report anything suspicious to the Sheriff's Office at 315-425-2111.
Next >> Viewing 1 - 20 of 157 stories