It is the belief of the North Syracuse Central School District Board of Education that the schools belong to the public and should be used as much as possible, as long as usage does not interfere with the educational programs of the school district.
Anyone interested in using a school's facilities during non-instructional time must complete an
online request
at least two weeks prior to the date being requested. The facility usage fees for each location are provided below.
NSCSD asks that anyone utilizing district facilities be prepared to adapt to the current CDC and NYSDOH guidance in regards to appropriate personal and public safety. Masking is currently done at the discretion of each individual/family. Guests are expected to be respectful of one another's personal preferences.
Approval Process:
The following is an explanation of the approval process for all facilities use requests:
Status 1 – Building Administration approval
Status 2 - Athletic Department approval
Status 3 – Business Office approval
Status 4 – Final approval and scheduling, once insurance certificate is received.
If you have any questions or concerns regarding the online process, please contact the Maintenance and Operations Department at (315) 218-2109.
The following are questions concerning what is and isn't permissible regarding facilities usage.
Question: Can the YMCA, the Towns or Boys/Girls Scouts use District facilities for meetings and activities free of charge?
Answer: The YMCA, the Towns and Boys/Girls Scouts are all outside organizations. Therefore, in accordance with "Opinion of Counsel 213" and the decisions of the Commissioner of Education, they
must pay
for any extra identifiable costs incurred by the District in connection with the use of the school buildings and grounds.
Question: Can the County use District facilities, free of charge, for their elections?
Answer: Yes. Under the Education Law, ordinary contingent expenses include expenses that are specifically authorized by statue. New York's Election Law does not merely authorize school buildings to be used as polling places, the law requires school districts to make school buildings available as polling places.
Nonprofit organizations comprised of volunteers from the North Syracuse Central School District community who serve students in the NSCSD community will NOT be charged facility use fees. If the organization charges fees in connection with their events or activities, than the proceeds of such events or activities must directly benefit NSCSD students. Other nonprofit organizations who are staffed with paid employees must still pay facility use fees.
Field Maps images
| | | |
| --- | --- | --- |
| Cicero Elementary School | Cicero-North Syracuse High School | Gillette Road Middle School |
| North Syracuse Junior High School | Roxboro Road Middle School | Roxboro Road Complex |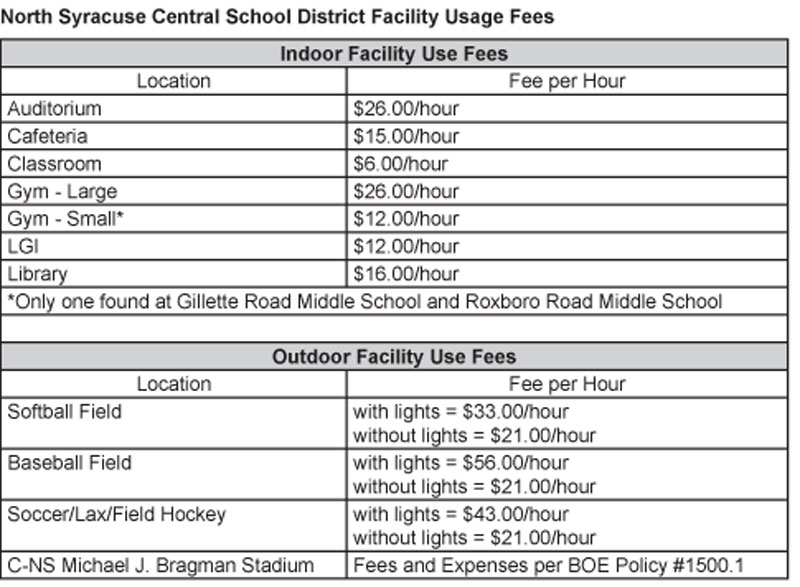 Click here to be taken to the facility usage request website.