Next >> Viewing 1 - 20 of 201 stories
17 C-NS students honored by Cicero-Plank Road Chamber of Commerce:

On Tuesday, May 22, seventeen Cicero-North Syracuse High School students were honored with various awards through the Cicero-Plank Road Chamber of Commerce Gene Harvey Student Awards. The awards are sponsored by various local businesses and come with monetary recognition and a celebration dinner. Valedictorian Award - Julia Rupp Salutatorian Award - Gabriel Khan Congratulations to all award recipients! Pictured to the left: Valedictorian Award (pictured left top): Julia Rupp - Sponsored by CORE Federal Credit Union Salutatorian Award (pictured left bottom): Gabriel Khan - Sponsored by ...
Sun Shines on 2019 Special Olympic Games!:

The rain held off for more than 900 Special Olympics athletes at the 2019 games held at Cicero-North Syracuse High School on May 23. Students came from districts across Central New York, including: Baldwinsville, Chittenango, Cortland, East Syracuse Minoa, Fayetteville-Manlius, Homer, Jamesville-DeWitt, Liverpool, Lyncourt, Marcellus, North Syracuse, OCM BOCES, Solvay and West Genesee. Through the Special Olympics, students of all ages and abilities had opportunities to participate in a variety of track and field events, adaptive events and fun games. Special Olympics games promote fitness, coordination and cardiovascular improvement. Additional benefits include self-confidence, discipline and self-esteem. ...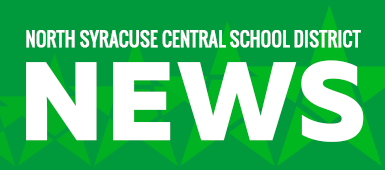 Voters approve proposed 2019-2020 budget:

North Syracuse Central School District voters have agreed to the District's proposed 2019-2020 school year budget with a 77 percent approval. 1,848 votes were cast, with the final tally being 1,423 yes votes and 410 no votes on the $166,760,407 proposal. A bus proposition for $1,506,092 also passed (76 percent approval) with 1,407 yes votes and 418 no votes. Additionally, the Salina Free Library proposition for $458,393 passed with 66 yes votes and 13 no votes. Voters elected the following three candidates to the North Syracuse Central School District Board of Education for (three-year) terms beginning July 1, 2019: Mary Scanlon (1,536 votes) Robert Crabtree (1,533 votes) Matthew Hermann (1,266 votes) Michael Donofrio was not elected with 685 votes. Superintendent ...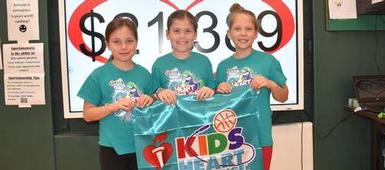 Cicero Elementary Students and Families Show That They "Have Heart!":

Students and families from Cicero Elementary School, in the North Syracuse Central School District, are celebrating a HUGE success for the American Heart Association (AHA). More than 300 students and their families recently took part in their school's "Heart Challenge" and raised an incredible $21,389 for the Association! Cicero Elementary School's donation to the AHA is the largest in the 16 surrounding counties and in the top 5 for all of New York State. It also brings the school's two-year fundraising total to more than $36,500. The Heart Challenge is a campaign through which students learn about their own heart while helping others and raising money for the American Heart Association. Throughout the 'Heart Challenge' month, students made ...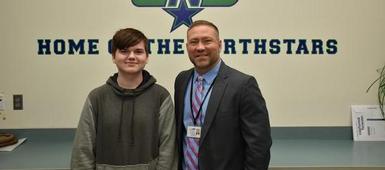 C-NS student is State Champion in SkillsUSA Competition!:

Congratulations to Wolfgang Groetz, an OCM BOCES Computer Technology student from C-NS High School for for taking 1st place in the New York State SkillsUSA Competition, qualifying for NATIONAL competition in Louisville, Kentucky at the end of June. Wolfgang was one of the hundreds of Career and Technical Education students from across the state to compete in the SkillsUSA performance and written tests. Wolfgang is pictured with C-NS Executive Principal William LaClair. Other North Syracuse Central School District SkillsUSA participants included Jillian Himes (Laboratory Technology), Devon Butler (Automotive Technology), Robert Salvett (Automotive Technology), and Colin Harrington (Media Marketing Communications). Click here to read the full article on ...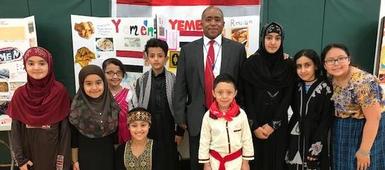 Multicultural Fair at Cicero Elementary School offers students a trip around the world!:

Students at Cicero Elementary School were able to travel around the world on Friday, May 17, without even leaving their school! As part of the school's first-ever Multicultural Fair, the school's kindergarten through 4th grade students visited such places as Germany, Nepal, Italy, Poland, Yemen and many more. Throughout the morning, teachers brought their classrooms to the gymnasium and library, where students experienced the various countries' cultures through exhibits, presentations and even music. Cicero Elementary School is "home" to 36 English as a New Language (ENL) students from a variety of countries, including Bosnia, Guatemala, China, Nepal, Sudan, Palestine, Yemen, Philippines, and Ukraine. In addition to presentations and displays by ENL students, ...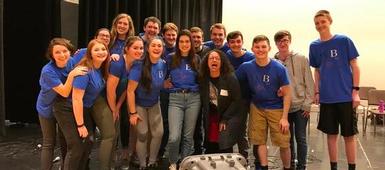 Renowned Trombonist Provides Memorable Lesson for Student Musicians:

Former Baker High School student and renowned trombonist Jay Ashby returned to Central New York along with his wife, Kim Nazarian, founding member of the New York Voices, for performances at Lemoyne College and stopped by to work with our jazz ensembles. The C-NS Jazz Ensemble and the W3B Vocal Jazz Group were given an opportunity to work with these highly acclaimed musicians and clinicians on Thursday, May 2 nd leading into their Thursday night concert. Ashby is a five-time Grammy Award-winning producer who has performed, toured and recorded with some of the most renowned jazz artists in the industry for over 25 years. Ashby developed a strong affinity for Brazilian jazz, which led to many years as a soloist with Astrud Gilberto, as well as arrangements, tours ...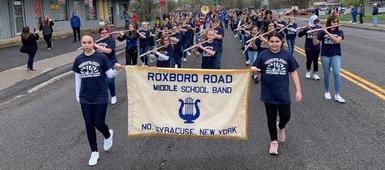 RRMS Parade Band Helps Kick-off Baseball Season:

The Roxboro Road Middle School Parade Band, under the direction of Danielle Rausa and Mark Hover, participated in the North Syracuse Opening Day of Baseball Parade for the 7 th year in a row! The Parade band, with over 100 students, led the North Syracuse little league into Lonergan Park on Saturday morning for it's opening Day Ceremony. Our National Anthem was sung by Hunter Baciuska – 6 th grader at RRMS and drama club member. A wonderful kickoff to the baseball season was had by all!
Special Olympic Games take place at C-NS High School on May 23:

The North Syracuse Central School District is proud to be hosting this year's Special Olympics on Thursday, May 23, 2019. The Special Olympics Track & Field Event will take place at the Cicero-North Syracuse (C-NS) High School Athletic Complex. Students will begin arriving at C-NS at approximately 9:30 a.m. with a Parade of Athletes taking place to kick off the day's events, followed by athletic competitions until approximately 1:30 p.m. The rain date for the event is Thursday, May 30. More than 900 student athletes are expected from local school districts including Baldwinsville, Chittenango, Cortland, East Syracuse Minoa, Fayetteville-Manlius, Homer, Jamesville-DeWitt, Liverpool, Lyncourt, Marcellus, North Syracuse, OCM BOCES, Solvay and West Genesee. Everyone is welcome ...
"Spring Into Savings" Event Promotes Financial Literacy:

Elementary students in the North Syracuse School District recently had the opportunity to learn about finance in a fun way. C-NS High school students in cooperation with CORE Federal Credit Union hosted a district wide "SPRING INTO SAVINGS" financial literacy event. The students created carnival style games, all focusing on financial literacy. After successfully completing each game students earned play money and were able to exchange it for fun prizes. There were a variety of games including "Wheel Your Debt Away" and "SPRINGO." The games dealt with financial topics presented in a fun, child friendly way. Skills taught by the games included money identification, achieving a goal of saving, how to fill out a check, basic ...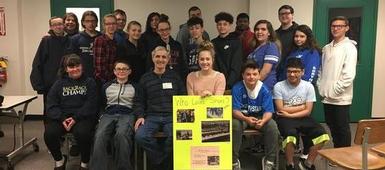 NSJH students create campaign to assist local humanitarian's cause:

Students at North Syracuse Junior High School recently invited local humanitarian Ralph Rotella to their school for the purpose of honoring him and contributing to his charitable cause. On April 25, Mr. Rotella came to the school to collect more than 100 pairs of shoes that the students had collected to donate to him. Throughout the school year, students in Sharon Byrns' 8 th and 9 th Grade AIS ELA classes campaigned for Ralph's cause by collecting shoes to donate to him for the purpose or repairing and giving to teens in need. For years, Mr. Rotella has been repairing used footwear and donating it back to community members in need. Earlier this school year, as the junior high students were contemplating the choice of a charitable organization to support, they learned ...
C-NS Star Shop holding final public sale of school year:

The Star Shop at Cicero-North Syracuse High School is holding their final public sale of the school year on a Nike hoodie. The price for the sweatshirt (including tax) is $47 for sizes up to XL and $49 for sizes XXL & XXXL. To order: 1. Complete the online form by clicking here and 2. Mail check made payable to C-NS bookstore and mail to: Linda Dwyer, C-NS High School, 6002 Route 31, Cicero, NY 13039 or Call (315) 218-4150 after 11:00 am to pay by card. Orders can be picked up at the C-NS Star Shop from 7 to 7:30 a.m. and from 11 a.m. to 2:10 p.m.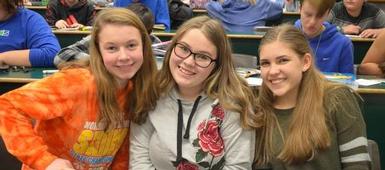 NSJH Evening of Excellence May 21:

On Tuesday, May 21, the North Syracuse Junior High School will host their annual Evening of Excellence throughout the school (5353 W. Taft Rd., N. Syracuse) from 5:30 to 7 p.m. A spaghetti dinner fundraiser will take place in conjunction with the event, beginning at 5 p.m. Meal prices are $5 per child and $7 per adult, with proceeds going to the NSJHS Student Government. Families and community members are invited to attend the "open house" format at any time during the event to browse student displays and enjoy their performances. Some of the work to be showcased includes: CO2 car racing, 3-D printing, musical performances, student art gallery, Social Studies Hall of Learning, Google Expeditions demo, robotics, moon rocks and much more! Nicole Brown, a teacher at ...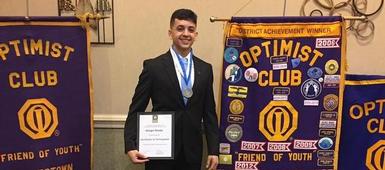 C-NS Sophomore takes first place in first place in the New York- New England Oratorical Contest:

Congratulations to C-NS Sophomore Giorgio Rawda, who recently won first place in the New York-New England Oratorical Contest on Saturday, April 26. Giorgio won the Cicero-North Syracuse Optimist and CNY Zone contests to qualify for the competition, which was held in Utica, New York. Giorgio competed against five other district contestants who each had to give a 4-5 minute speach on the topic of : "Is There a Fine Line Between Optimism and Reality?" He won a $2500 scholarship by winning first place and will now represent the New York-New England District in July in St. Louis.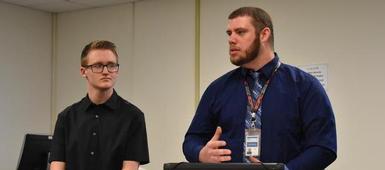 C-NS Automotive students from OCM BOCES honored:

On Thursday, May 2, three Cicero-North Syracuse High School automotive technology students were recognzed by OCM BOCES in their Tools for Success Awards program. The awards are given annually to selected seniors who have shown great leadership and teamwork in their OCM BOCES automotive technology programs and for their excellent skills in automotive technology, math and science skills, as well as their outstanding classroom participation, attendance and attitude. For their achievement, students received a certificate of excellence and a Snap-On Tools screwdriver worth more than $100. The North Syracuse District winners are : Joseph Rodford, who will attend Morrisville College, was selected by Instructor Samuel Azria Ryan Hinman, who will attend ...
C-NS student reflects on speaker series presentation:

Students at Cicero-North Syracuse have had many opportunities to learn from outside speakers as part of their Social Studies courses this school year. Several students in Mr. Cary's classes have shared their reflections on the speaker presentations. Following is an essay by student Kristina Waddy-Anderson: Gladys McCormick's presentation about Immigration in the United States mainly focused on common misconceptions regarding immigration, and public opinion regarding immigration from the 90's to the 2010's. One example of a misconception of immigration would be peoples' belief that America is being "overrun" by immigrants, but in actuality only 3% of the world's population emigrate, and only 1% actually ...
NSJH Talent Show - Friday, May 10:

On Friday May 10, North Syracuse Junior High and 4D Productions will hold its 2019 Talent Show. Auditorium "grand ballroom" doors open at 6:30pm, for the 7:00pm show, entitled, " The Final Masquerade ." Seventeen wonderful acts are lined up for the evening's entertainment with more than 100 staff and students coming together for this huge annual event that takes 10 months to produce. In between acts, audiences will be treated to several comical live faculty skits and also original video skits designed, filmed and edited by 4D's video crew. This year also features a fun teacher skit series called, The Masked Singer: Teacher Edition where several faculty members will secretly be in full costume, singing a song. See if you can guess who ...
District teachers awarded NSEF grants to enhance programming:

Thirteen North Syracuse Central School District teachers were recently recognized for receiving grants from the North Syracuse Education Foundation (NSEF) in their 2019 Grant Award's Program. NSEF resources support quality education through creative opportunities, and innovative/imaginative approaches. Since 2003, NSEF has provided more than $100,000 in grant money for student programming through generous contributions from the community. The mission of the Foundation is to sponsor activities and projects intended to enhance the education and cultural enrichment of the students of the North Syracuse Central School District. Pictured Front row: Jen Jerome, Susan Winn, Sara Bambino, Mary Murdoch, Steve Cary Back row: NSEF members - Nat Ordway, Jan Gilkey, Jackie Forte, ...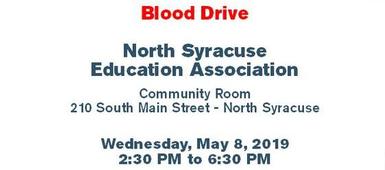 Please donate at North Syracuse Education Association (NSEA) Blood Drive on May 8:

The American Red Cross is in emergency need for donations! Please sign up to donate at the May 8 blood drive sponsored by the North Syracuse Teaching Assistants and the North Syracuse Education Association. The drive runs from 2:30 to 6:30 p.m. Click here to sign up online or call/email the NSEA (315) 458-4462. As added incentive, receive a $5 Amazon.com Gift Card by email. Please take a moment and click here to view an inspirational video about a boy named Sammy.
2019-2020 Budget Public Hearing on May 7:

The North Syracuse Central School District is holding a public hearing on Tuesday, May 7 at 7 p.m. regarding their proposed 2019-2020 school budget. The public hearing is being held at the Jerome F. Melvin Administrative Office Building (5355 West Taft Road) in North Syracuse. Click here to view a brief video message about the proposed 2019-2010 school budget. Details about the budget proposal are available online and in the May District Dispatch newsletter which has been mailed to residents throughout the district. The newsletter provides detailed information about the district's 2019-2020 budget proposal and includes an overview of the $166,760,407 proposed budget; a line-by-line look at the proposed budget; voter information and much more. ...
Next >> Viewing 1 - 20 of 201 stories