NSCSD Once Again Celebrates Students In-Person at First Public Presentation in More Than a Year
As part of their regular Board of Education meeting on May 17, 2021, the North Syracuse Central School District held its first public student recognition presentation in more than a year. The occasion proudly honored the 17 Cicero-North Syracuse High School students who met the rigorous requirements necessary to earn Seals of Biliteracy on their 2021 high school diplomas.
The New York State Seal of Biliteracy recognizes high school graduates who have attained a high level of proficiency in listening, speaking, reading, and writing in one or more languages, in addition to English. To qualify for the designation, students must meet rigorous requirements and this year, because of the pandemic, the process added an additional level of challenge.
David Lunden, who oversees foreign language programming in the North Syracuse Central School District, spoke about the process to earn the Seal of Biliteracy this year. "It was definitely a challenge under pandemic conditions, but the students who did take part in the process certainly stayed engaged and persevered," Lunden said. "These young people and their families should be very proud of this accomplishment. It is a rigorous task under normal circumstances and this year's process threw in an additional hurdle that they overcame. Congratulations to all!"
The following C-NS High School seniors earned the 2021 Seal of Biliteracy: Anna Aiello, Van Bik, Brooke Blaisdell, Lily Canino, Riley Kawola, Madison King, Riley LaVancha, Maggie Middleton, Lauren Misco, Abbee Norris, Cassidy Ormond, Lydia Par, Giorgio Rawda, Trevor Stahrr, Tyler Stoetzel, Nicholas Thelen and Brian Zheng.
This year's co-advisors for Seal of Biliteracy candidates were Jessica Keane and Erica Stark, who coordinated monthly meetings, presentations, data, project components, and developed the new rubric. Student mentors, who worked with students throughout the school year, were Stacy Green, Jessica Keane, Kerry McPhillips, Mary Murdoch, Jane Murlin, Heather Puchta, Lydia Roldan, and Laura Schilly. Judges for the presentations were 7th-12th grade world language teachers: Seyda Akyuz-Mannion, Erika Carter-Grosso, Shane Kelsen, Trish Kinneally, Jeremy Lenchert, Pat McAvoy, Brian Mingolelli, Kerry McPhillips, Elise Micale, Mary Murdoch, Jane Murlin, Ivan Rodriguez, Pamela Russell, Lisa Ryder, Maureen Scoville, Amy St. John, Bobbi Vergara, and one math teacher, Matt Harbinger, who minored in French! They donated their time and met beforehand to learn about the newly aligned New York State rubric for the Seal of Biliteracy. Heather Puchta and Dave Lunden offered their support and guidance as administrators throughout the whole process.
Many thanks to all the NSCSD staff who supported this year's Seal of Biliteracy throughout the process and Congratulations to the NSCSD Seal of Biliteracy Recipients!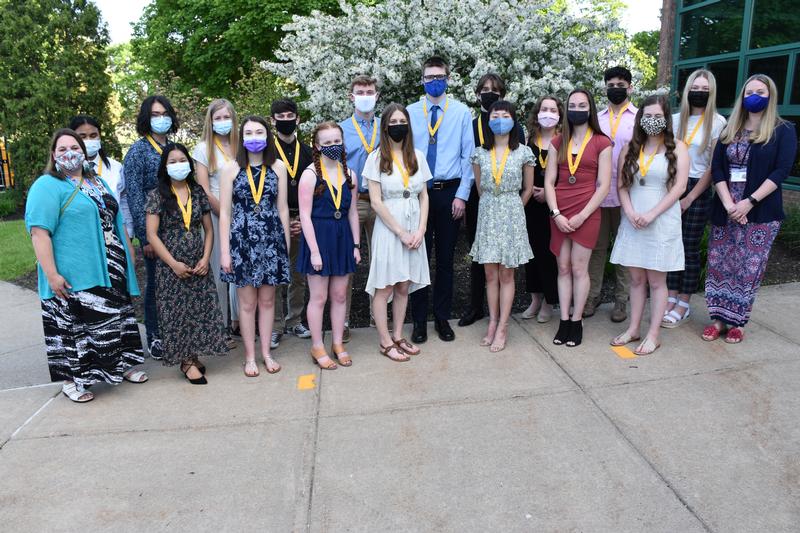 The following students and teachers were present at the May 17 Board of Education meeting and are pictured as follows:
Front Row: Mary Murdoch, Lydia Par, Maggie MIddleton, Madison King, Anna Aiello, Lauren Misco, Brooke Blaisdell, Riley Kawola, Erica Stark
Back Row: Van Bik, Brian Zheng, Abbee Norris, Nick Thelan, Trevor Starr, Tyler Stoetzel, Riley LaVancha, Lily Canino, Giorgio Rawda, Cassidy Ormond.