Superintendent Looks Forward to Working with Staff and Students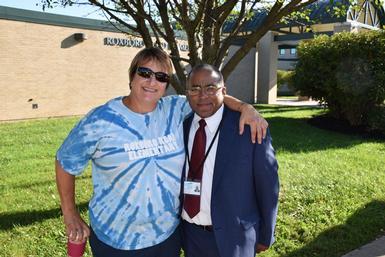 North Syracuse Central School District Superintendent of Schools, Daniel Bowles, took time the first week of school to visit all eleven of the district's schools. During the visits, the new superintendent had opportunities to talk with students, staff and families and learn about what their hopes are for the school year.
Mr. Bowles is pictured visiting classrooms at Roxboro Road Middle School and helping students arriving at Roxboro Road Elementary School, where he formerly worked as the building principal. Former staff greeted the superintendent warmly and shared his sentiments for a great school year.
Mr. Bowles even received cheers and applause from the students when he told them that he was the one who would be calling snow days this winter.