Welcome Superintendent Bowles!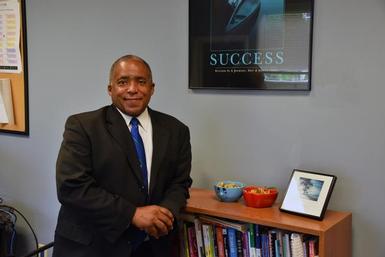 The North Syracuse Central School District is proud to welcome Daniel D. Bowles as the district's new superintendent of schools! Mr. Bowles, a long-time employee of the District and resident of the community, officially began his superintendency on July 1, 2019.
The District's Board of Education approved Mr. Bowles' appointment this past April after a rigorous search process. "Mr. Bowles stood out among a highly-qualified field of candidates because of his passion for our district and his proven track record in making effective, student-focused decisions," said former North Syracuse Board of Education President Michael Shusda. "We truly believe that Mr. Bowles has the right blend of leadership skills and experience to keep our district moving forward."
Bowles has dedicated more than twenty years of his educational career to North Syracuse students, starting in the District as a school counselor at Cicero-North Syracuse High School in 1997 and staying through 1999. He began working as a school district administrator in 1999, first serving as an associate principal at Gillette Road Middle School, then a principal at Roxboro Road Elementary School in 2001 and moving into the central office role of Director of Elementary Education in 2008. From 2012 to 2019 he has served as the District's Associate Superintendent.
Prior to his work in North Syracuse, he served as a school counselor in the Utica City School District. His educational experience includes certification of advanced study in educational administration from SUNY Cortland in 1999, a master's degree in educational counseling from St. Lawrence University and a bachelor's degree in sociology from St. Lawrence University. Mr. Bowles also holds permanent New York State Certification as a school district administrator and as a school counselor.
"I'm excited to take on this new role and am looking forward to working together with all residents in the best interest of our students," Bowles said. "My goal this summer is to be highly visible throughout the community and to meet as many people as possible so that we can begin to collaborate. Please take a moment to introduce yourself to me when you can!"
Bowles succeds former Superintendent Annette Speach, who retired in June after more than 30 years of service to the North Syracuse Central School District.