Successful Evening of Excellence at North Syracuse Junior High School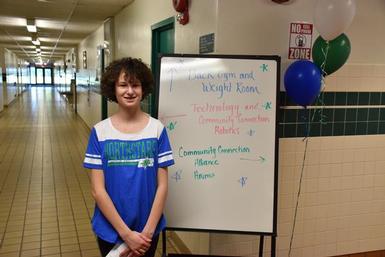 On Tuesday, May 21, the North Syracuse Junior High School hosted their annual Evening of Excellence. A spaghetti dinner fundraiser also took place with proceeds going to North Syracuse Junior High School Student Government.
Hundreds of families and community members took time to attend the "open house" format to browse student displays and enjoy performances. Some of the work showcased included: CO2 car racing, 3-D printing, musical performances, a student art gallery, Social Studies Hall of Learning, Google Expeditions demo, robotics, moon rocks and much more.
Nicole Brown, a teacher at the junior high and one of the event organizers said, "This event gives our students the chance to showcase the tremendous work they've done throughout the year and allows their families to be a part of their child's 'at school' time. So many times parents and community members wonder what goes on in the classroom and this event gives them a first-hand look."
For the first time, the event also hosted local agencies and businesses to share community opportunities for students and families.