Cicero Elementary Students and Families Show That They "Have Heart!"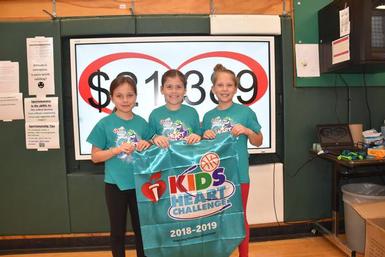 Students and families from Cicero Elementary School, in the North Syracuse Central School District, are celebrating a HUGE success for the American Heart Association (AHA). More than 300 students and their families recently took part in their school's "Heart Challenge" and raised an incredible $21,389 for the Association!
Cicero Elementary School's donation to the AHA is the largest in the 16 surrounding counties and in the top 5 for all of New York State. It also brings the school's two-year fundraising total to more than $36,500.
The Heart Challenge is a campaign through which students learn about their own heart while helping others and raising money for the American Heart Association. Throughout the 'Heart Challenge' month, students made daily pledges to exercise 60 minutes a day, drink water instead of sugary drinks and do good deeds.
Some students, like 4
th
grader Anna Eells, whose brother underwent heart surgery at a very young age, had personal reasons for participating. "I think it was important to help because my brother had heart surgery and it's important to raise money and help in case he needs it," she said.
The school's physical education instructors Stephan Bailey and William Cupoli spoke about their school community's efforts saying, "We used the Heart Challenge's promises and practiced what it meant to be a 'Heart Hero' so all of our Cicero Elementary community could live a healthy life that will never be affected by heart disease. We cannot thank our students, families, school and community enough for their tremendous generosity."

Cicero Elementary School looks forward to continuing their partnership with the American Heart Association and further educating students and families about heart healthy choices while showing how generous and caring their school community is!

Once again, THANK YOU CICERO!!