C-NS student is State Champion in SkillsUSA Competition!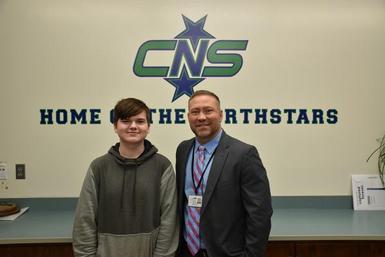 Congratulations to Wolfgang Groetz, an OCM BOCES Computer Technology student from C-NS High School for for taking 1st place in the New York State SkillsUSA Competition, qualifying for NATIONAL competition in Louisville, Kentucky at the end of June. Wolfgang was one of the hundreds of Career and Technical Education students from across the state to compete in the SkillsUSA performance and written tests.
Wolfgang is pictured with C-NS Executive Principal William LaClair.
Other North Syracuse Central School District SkillsUSA participants included Jillian Himes (Laboratory Technology), Devon Butler (Automotive Technology), Robert Salvett (Automotive Technology), and Colin Harrington (Media Marketing Communications).
Click here to read the full article on the OCM BOCES news page
.