Multicultural Fair at Cicero Elementary School offers students a trip around the world!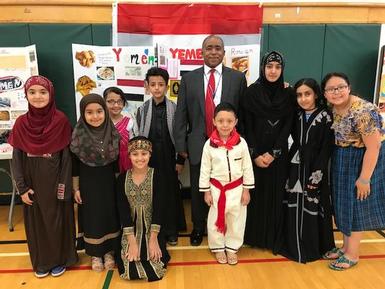 Students at Cicero Elementary School were able to travel around the world on Friday, May 17, without even leaving their school! As part of the school's first-ever Multicultural Fair, the school's kindergarten through 4th grade students visited such places as Germany, Nepal, Italy, Poland, Yemen and many more. Throughout the morning, teachers brought their classrooms to the gymnasium and library, where students experienced the various countries' cultures through exhibits, presentations and even music.
Cicero Elementary School is "home" to 36 English as a New Language (ENL) students from a variety of countries, including Bosnia, Guatemala, China, Nepal, Sudan, Palestine, Yemen, Philippines, and Ukraine. In addition to presentations and displays by ENL students, many additional Cicero Elementary School students shared their own proud heritages. Some students even took the time to create projects that included items from around the world such as sand, jewelry, bagpipes, citizenship papers, family scrapbooks, authentic money, and photos. Many students even dressed in their country's traditional clothing.
Cicero Elementary School ENL teacher Beth Foxenberg was pleased with the event and said, "Overall, the event was a success and the students are looking forward to making next year's event even more exciting! Cicero Elementary school has had an ENL program for two years now and the population is continuing to grow!"