District teachers awarded NSEF grants to enhance programming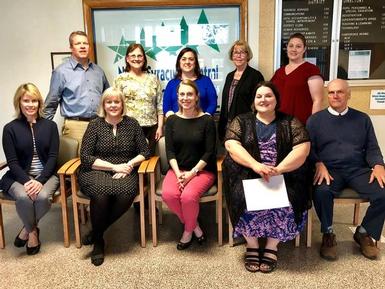 Thirteen North Syracuse Central School District teachers were recently recognized for receiving grants from the North Syracuse Education Foundation (NSEF) in their 2019 Grant Award's Program. NSEF resources support quality education through creative opportunities, and innovative/imaginative approaches.
Since 2003, NSEF has provided more than $100,000 in grant money for student programming through generous contributions from the community. The mission of the Foundation is to sponsor activities and projects intended to enhance the education and cultural enrichment of the students of the North Syracuse Central School District.
Pictured
Front row: Jen Jerome, Susan Winn, Sara Bambino, Mary Murdoch, Steve Cary
Back row: NSEF members - Nat Ordway, Jan Gilkey, Jackie Forte, Carolyn Gross, Jen Murphy
Grant recipients not pictured: Cori Patterson, Monica Fitzgerald, Jack McAndrew, David Reed, Cat Bennett, Matt Root, Mark Parrish and Kathy Conese.
The NSEF is able to present these grants through the generous contributions from businesses and individuals within the community. The activities are not funded by the regular school budget.

This year, NSEF presented six grants, totaling nearly $10,000, to the following:
Allen Road Elementary School: Kathy Conese and Jen Jerome for "Using Sensory Input"
Cicero Elementary School: Cori Patterson for "Picture Book Performances with Orff Instruments"
Roxboro Road Elementary School: Susan Winn for "What is Your Character Strength"
Gillette Road Middle School: Monica Fitzgerald for "Flexible Seating for Success"
Cicero-North Syracuse High School: Sara Bambino for "Extreme Makeover" and Steve Cary, Jack McAndrew, David Reed, Cat Bennett, Matt Root and Mark Parrish for "News and Views"