Allen Road Elementary School Celebrates Literacy!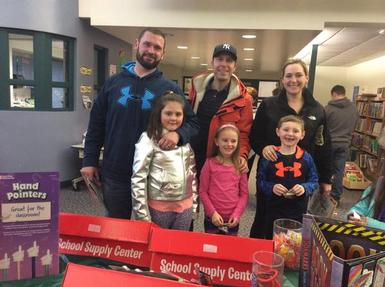 Students, staff and families at Allen Road Elementary School recently spent an evening together celebrating reading and writing at their school's Literacy Night. The March 27 event was the culmination of the school's month of PARP (Parents as Reading Partners) activities.
The theme for this year's PARP month and Literacy Night was 'Telling Tales' – with a focus on Tall Tales, Fairy Tales, and Folk Tales. Throughout the month, students enjoyed quality literacy experiences with an adult or adults and then created a final project based on their encounters. PARP activities also included weekly Drop Everything and Read times along with themed celebration days.
Allen Road Elementary School Principal Dave Lunden offered thanks to the school's families saying, "We had a great turnout for the event and I want to thank our amazing families for their support at the event and throughout the month. We love seeing our families come together to celebrate the fun of learning!"
Allen Road Elementary School's Literacy Night began with fun literacy-focused choice activities such as Telling Tales BINGO, Telling Tales puppet making, Tales from around the world with ENL parents, a book fair and the viewing of everyone's final PARP projects and was followed by an author performance. The school invited Mrs. Jack-E Grace, a local author, to the event to share her work. Mrs. Grace did a nice job of explaining how she came from being a teacher and principal to author and storyteller. She briefly shared how she bases her books on African-American folktales with an updated/current style.
The students and families enjoyed the evening and the quality time together. Many thanks to everyone who helped make the night possible!