C-NS students learn importance of voting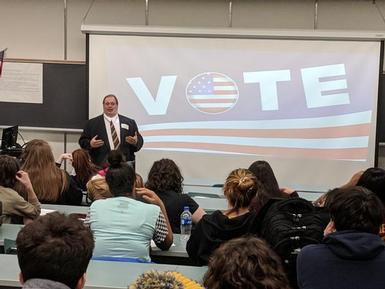 By C-NS student Steven Baker -
On Thursday March 14, a group of students from Cicero-North Syracuse High School were able to go to a presentation on the importance of voting. The presentation was given by Dustin Czarny in the Large Group Instruction Room where he gave a slideshow presentation.
Czarny spoke to students about the importance of voting and discussed how it is the most effective way for young people to communicate with government. He explained New York State's unique voting system and the fact that if the two political parties do not agree on something, they may take it to court and have a judge tell them what to do.
He also went on to explain a little bit of the history of voting in our country. He showed students that the 15th, 19th, and 26th amendments all influenced voting and also reminded them that African Americans were not the only group of people that were prevented from voting (Irish American citizens were also stopped from voting in NY because of laws that were enacted).
Another interesting fact that Czarny mentioned was the difference in numbers of people voting by age. He said that "The youth is the lowest voting group in our country." That means that the youngest generation is not expressing its voice in government as it is the least likely to participate in voting. He demonstrated this by having some students stand up in the back row of the room. He then told some kids to sit down based on statistics of how many young people actually stay to vote. He then narrowed the eight or nine kids to just one kid and explained that statistically only one of the kids would have actually voted. He then went on to mess with the kid for wearing a Duke jersey saying "Do you really want him speaking for you? He already has bad tastes in teams."
At the end of his presentation he summarized what he had already said and then handed out registration forms and encouraged all students present to register to vote. He also encouraged the seventeen year olds to become inspectors at voting buildings. I feel that, as a group, the students present learned a great deal about voting from Dustin Czarny and we were lucky to have him talk to us after school.