Roxboro Road Middle School students participate in CNY Science and Engineering Fair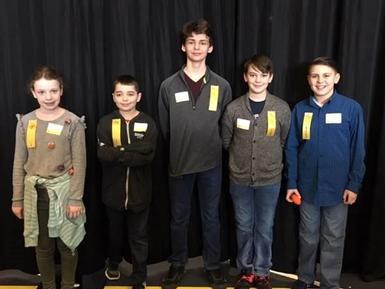 On Sunday, March 31, five students from Roxboro Middle School participated in the CNY Science and Engineering Fair sponsored by the Museam of Science and Technology (MOST) in Syracuse. The MOST hosts its annual Central New York Science & Engineering Fair every March at the SRC Arena on the Onondaga Community College campus. Students get the lifelong benefit of understanding science in a unique, hands-on way by actually performing an experiment of their own design or engineering a device or process.
Three Roxboro Road Middle School students received awards:
Connor Boyle(7th grade) and Ethan Haahr (6th grade) were winners of the Highest Honors Medallions and the Broadcom MASTERS (Math, Applied Science, Technology and Engineering for Rising Stars) Grand Prize Award for their project on The 5 Second Rule,
Jackson Dufort (6th grade) was the winner of the SUNY Cortland Chemistry Award for Excellence in Chemistry Research for his project on Surface Tension.
Pictured left to right are of all the competitors from RRMS: Halia Dice, Ian Mueller, Connor Boyle, Jackson Dufort, Ethan Haahr.
Congratulations to all participants!