Creatures Great and Small, Smith Road Cares for All!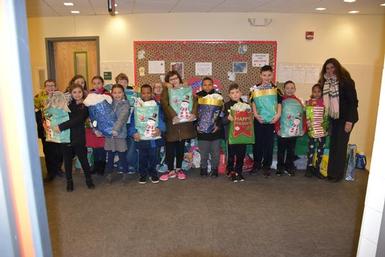 Students, staff and families at Smith Road Elementary School took on a true "pet" project this holiday season through their "Creatures Great and Small, Smith Road Cares for All" campaign. The three week-long donation drive asked families for supply and monetary donations for the Central New York SPCA.
Rebecca Hall, a music teacher at Smith Road Elementary School led the campaign along with the school's Character Education Team. Hall said, "We set a school-wide goal of collecting 600 pet supplies and hoped to receive a few monetary donations. At the end of the period, we had far surpassed the supply goal AND raised more than $400!"
The campaign's final event was a combined third- and fourth-grade chorus concert on December 10. On December 11, the North Syracuse Central School District's Transportation Department sent a school bus to Smith Road Elementary School to collect the hundreds of donations and transport them to the SPCA. Several students and staff, including Smith Road Elementary School Principal Gregory Stone, pitched in to load up the bus with the supplies.
Many thanks to everyone who contributed to the campaign or came out to support the students during their holiday chorus concert! Great job to the Smith Road Elementary School Character Education Team for teaching students kindness to all!