Students Excited to Learn about Coding at NSJHS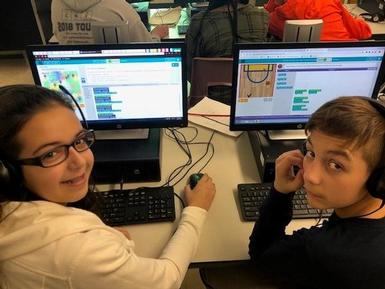 Students in
Mr. Cook's
Business classes and in
Ms. Carozza's
Academic Support class at North Syracuse Junior High School participated in the
Hour of Code
during the week of Dec. 3-8 through activities designed in collaboration with Mrs. Villeneuve, School Librarian. The Hour of Code is an annual event celebrated across the world during the first week of December and sponsored by Code.org.
According to the United States Bureau of Labor Statistics, there are currently 570,926 jobs in computer science that are open in the United States! That is 90,000 more jobs than were open the previous year! The
Hour of Code
provides students with an opportunity to experience coding at various levels of complexity.
In working through various levels of coding, students learn about loops, events, frames, and properties. A sampling of student reactions to coding included: "I love it and want a career in coding!" "It was interesting! I felt good about it and it was a good experience." "Coding isn't my main field of interest, but it may be something I will use in the future." "I LOVE coding!" "Coding was fun!" Certificates from students who participated in the Hour of Code are displayed in the school library to encourage others to give coding a try.