Junior High students create holiday cheer!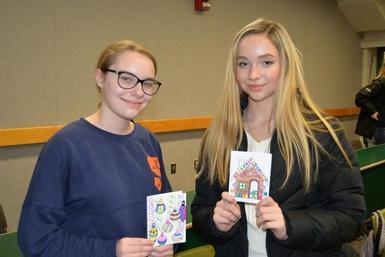 Hundreds of North Syracuse Junior High School students took time recently to create special holiday cards for the Salvation Army's Christmas Bureau. The cards will be given to families participating in the Christmas Bureau's December 19 holiday gift distribution.
Kathy Carr, a Global History and Geography Teacher at North Syracuse Junior High, as well as the advisor for the school's community builder's club, organized the event. She wanted to bring together as many students as possible, inviting all club advisors to encourage their students to participate. "For about the last 10 years Community Builders Club has gone to help with distribution day. They have changed their rules and now want only those 16 and above on that day. So I asked what else we could do and was told that it would be great to collect food and decorate cards," Carr said.
"Last year we decorated bags as a group made up of people from ALL clubs in our building. It went so well I asked for 300 cards this year. We got all but 40 done in that 45 minutes! Incredible!! Our students really came through," she added.
The students enjoyed participating and found the coloring to be relaxing and rewarding at the same time! The advisors for all the clubs were there and were instrumental in making everything run smoothly and even got into coloring themselves!
Kathy Carr proudly said, "Many thanks to all participants! We are truly a community at North Syracuse Junior High!"