Students Get Hands-On Lesson in Home Ownership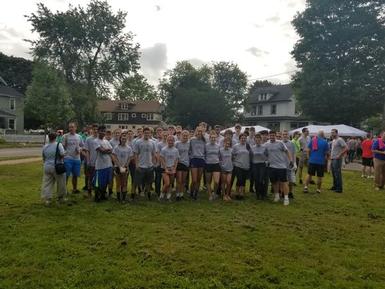 A group of students from money and banking classes at both C-NS and East Syracuse Minoa high schools, in partnership with CORE Federal Credit Union, recently took part in Home HeadQuarters' annual Block Blitz community revitalization day. Nearly 80 students, along with staff support from both high schools and CORE FCU, spent the day painting, landscaping, and doing other home improvements to help spruce up the Elmwood Park neighborhood on the South side of the City of Syracuse.
As a follow up to the volunteer work the students did during the Block Blitz, Home Headquarters Homeownership Counselor Jenna McClave will visit the Money and Banking Classes at each school to bring the lesson on home ownership full circle. Jenna will give the students pertinent information on things they can be doing now to prepare to someday buy and own a home, including the importance of keeping their student loan debt in check while selecting where to attend college.
Student involvement in the Block Blitz is one of the many real life, hands-on learning opportunities provided by CORE's student run credit unions and student financial literacy programs.