C-NS Student is Semi-Finalist in National Program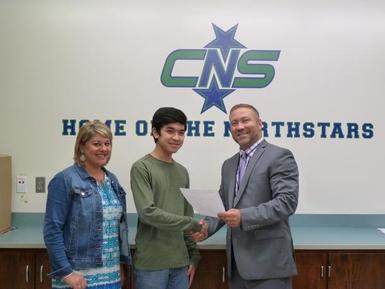 Congratulations to Cicero-North Syracuse High School senior Joshua Budihardjo for being recognized as a semi-finalist in the 2019 National Merit Scholarship Program.
To be considered for a Merit Scholarship® award, Semifinalists must fulfill several requirements to advance to the Finalist level of the competition. Over 90 percent of the Semifinalists are expected to attain Finalist standing, and about half of the Finalists will win a National Merit Scholarship, earning the Merit Scholar® title.
NMSC, a not-for-profit organization that operates without government assistance, was established in 1955 specifically to conduct the annual National Merit Scholarship Program. Scholarships are underwritten by NMSC with its own funds and by approximately 410 business organizations and higher education institutions that share NMSC's goals of honoring the nation's scholastic champions and encouraging the pursuit of academic excellence.
Joshua Budihardjo is pictured with C-NS Executive Principal William LaClair and House I Counselor Sara Mack.