Staff receive Active Shooter training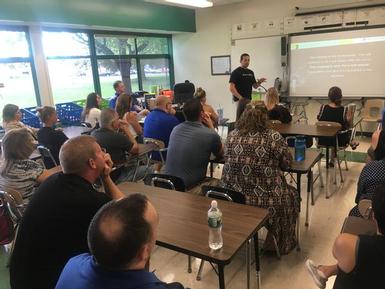 On Sept. 4, North Syracuse Central School District staff took part in Active Shooter Training with Armoured One, a local school security planning, training and
product company. The training, which took place at both Roxboro Road Middle School and the North Syracuse Junior High School, allowed staff to learn about and participate in emergency situation training.
Additional staff will be trained later this fall allowing all staff the opportunity participate in the taining.
Armoured One follows standard response protocol and New York State protocol to standardize language commonly associated with school-based emergencies. The five emergency responses designated by New York State are:
Shelter-In Place: shelter students and staff inside the building;
Hold-In Place: limit movement of students and staff while dealing with short term emergencies;
Evacuate: evacuate students and staff from the building;
Lockout: secure school buildings and grounds during incidents that pose an imminent concern outside of the school building;
Lockdown: secure school buildings and grounds during incidents that pose an immediate threat of violence in or around the school building.
Superintendent of Schools Annette Speach, offered her thanks to staff for their participation saying, "We hope that this empowered our staff to respond in a manner that will best protect our students and employees. We must remain observant, work together and use the resources around us in emergency situations."
Staff are encouraged to continue dialoging with their coworkers around the topic of school safety.
"There is nothing more important than getting our buildings into Lock Down and calling 911 quickly. We are fortunate to have excellent law enforcement agencies who will respond rapidly," Superintendent Speach continued. "As the training taught us, however, sometimes we are the first responder and we need to be prepared to act."