North Syracuse Junior High students spend lunch period learning from local military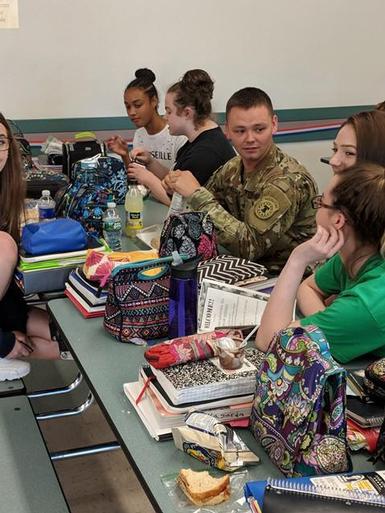 Several local members of various military organizations were kind enough spend time with 8th and 9th grade students at North Syracuse Junior High School on Wed., May 30. The idea of having military members come to the school was conceived by a group of students for the purpose of inspiring others. Students helped organize the event and called the local recruitment offices to get things started.

Most military guest spent the whole two hour lunch block talking with the students in a very muggy cafeteria in full uniform. There were conversation starters at each table and many students were interested in hearing about the experiences of our military and what life after high school is like. At one point the visitors were walking from the 9th grade cafeteria into the 8th grade cafeteria and when the students saw them come in they began their own standing ovation. It was a very moving moment.

Attendees included:
SrA Linda VanPelt- Airforce

SSGT Jimmy Sayarath- Airforce

Beemer Hammond-Navy

Brian Hammond-Navy

SGT Christopher Caywood-Army

SSG Anthony DeMato- Army

SSG Micheal Parks- Army

Jason Warner- Army

Murray Vassar

David Gonzalez
A big THANK YOU to all our visitors for spending the afternoon with us and especially for the work they do on a daily basis!