Two C-NS grads credit success launching sports nutrition company to NSCSD education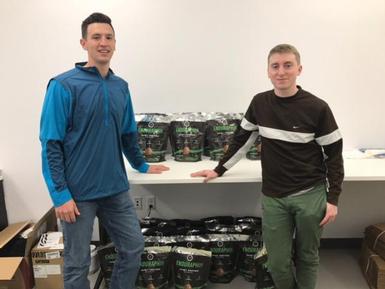 Two recent Cicero-North Syracuse High School graduates, Danny Drake, Class of 2012 (pictured left), and Mike Dalberth, Class of 2013, have recently found success launching a sports nutrition company. They credit their success, in part, to the education they received while attending North Syracuse Central School District schools.

After graduating high school, the pair went on to college and realized a problem in the growing sports nutrition market. It was near impossibleto find a product that achieved both quality and convenience. Danny, a 2016 Engineering and Management Grad from Clarkson, and Mike took their problem to the Shipley Center for Innovation at Clarkson and began developing solutions and presenting across the country. The two developed a product called Enduraphin and recently raised an undisclosed Pre-Seed round of funding to being production of their patent pending product.
Enduraphin now calls the Koffman Southern Tier Incubator of Binghamton, NY home and plans
to conveniently deliver high quality sports nutrition products to elite athletes come this fall.
"In today's highly competitive athletic landscape, it's important to properly feed your body after putting it to work. Protein, specifically Whey Protein, has been studied and proven to support athletic recovery when consumed shortly after a workout," said Danny Drake, Co-Founder of Enduraphin. "This funding will allow us to develop and produce an all-natural Whey Protein product that athletes can easily access post workout."
The funds raised will be deployed throughout Upstate New York to produce finished product, which will then be distributed to athletic facilities across New York and the Northeast.
"Cicero North Syracuse High School played a huge role in our success. Being one of the larger schools in New York State, we had opportunities to partake in higher level engineering and business classes," said Danny Drake. "It's exciting to see the success of C-NS athletics and we look forward to building an Upstate New York venture."
"A very special thanks to David Reh of Raytec Group Inc., Tim & Kim Myers of Dick's Sporting Goods, Ty & Crystal Muse, Frank Meier of Meier Supply Co and co-owner of Crossfit Sona, Dan Mori of Employment Solutions, and Binghamton University's Entrepreneurship Office," said Mike Dalberth.
The company is currently looking to network with local teams, fitness facilities, and universities to discuss synergies. For more information visit www.enduraphin.com or email team@enduraphin.com.