North Syracuse educators awarded NSEF grants to enhance programming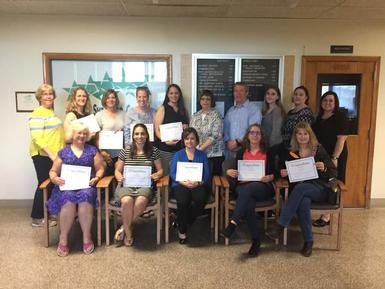 18 North Syracuse Central School District educators were recently recognized for receiving grants from the North Syracuse Education Foundation (NSEF) in their 2018 Grant Award's Program. NSEF resources support quality education through creative opportunities, and innovative/imaginative approaches.
The mission of the Foundation is to sponsor activities and projects intended to enhance the education and cultural enrichment of the students of the North Syracuse Central School District. The activities are not funded by the regular school budget.

This year, NSEF presented 13 grants, totaling more than $12,400, to the following:

KWS Bear Road Elementary School: Maria Yakowec and Jen Harrington for Right Brain Learning

Cicero-North Syracuse High School: Kim Linkinhoker for Modeling Pond/River Ecosystems; Jeremy Lenchert for Differentiated Seating and Lighting in Co-Taught Classrooms; Mary Murdoch for Learning Nook and Melissa Palmisano for Flexible Seating Shapes the Minds of Our Future

Early Education Program at Main Street School: Wendy Tracy and Jill Trubia for Interactive Adapted Books

North Syracuse Junior High School: Kathleen Spitzer for Library Makerspace

Smith Road Elementary School: Lindsay Marzullo for I Can Hear It Now

Roxboro Road Elementary School: Michele Barone for 3...2...1...Breakout

Gillette Road Middle School: Lisa McVey and Shannon Knapp for We Hear You!

Lakeshore Road Elementary School: Su Keiser, Arlene Osborne and Alyssa Pompo for Empowering Kids Through Movement

Smith Road Elementary School: Lauren Corbishley-Stuper and Anne Marie Leaf for The Qball and Danielle Preville for Classroom Organization