C-NS Students "Shoot for Loot" with CORE Federal Credit Union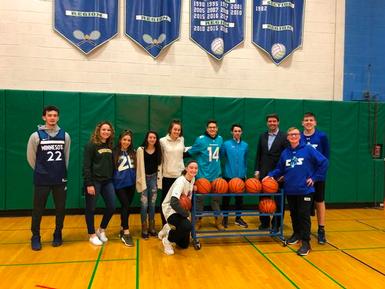 Establishing good savings habits recently paid off for North Syracuse Central School District. Several lucky students who have been regularly saving money at the NorthStars CORE Federal Credit Union, their student run branch, had the chance to "Shoot for Loot" during halftime of the Friday, February 1 boys' varsity basketball game against Henninger.
Student winners were selected in a random drawing from all student savers and were given 60 seconds to make progressively harder shots (lay-up, foul shot, 3-point shot and half-court shot) for progressively higher prize amounts. Making each harder shot increased the student's winnings, with the chance to win up to $200. There were three student contestants: Jacqueline Cupoli, Jake Falgiatano and DJ Villnave. DJ excited the crowd by making the half-court shot and winning $200.
Students were entered into the drawing when they opened a Northstars Branch account or made a deposit into their existing account. The half time
"$hoot for Loot"
campaign was created and implemented by students on the Northstars Branch Board of Directors, and is sponsored by CORE Federal Credit Union. CORE oversees the school's student run credit union and offers a variety of other financial literacy programs within the North Syracuse and East Syracuse Minoa school districts.