Allen Road Elementary School's Winter Wonderland takes visitors on a journey around the globe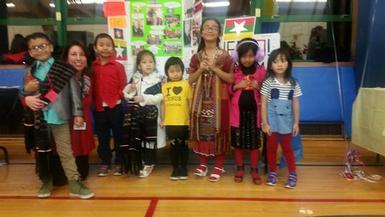 This year's annual PTO Winter Wonderland event at Allen Road Elementary School had a unique twist for visitors. In addition to the usual Holiday Shoppe where students can buy presents for their parents, take part in a tree lighting ceremony, create craft projects and visit with Santa, this year visitors had the opportunity to celebrate the various cultures of their classmates.

With the largest population of English Language Learners in any of the district's elementary schools, Allen Road's parents, students and staff, decided to celebrate their diversity at the annual PTO event. More than a dozen tables were set up with almost as many different cultures represented. Tables included cultural displays, foods, music and more and table attendants wore authentic garb in many instances.

The evening provided students, staff and parents the opportunity to learn about and celebrate the cultures of fellow Allen Road Elementary School families.
A great time was had by all. Many thanks to all parents, staff, students and family members who made the event possible!