C-NS students' artwork helps local community in need!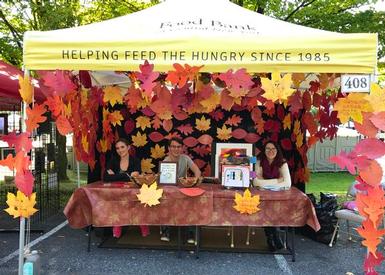 Cicero-North Syracuse High School (C-NS) senior Morgan Williamson organized a student art sale to benefit the Food Bank of Central New York at the recent Golden Harvest Art Festival at Beaver Lake Nature Center. This was the first time student art had been featured in this juried show and they did fantastic! When they ran low on artwork, they started selling paper leaves and built an entire tree of hope, raising enough money to provide over 3,600 meals to the needy in Upstate New York.
Pictured are C-NS graduate/Crouse nursing student Elizabeth Westfall with C-NS seniors Toby Martin and Morgan Williamson.
Our other student volunteers were C-NS seniors Kayla Rowell and Lily Casarsa.
Through the Hallowrun for Hunger, Halloween for Hunger, and this art sale, these students have now provided over 75,000 meals for the needy in CNY.

Great job!