Gillette Road Middle School Presents "The Birth of Rock: A 50's Extravaganza" March 22 - 24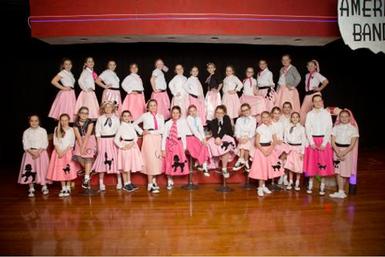 Gillette Road Middle school is proud to present "The Birth of Rock: A 50's Extravaganza" from March 22 through 24. Performances will take place at at 7 p.m. each night. The show will take place in the school's auditorium (6150 South Bay Road) in Cicero, NY.

This original show revue gives a brief synopsis of how rock and roll got started. More than 115 cast and crew members will be presenting 27 of the fun classic songs of the 1950's such as Rock Around the Clock, Jailhouse Rock, Blue Suede Shoes, At the Hop, Mr. Sandman, Chantilly Lace, Tutti Frutti and many more.

This energetic and family friend show features roller skating waitresses, a 50's diner, Poodle Skirts, slicked back hair, and all many other things associated with the era. We have a Johnny Cash, Ray Charles, Chuck Berry, the Monotones, Chordettes, Elvis and many other artist represented.




Directors include Dan Bingham- technical/stage, Sydney Hurn- Choreography, Domenic Liccione- Director, Nancy LaRosa- costumes, Linda Hurn –production manager, William Verity- chorus, Come out and see some great talent!

Tickets are $6 and are available by calling or emailing Linda Hurn at lhurn2@aol.com or calling (315) 744 -7162.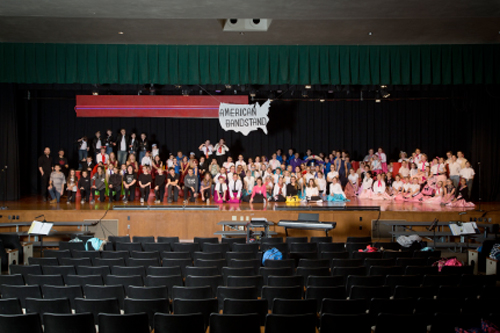 Cast:
Rocco Albanese - Monotone, Buddy Holly
Jalisse Armstrong - Featured Dancer
Mya Ashkar - Narrator
Emily Atherton - Diner Dancers
Samantha Atherton - Diner Dancers
Deena Badwan - Diner Dancers
Kayln Beachner - Diner Dancers/Narrator
Alyssa Beckley - Featured Dancer
Emily Beckley - Diner Dancers
Lydia Bojlevski - Featured Dancer
Grace Botrill - Diner Dancers
Riley Broton - Diner Dancers
Shannon Brown - Angels
Natalie Brushell - McGuire Sisters
Victoria Buswell - Diner Dancers
Abby Calabria - Jim Dandy singers
Lauren Capone - Chordettes -Chantels-Angels
Mary Coleman - Skating Waitress
Rose Coleman - Skating Waitress
Abby Colvin - Diner Dancers
Ella Cook - Splish Splash/Featured Dancer
Jillian Coppernoll - Raelette/Splish Splash/Featured Dancer
Riley Crandall - ChordettesChantels
Arabbella Cusumano - Jim Dandy singers
Julia Debejian - Diner Dancers
Gabriella DiOrio - McGuire Sisters/Chordettes/Chantels
Jessica Doty - Diner Dancers
Marissa Doty - Featured Dancer
Julianna Elderbroom - Diner Dancers
Peyton Empey - Featured Dancer
Ella Fisher - Diner Dancers
Jenna Fournier - Featured Dancer
Madeleine Frisch - Diner Dancers
Josie Gabriell - Diner dancer/singer
Jewels Ghezzi - It's My Party singers
Jillian Ghezzi - Featured Dancer
Caden Gibbens - Johnny Cash/Monotone
Ryan Graves - Diner Dancers
Sean Graves - Monotone/Crests
Audrey Halpin - Angels
Bella Hanus - Diner Dancers
Max Haskell - Diner Dancers
William Hasse - Ray Charles
Jenna Heick - Angels
Ryan Hill - Shake,Rattle,and Roll/Sixteen Candles
Madelynn Hilt - Jim Dandy singers
Jordan Hnatiw - Elvis Presley/Monotone/Justin
Andrew Hollis - Diner Dancers
Mia Huynh - The Platters
Amanda Johnson - Diner Dancers
Jaila Killingbeck - Diner Dancers
Sophia King-Rallo - Diner Dancers
Lindsey Kubala - Diner Dancers
Julia Kulakowski - Chordettes, Chantels
Danica Lagoe - Diner Dancers
Dylan Laurin - Featured Dancer
Karri Lawton - It's My Party singers
Anna Lease - Narrator
Kennedy Leden - Diner Dancers
Iris Lenweaver - Diner Dancers/Narrator
Ava Lyes - Little Richard
Lauren Malec - Featured Dancer
Isabella Manfredi - Featured Dancer
Alanna Manning - The Platters
JoAnna Manning - Narrator/Waitress
Addie Martin - Narrator
Angel Mazzole - McGuire Sisters
Megan Meives - Diner Dancers
Ethan Meives - Dick Clark - dancer
Sophia Melfi - Jim Dandy singers
Anna Myers - Splish Splash-diner dancer
Trinity Nguyen - Diner Dancers
Taylor O'Brien - Featured Dancers
Carly Overend - Monica/CEO
Cassidy Payrot - Narrator
Gaby Pinoargotte - The Platters
Emily Porter - Diner Dancers
Aaron Purdy - Pop Ceo, Steve, Narrator
Sophi Rausher - The Platters
Jessica Ricciardi - Splish Splash
Megan Rioux - Diner Dancers
Luke Roman - Shake Rattle & Roll
Addison Romano - Narrator
Taylor Rutter - Diner Dancers
Natalie Santone - Leslie Gore
Sophia Schedler - Raelette/Featured Dancer
Marisa Schug - Diner Dancers
Emily Schuler - The Platters
Brynn Scott - Diner Dancers
Jake Seitz - Chuck Berry/ Ritchie Valens/Monotone
Alaina Sokolowski - The Platters
Jacob Strait - Business Man/Narrator
Grace Sugrue - Danielle/Veronica
Declan Sullivan - Rockin Robin
Haley Swenton - Diner Dancers
Savahhah Tolhurst - Featured Dancer
Gianna Varnum - Diner Dancers
Allison Wicks - Diner Dancers
Ryan Williams - Narrator/Wolfman Jack
Reilly Williams-Gardner - Montone, Big Bopper
Sofia Wilson - Ensemble
Sydney Wright - LaVerne Baker/Raelette
Elizabeth Yorgey - Diner Dancers

Stage Crew: Alivia Aragona, Matteo Cavallaro, Nicholas Ferguson, Jazmine Lefler, Grace McElwain, Gianna Montesano, Lizzie Moreno, Avery Richardson, Michael Rivera, Lauren Sennett and Wyatt Warner