Next >> Viewing 1 - 20 of 108 stories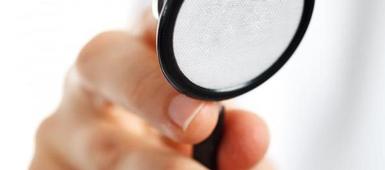 School Physicals:

The New York State Department of Education requires a health certificate or health appraisal of each public school student when they: enter the school district for the first time; are in Grades K, 1, 3, 5, 7, 9 and 11; participate in interscholastic sports; need working papers; and are referred to the Committee on Special Education. All students participating in interscholastic sports programs, regardless of their grade level, must have a physical exam before participating in any sport. This physical includes health history signed by a parent and blood pressure reading. These physicals need to be turned into the school nurse prior to the start of tryouts. If you child intends to tryout for a sport, it is important that they check with their school's nurse before tryouts to ...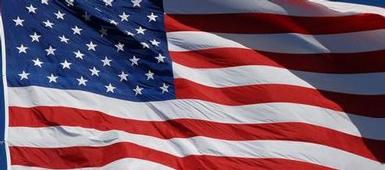 Calling All Veterans!:

On Friday, November 9, 2018, in honor of Veteran's Day, the North Syracuse Central School District will honor another group of inductees to its Military Honor Roll. The honor roll was established in 2012 to recognize former district students that have gone on to military service. In order for the honor roll to be as complete as possible when it is unveiled we are asking for the community's help. If you are a graduate of the district or have attended Cicero-North Syracuse High School and have gone into military service for at least one year, please contact the district to be included. Information can be submitted online . In order to be recognized during the November 9 ceremony, names must be submitted to the district no later than October 1, 2018. After the ...
2018-2019 School Year Begins Sept. 5:

The first day of school for students in the North Syracuse Central School District is Wednesday, September 5, 2018. Students in kindergarten through 10th grades will have full-day sessions and students in 11th and 12th grades will have a half-day. Important information will soon be arriving at homes throughout the district in the school calendar and handbook and the August newsletter.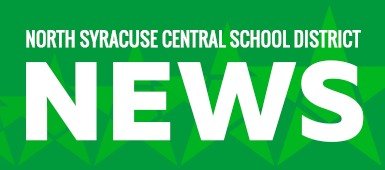 Governor Cuomo signs bill forgiving Final Cost Reports Penalty:

August 17, 2018 – New York State Governor Andrew Cuomo has signed a bill forgiving the North Syracuse Central School District of a $20 million penalty for the late filing of final cost reports for capital projects dating back 20+ years. In June, bills were passed in both the Senate and Assembly for full forgiveness of New York State's imposed penalty. The district is grateful to Senator DeFrancisco and Assemblyman Stirpre for sponsoring these bills and to Senator Valesky, Assemblywoman Hunter and Assemblyman Magnarelli for their support. Of the news, Superintendent of Schools Annette Speach said, "On behalf of all of our students, teachers and administrators, I want to thank Assemblyman Stirpe for championing this bill and for his unwavering commitment to our community. ...
Register your new student now!:

STUDENT REGISTRATION The 2018-2019 school year begins on September 5 and registration has begun! Whether your family is brand new to the North Syracuse Central School District or you have older children enrolled here, it is important to register any new students for the upcoming school year! Register early and beat the August rush! If your child has been attending school in NSCSD, there is NO ACTION REQUIRED. This pertains only to those students who have moved into the district or have reached the age requirement for kindergarten. SAVE TIME BY DOWNLOADING ONLINE All forms that you need to register your new student for any grade level in the North Syracuse Central School District can be found online at www.nscsd.org/registerme . Just click on the "registration ...
C-NS Softball team supports "striking-out" cancer:

On Monday, July 9, Jacqueline Baldwin-Calveric, Associate Director and fundraising manager for the Carol M. Baldwin Breast Cancer Research Fund of Central New York, came to Gillette Road Middle School to accept a check for more than $1,500 from the Cicero-North Syracuse High School Girls' Softball team. The team, led by Alexandra Cifaratta, began raising money to support the Baldwin Fund through activities such as bracelet and t-shirt sales and a softball tournament. Click here to view the team's YouTube video about the cause.
Summer School Bus Routes:

The North Syracuse Central School District is taking part in the OCM BOCES Regional Summer School program for 2018. The program will take place at Ray Middle School (7650 Vanburen Road) in Baldwinsville. Busing for students in the North Syracuse Central School District is provided at group stops. Click here to view summer school bus information . Click here for additional information about the OCM BOCES Regional Summer School program for North Syracuse Central School District students.
Congratulations C-NS Class of 2018!:

Congratulations to the 677 graduates in the Cicero-North Syracuse High School Class of 2018 that recently walked across the stage at the SRC Arena at Onondaga Community College! A selection of photos from the graduation ceremony is available online via Google Drive by clicking here . The complete list of graduates is below or click here to view a PDF of the graduation program. Jonathan Michael Abbott Natalie Janelle Ackerman Taylor Ann Adams Kyle William Adamski Soohwan Ahn Kyle Anthony Alberici Madison Elizabeth Alberici Morgan Ann Albro Donia Roshankouhi Alizadeh Jessica Mercedes Alvarez-Lugo Sarah Leighanne Angrick Kaitlin Rose Antinelli Jake Nicholas Ariola Iyana Faith Armstrong Ireland Avery Alyssa Marie Avicolli Alana Aviles Rok Matur Ayol Judah ...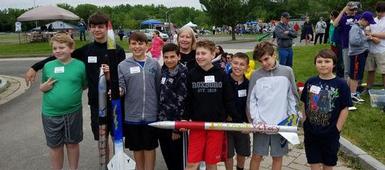 Middle school STEM Club students participate in CNY Rocket Team Challenge:

Three teams of students from Roxboro Road Middle School and four teams from Gillette Road Middle School's STEM (Science Technology Engineering and Math) clubs recently had the opportunity to participate in the 16th annual Central New York Rocket Team Challenge. The event , which was held on Saturday, June 2 at Syracuse University's Skytop field, allowed local middle and high school students to build rockets from provided kits, detail them, and bring them to Skytop for launching. 105 teams registered, and well over 500 family and friends attended the Saturday's launch. Teams were judged on the quality of their construction, knowledge of the subject, how well they estimated their trajectory, and whether or not their "eggstronaut" survived its ride into ...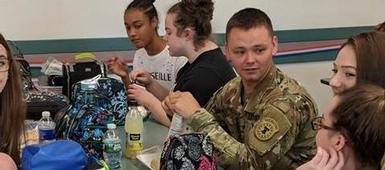 North Syracuse Junior High students spend lunch period learning from local military:

Several local members of various military organizations were kind enough spend time with 8th and 9th grade students at North Syracuse Junior High School on Wed., May 30. The idea of having military members come to the school was conceived by a group of students for the purpose of inspiring others. Students helped organize the event and called the local recruitment offices to get things started. Most military guest spent the whole two hour lunch block talking with the students in a very muggy cafeteria in full uniform. There were conversation starters at each table and many students were interested in hearing about the experiences of our military and what life after high school is like. At one point the visitors were walking from the 9 th grade cafeteria into the 8 ...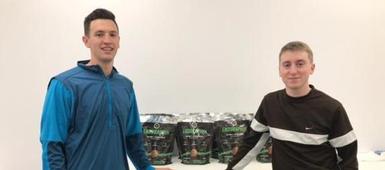 Two C-NS grads credit success launching sports nutrition company to NSCSD education:

Two recent Cicero-North Syracuse High School graduates, Danny Drake, Class of 2012 (pictured left), and Mike Dalberth, Class of 2013, have recently found success launching a sports nutrition company. They credit their success, in part, to the education they received while attending North Syracuse Central School District schools. After graduating high school, the pair went on to college and realized a problem in the growing sports nutrition market. It was near impossibleto find a product that achieved both quality and convenience. Danny, a 2016 Engineering and Management Grad from Clarkson, and Mike took their problem to the Shipley Center for Innovation at Clarkson and began developing solutions and presenting across the country. The two developed a product called Enduraphin and recently ...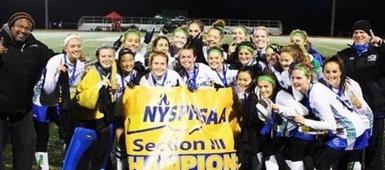 Boys' Track Earns third consecutive Sectional title:

The Cicero-North Syracuse Boys' track team earned their third consecutive Class AA league championship title on Wednesday, May 23. Jeremiah Willis captured four events and set a new leading time or distance in two to help the Northstars earn the title. Willis: · Set a new leading time in the 100 dash with a 10.80 finish · Set a new leading distance in the triple jump with a distance of 48-0; · Won the 200 dash in 21.8 · Won the high jump with a leap of 22-11.50 Northstar Joe Williams set a new leading time in the 400 hurdles with 55.13 Congratulations to our amazing athletes!
C-NS students meet requirements to earn Seal of Biliteracy:

Congratulations to the 7 Cicero-North Syracuse High School students that recently met the requirments to earn a New York State Seal of Biliteracy on their diplomas and transcripts. The seal recognizes graduating high school students who have attained a high level of proficiency in listening, spaking, reading and writing in one or more languages. The distinction is relatively new. The New York State Board of Regents adopted it in April of 2016 because it has major benefits, including: Identifying high school graduates with language and biliteracy skills for employers; Providing universities with additional information about applicants; Preparing students with 21st century skills; Recognizing the value of world and native language instruction ...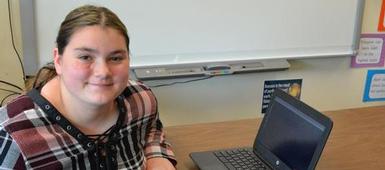 Gillette Road Middle School student receives prestigious national 180 Award for making significant math gains:

Angelina Crawford, a student at Gillette Road Middle School, has been named a recipient of the prestigious 2018 National 180 Student Awards , which recognize 15 children across the United States who overcame significant obstacles to become thriving, successful learners. The 180 Student Awards program, now in its twelfth year and organized by global learning company Houghton Mifflin Harcourt , honor students, who along with the help of their remarkable teachers, have made outstanding progress in literacy and math achievement and are now on the path to success in life. Angelina's teacher, Erika Gilbert, recalls a time when her student was having challenges with math proficiency. "At the beginning of the school year, I rarely saw Angelina in class. She was often ...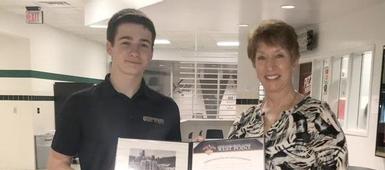 C-NS student receives offer of admission to West Point US Military Academy:

Congratulations to Cicero-North Syracuse High School senior Leo Henry, who recently received notice of acceptance to the United States Military Academy at West Point. Military Academy Liaison Officer, Nancy Stevens came to C-NS on Tuesday, May 23 to present Leo with a certificate of acceptance. Leo's family members were present at the acceptance ceremony to see him recognized. Leo plans to attend West Point in the fall, majoring in Psychology. He intents to eventually become a United States Army Officer and Psychiatrist. Congratulations on this tremendous accomplishment!
School Report Card meetings scheduled:

Each year, the North Syracuse Central School District provides a summary of academic performance for students who took New York State Assessments the previous school year in a special newsletter. Click here to view/download a copy of that newsletter. New York State Report Cards provide comprehensive data for all districts in the state, including enrollment, demographic, attendance, assessment, accountability, graduation rate and much more. The comprehensive state reports are available online from the New York State Education Department Report Card website at https://reportcards.nysed.gov. State assessments are designed to help ensure that all students reach high learning standards. As required by the State, students that are not making appropriate progress toward the standards, ...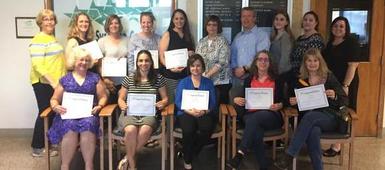 North Syracuse educators awarded NSEF grants to enhance programming:

18 North Syracuse Central School District educators were recently recognized for receiving grants from the North Syracuse Education Foundation (NSEF) in their 2018 Grant Award's Program. NSEF resources support quality education through creative opportunities, and innovative/imaginative approaches. Since 2003, NSEF has provided 130 grants for about $150,000 in grant money for student programming through generous contributions from the community. Click here to view NSEF's video about various grants. The mission of the Foundation is to sponsor activities and projects intended to enhance the education and cultural enrichment of the students of the North Syracuse Central School District. The activities are not funded by the regular school budget. ...
Next >> Viewing 1 - 20 of 108 stories