Middle school STEM Club students participate in CNY Rocket Team Challenge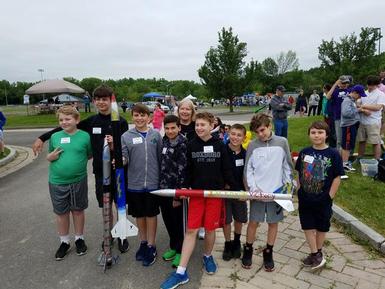 Three teams of students from Roxboro Road Middle School and four teams from Gillette Road Middle School's STEM (Science Technology Engineering and Math) clubs recently had the opportunity to participate in the 16th annual Central New York Rocket Team Challenge. The event, which was held on Saturday, June 2 at Syracuse University's Skytop field, allowed local middle and high school students to build rockets from provided kits, detail them, and bring them to Skytop for launching.

105 teams registered, and well over 500 family and friends attended the Saturday's launch. Teams were judged on the quality of their construction, knowledge of the subject, how well they estimated their trajectory, and whether or not their "eggstronaut" survived its ride into the sky.

Pictured are some of the students from Roxboro Road Middle School:

Bryce Corbett, Connor Boyle, Ethan Haahr, Cameron Spagnola, Ben Rose, Francesco Alagna, Luca Kiesznowski, Nathan Garrett with teacher and club advisor Colleen O'Connor.